Zoni Language Centers in NYC: How to Become a Successful Career Diplomat
Zoni Language Centers January 13, 2020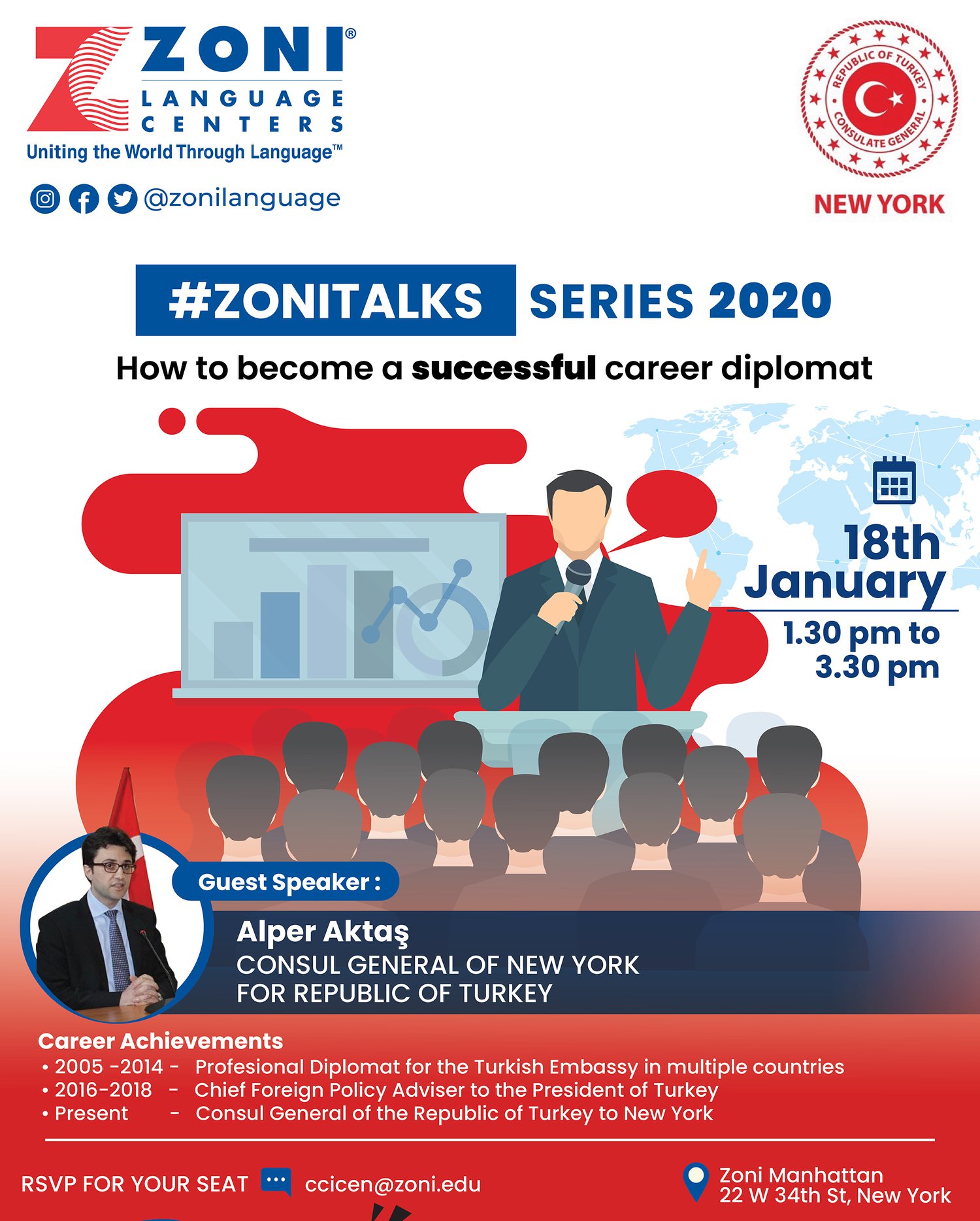 What kind of career are you pursuing?

Zoni Manhattan will host a ZoniTalks with Consul General of New York for Republic of Turkey, Mr. Alper Aktas on Saturday, 1/18/2020.

He will talk about 'How to become a successful career diplomat'.

Please email at ccicen@zoni.edu for your seat.

When: Saturday, 1/18/2020 from 1:30PM to 3:30PM
Where: 22 W 34th St, New York, NY 10001
When calling this company, please reference POLISH AMERICAN PAGES.

We have 9 locations
in NY, NJ & FL:
Zoni Language Centers
585 Main Avenue
Passaic, NJ 07055

Zoni Language Centers
5619 Bergenline Avenue
West New York, NJ 07093

Zoni Language Centers
268 North Broad St, 2nd fl
Elizabeth, NJ 07208

Zoni Language Centers
16 Ferry Street
Newark, NJ
Zoni Language Centers
22 West 34th Street
New York, NY 10001

Zoni Language Centers
2148 Ocean Avenue
Brooklyn, NY 11229
Zoni Language Centers
78-14 Roosevelt Avenue
Jackson Heights, NY 11372

Zoni Language Centers
37-14 Main Street
Flushing, NY 11354

Zoni Language Centers
1434 Collins Avenue, 2nd Floor
Miami Beach, FL 33139

Other articles: EDUCATION & SCHOLARSHIPS
SEE MORE