Learn English in NJ at Zoni Language Centers and Get 10% off Registration Fees
Zoni Language Centers November 21, 2019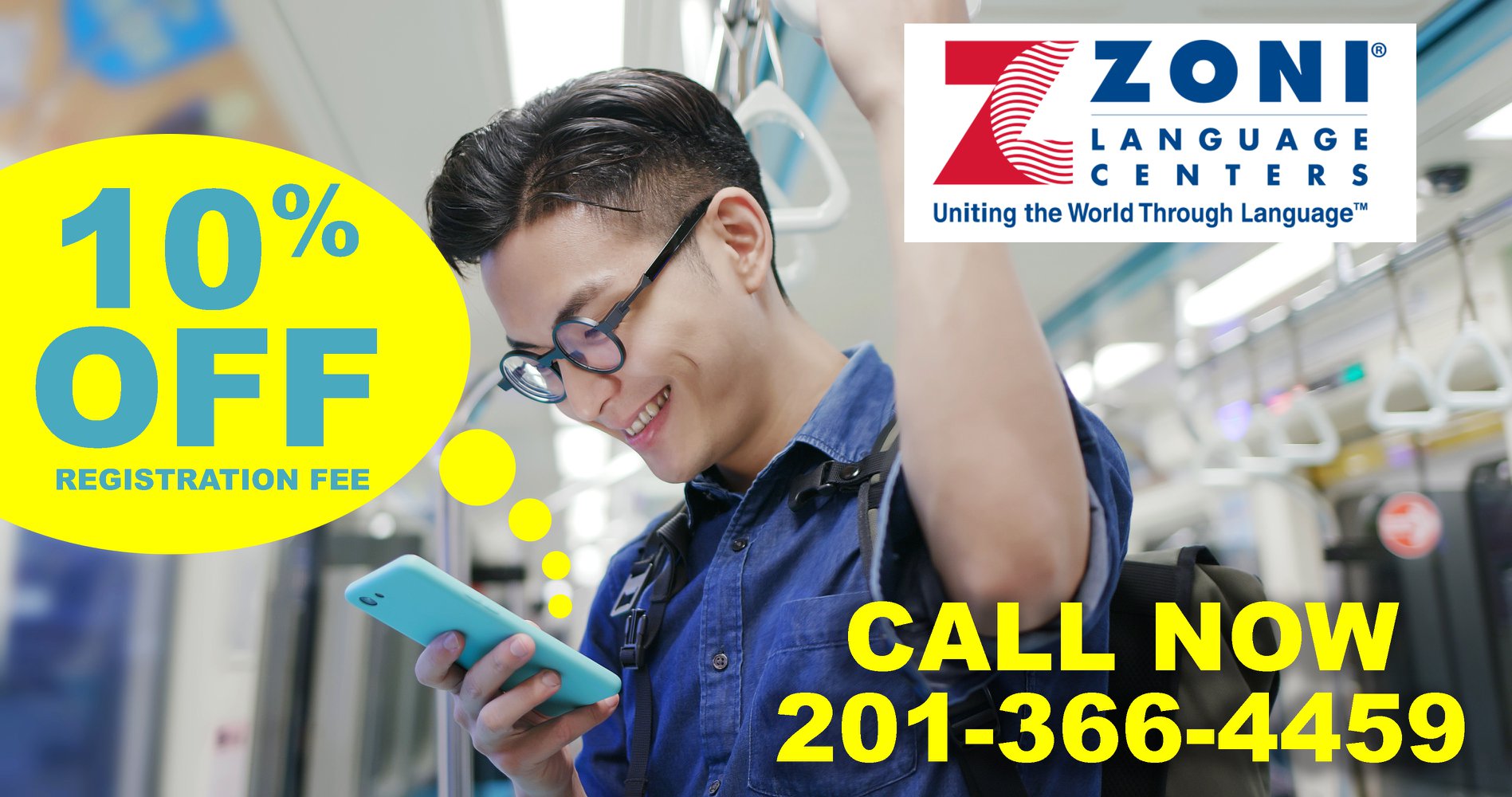 We're offering 10% off registration fees for the first few callers this week only! Come learn English at our new location located in Palisades Park New Jersey!
Hundreds of thousands of students have trusted Zoni to help them learn and improve their English skills.
Zoni has an open enrollment system with a rolling admissions policy. As an open enrollment English institution, students with some English can begin their English course the Monday following their enrollment.
If Zoni finds that it needs to start classes earlier than scheduled, based on student demand and interest in a certain time schedule, it will do so to accommodate students. If Zoni finds it needs to open a course in any proficiency level, based on the results of placement tests, it may do so.
Zoni offers a variety of flexible programs of different lengths, days, and schedules so that eveyone may have the opportunity to learn English in a time that fits their busy schedules.
Please ask our representatives for more information to select the best option for you.
When calling this company, please reference POLISH AMERICAN PAGES.

We have 9 locations
in NY, NJ & FL:
Zoni Language Centers
585 Main Avenue
Passaic, NJ 07055

Zoni Language Centers
5619 Bergenline Avenue
West New York, NJ 07093

Zoni Language Centers
268 North Broad St, 2nd fl
Elizabeth, NJ 07208

Zoni Language Centers
16 Ferry Street
Newark, NJ
Zoni Language Centers
22 West 34th Street
New York, NY 10001

Zoni Language Centers
2148 Ocean Avenue
Brooklyn, NY 11229
Zoni Language Centers
78-14 Roosevelt Avenue
Jackson Heights, NY 11372

Zoni Language Centers
37-14 Main Street
Flushing, NY 11354

Zoni Language Centers
1434 Collins Avenue, 2nd Floor
Miami Beach, FL 33139

Other articles: EDUCATION & SCHOLARSHIPS
SEE MORE