The Cambridge Admissions Testing at Zoni in NY and FL
Zoni Language Centers September 19, 2019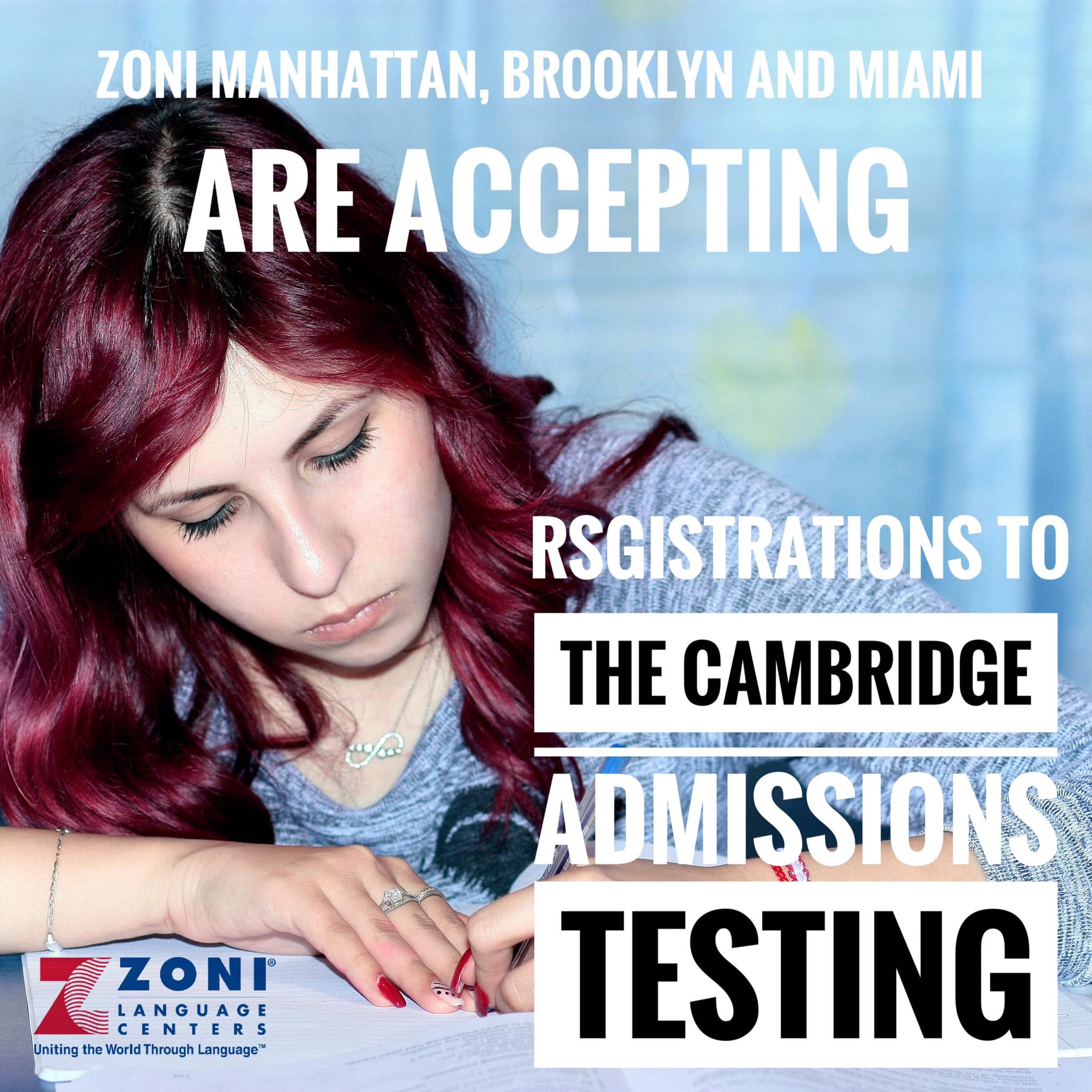 Zoni Manhattan, Brooklyn and Miami campuses are accepting the registration to The Cambridge Admissions Testing.
Zoni Language Centers is one of the best places to learn English. In fact, over 500,000 students have trusted us to help them improve their English skills. As an open enrollment English institution, students can begin their English course the Monday following their enrollment. We guarantee the quality of our education programs and we support our students through personalized course curriculum, modern facilities, and friendly student services. At Zoni we use our own innovative teaching methods and professional, highly qualified instructors with broad experience teaching English.
Registration to The Cambridge Admissions Testing
Please contact the following.
[Manhattan] Evina Torres at etorres@zoni.edu / 212-736-9000
[Brooklyn] Sultan Stover at sstover@zoni.edu / 718-947-4010
[Miami] Rita Usaga at rusaga@zoni.edu / 305-674-1500
When calling this company, please reference POLISH AMERICAN PAGES.

We have 9 locations
in NY, NJ & FL:
Zoni Language Centers
585 Main Avenue
Passaic, NJ 07055

Zoni Language Centers
5619 Bergenline Avenue
West New York, NJ 07093

Zoni Language Centers
268 North Broad St, 2nd fl
Elizabeth, NJ 07208

Zoni Language Centers
16 Ferry Street
Newark, NJ
Zoni Language Centers
22 West 34th Street
New York, NY 10001

Zoni Language Centers
2148 Ocean Avenue
Brooklyn, NY 11229
Zoni Language Centers
78-14 Roosevelt Avenue
Jackson Heights, NY 11372

Zoni Language Centers
37-14 Main Street
Flushing, NY 11354

Zoni Language Centers
1434 Collins Avenue, 2nd Floor
Miami Beach, FL 33139

Other articles: EDUCATION & SCHOLARSHIPS
SEE MORE