Jack Strong by Władysław Pasikowski to represent Poland at the EUphoria Film Festival in LA
September 18, 2014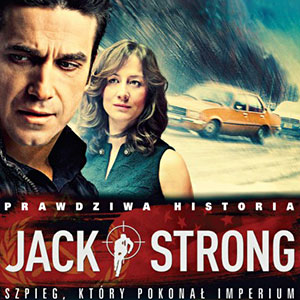 "Jack Strong", Q&A to follow Saturday, September 20th, 2014 at 7:00 pm
 The Consulate General of the Republic of Poland in Los Angeles invites you to the First EUphoria Film Festival New European Cinema in LA  jointly produced by the USC School of Cinematic Arts (SCA), European Languages and Movies in America (ELMA)  and 13 EU Consulates in Los Angeles and San Francisco

September 19th – 24th, 2014
The USC School of Cinematic Arts
900 W 34th St, Los Angeles, CA 90007 
with the screening of the Polish movie "Jack Strong"on Saturday, September 20th, 2014 at 7:00 pm 
The USC School of Cinematic Arts
The Ray Stark Family Theatre 
The most spectacular Polish spy of the Cold War era, colonel Ryszard Kuklinski, informs Americans about the communist block's top secrets in the face of the upcoming martial law.
Jack Strong is a spy thriller based on a true story of a man who dared to challenge the Soviets by himself from within the communist system. As a Polish colonel and chief military planner of the maneuvers of the Warsaw Pact troops, he realized that the American plan of nuclear counterattack against the Soviets may bring nuclear annihilation to Poland. Determined to prevent that, he started a long, lonely and psychologically exhausting cooperation with the CIA. His own, as well as his family's lives have been in jeopardy since then. The script is based on an international historical research, partly conducted in cooperation with the CIA. For this purpose, some crucial documents kept in the Institute of National Remembrance were declassified, including a testimony by colonel Ryszard Kukliński gathered at the moment when the case of his exoneration became one of the conditions for Poland's accession to NATO. The list of the project's consultants includes some high-profile figures, among them: Zbigniew Brzeziński - National Security Advisor to Jimmy Carter, Jerzy Koźmiński - former Polish ambassador in the USA, and David Forden – CIA's contact officer of colonel Kukliński.
http://euphoriafilmfest.com/jack-strong/
The inaugural EUphoria Film Festival provides an opportunity for enthusiasts of international cinema in Los Angeles to celebrate and discover contemporary films from across the European Union, featuring award-winning films and domestic box office hits from 13 participating countries of the EU. EUphoria is dedicated to promoting European film culture and the European Union in the United States by expanding awareness of the rich heritage and diversity of cinemas from Europe.
The 2014 edition is comprised of feature length dramatic and documentary films from Austria, Belgium, Bulgaria, Croatia, Czech Republic, Finland, Germany, Greece, Ireland, Italy, Lithuania, Luxembourg and Poland.
"Culture plays an important role in conveying European identity and values: liberty, democracy, respect for human rights and fundamental freedoms, and the rule of law," said João Vale de Almeida, the EU Ambassador to the United States. "Since the EU's very beginning, we have been a community based on these common principles, which guide Member States and citizens as they live, work, and interact with each other, with neighbors, and with the wider world."
PROGRAM: 
FRI, Sept 19th (Opening night) 
7pm – GREECE: Little England, catered reception to follow
 Norris Cinema Theatre
By Invitation Only
SAT, Sept 20th 
2pm – IRELAND: The Irish Pub
Norris Cinema Theatre
4pm – LITHUANIA: The Other Dream Team, Q&A to follow
 The Ray Stark Family Theatre
5pm – CZECH REPUBLIC: Clownwise, Q&A to follow
 Norris Cinema Theatre
7pm – POLAND: Jack Strong, Q&A to follow
 The Ray Stark Family Theatre
8pm – BELGIUM: Flying Home, Q&A to follow
 Norris Cinema Theatre
SUN, Sept 21st 
2pm – AUSTRIA: Taking it Back
 Norris Cinema Theatre
4pm – LUXEMBOURG: Blind Spot / Mr. Hublot
 The Ray Stark Family Theatre
5pm – GERMANY: The Strange Little Cat
 Norris Cinema Theatre
7pm – BULGARIA: The Color of the Chameleon
 The Ray Stark Family Theatre
8pm – CROATIA: Sonja and the Bull, Q&A to follow
 Norris Cinema Theatre
 TUE, Sept 23rd 
7pm – FINLAND: Sel8nne
 The Ray Stark Family Theatre
 WED, Sept 24th (Closing night)
7pm – ITALY: Discovery at Dawn, Q&A to follow
 The Ray Stark Family Theatre 
Learn more about the screenings and book tickets online at  http://euphoriafilmfest.com/
About The USC School of Cinematic Arts
The University of Southern California's School of Cinematic Arts is one of the leading media schools in the world. Founded in collaboration with the Academy of Motion Picture Arts and Sciences in 1929, over 85 years ago, the USC School of Cinematic Arts has fueled and mirrored the growth of entertainment as an industry and an art form. The School offers comprehensive programs in directing, producing, writing, critical studies, animation and digital arts, production, interactive media and games, all backed by a broad liberal arts education and taught by leading practitioners in each field. Its more than 11,000 alumni are among the world's most distinguished animators, scholars, teachers, writers, directors, producers, cinematographers, editors, sound experts and industry executives. Since 1973 not a year has passed without an alumnus or alumna being nominated for an Academy Award. https://cinema.usc.edu/
About European Languages and Movies in America (ELMA)
ELMA (European Languages and Movies in America) is a Santa Monica-based nonprofit organization dedicated to showcasing European movies. www.ELMA.org
Other articles: EDUCATION & SCHOLARSHIPS
SEE MORE