Film Series Highlights Polish Masterpieces
September 05, 2014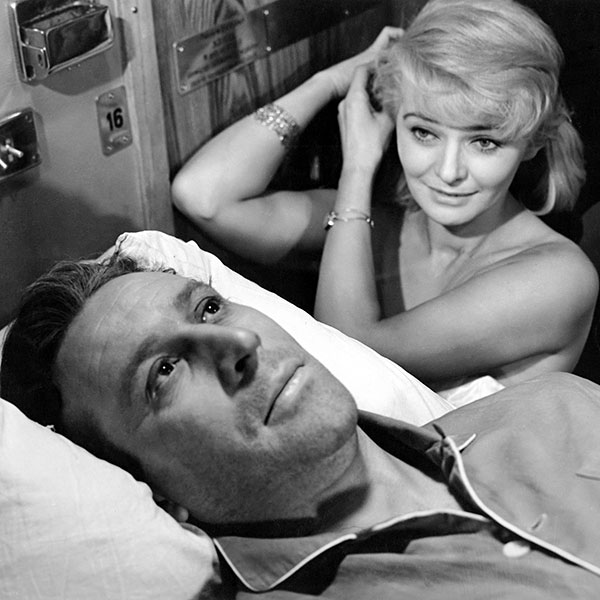 NIGHT TRAIN (1959, B&W, 98 minutes, Polish with subtitles)
The University of Michigan Copernicus Lecture Series to Host Polish Films.
By Raymond Rolak
On Monday, September 15, 2014 at 7:00 p.m. and part of Martin Scorsese Presents: Masterpieces of Polish Cinema, NIGHT TRAIN will be presented. Showcased as part of the Copernicus Program in Polish Studies at the University of Michigan, the film presentation will take place at the Michigan Theater, 603 E. Liberty Street, Ann Arbor, MI 48104.
The film was also known as THE BALTIC EXPRESS. In NIGHT TRAIN (Pociąg), directed by Jerzy Kawalerowicz, a subtle game of emotions plays out between two travelers. Their feelings change from mutual aversion to closeness. Both leads in the film seem so forlorn and without hope for the future. This all plays out while taking the simple task of transportation of a night train in a sleeper car.
Jerzy (Leon Niemczyk) and Marta (Lucyna Winnicka), accidentally end up holding tickets for the same sleeping compartment on an overnight train to the Baltic Sea coast. Also complicating things, on board is Marta's spurned lover, who will not leave her alone. When the police enter the train in search of a murderer on the run, rumors fly and everything seems to point toward one of the main characters as the culprit.
The musical score by Andrzej Trzaskowski heightens the anxiety and the black and white close shots by master cinematographer Jan Laskowski also adds tension. The repeated tight shots reminds the viewer of Hitchcock's classics, THE 39 STEPS and THE LADY VANISHES.
NIGHT TRAIN may be a reminder of the Russian political boot on the Polish people during the Cold War. The story shows misfits that come together among the society of passengers to socially rebel. Could this have been a precursor to the Solidarność movement? Does all of Poland escape at the end of the line?
Remember Kawalerowicz also directed the cinema masterpiece, QUO VADIS. In 2009, there was an American remake of NIGHT TRAIN, which went straight to video and was written and directed by Brian King. Danny Glover, Leelee Sobieski, and Steve Zahn starred.
The final presentation will be December 8, 2014. The MAN OF IRON (1981) - is a Canne Film Festival top award winner, the Palme d'Or prize. This Oscar nominated masterpiece follows the 1980 Gdańsk workers' strike that birthed the Solidarity trade union.
Advance tickets are available at www.ticketweb.com, tel: 734-668-8397
http://www.michtheater.org/series/polish-cinema/
Other articles: EDUCATION & SCHOLARSHIPS
SEE MORE