The Fantastic Laboratory of Dr. Weigl - Book Presentation in Washington
September 02, 2014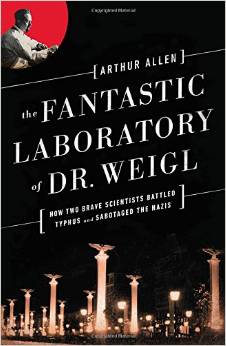 Book Promotion: Arthur Allen. From a laboratory in wartime Poland comes a fascinating story of anti-Nazi resistance and scientific ingenuity.
The Fantastic Laboratory of Dr. Weigl is a powerful exploration of the intersection of disease, ethics, and politics set mostly in wartime Poland. With a driving narrative, it tells the story of typhus epidemics, Jewish and Polish scientific resistance, and the implacable cruelty and stupidity of Nazi science. After the brilliant Rudolf Weigl created the world's first anti-typhus vaccine, he was forced to make a difficult moral choice when the Nazi demanded that he produce the vaccines for his troops. However, he still managed to protect thousands of vulnerable Lwow citizens by secretly shipping the vaccines to the Warsaw ghetto and Polish resistance fighters.
 
Arthur Allen is a writer and journalist who currently writes about health information technology for POLITICO. His free lance work on the bio medical sciences and bioethics has appeared in The New York Times, Washington Post, Slate.com, Salon.com, Landscape Architecture, The New Republic, and. Arthur lives in Washington with his wife, New Yorker staff writer Margaret Talbot, and their two children.


Sunday, September 28, 2014 - 5:00 pm
The Kosciuszko Foundation
Washington, DC Office
2025 O street NW
Washington, DC 20036
Tel: (202) 785-2320
Other articles: EDUCATION & SCHOLARSHIPS
SEE MORE