A special performance of Hershey Felder as Monsieur Chopin
July 10, 2014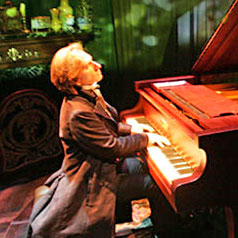 Fot. John Zich
Opening night Sunday, July 27, 2014 at 7:00 pm, regular shows July 25th - August 3rd, 2014 in Berkeley Repertory Theater.
The Consulate General of Poland in Los Angeles announces and invites everyone to a special performance of Hershey Felder as Monsieur Chopin.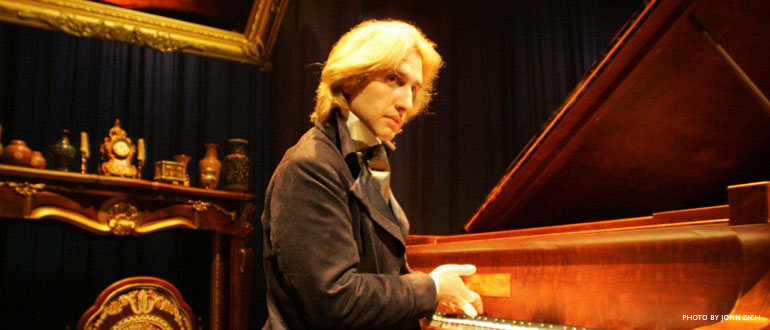 You've seen Hershey Felder as George Gershwin on the hot streets of 1920s New York. You've seen him on the conductor's podium revealing Maestro Leonard Bernstein's heart. Now come back with Hershey to Paris in 1848…to a work of love and art and the place where his soul resides, in the depths of Chopin's music. In his passionate portrayal of the "Poet of the Piano," Hershey reveals the beloved and romantic composer's secrets about his creations—and the secrets he carried to his grave—against a gorgeous, lush score of more than a dozen compositions. Come back with Hershey to meet the mysterious Monsieur Chopin. "[Felder] carries a rapt audience along on a wave of true, powerful, and wordless passion," declares the Boston Globe.
Hershey Felder performed George Gershwin Alone on Broadway at the Helen Hayes Theatre and on the West End at Duchess Theatre. His Composers Sonata (1999–2014)—George Gershwin Alone; Monsieur Chopin; Beethoven, As I Knew Him; Hershey Felder as Leonard Bernstein in Maestro; and Hershey Felder as Franz Liszt in Musik—has been presented at dozens of theatres across the U.S. and around the world, including a command performance of Monsieur Chopin for the Polish Ambassador to the United States. He received Los Angeles Ovation Awards for Best Musical and Best Actor for George Gershwin Alone in 2007, and live broadcasts of the production have been aired worldwide. His compositions include Aliyah, Concerto for Piano and Orchestra; Fairytale, a musical; Les Anges de Paris, Suite for Violin and Piano; Song Settings; Saltimbanques for Piano and Orchestra; Etudes Thematiques for Piano; and An American Story for Actor and Orchestra. As director, Mr. Felder premiered Mona Golabek in The Pianist of Willesden Lane at the Geffen Playhouse in April 2012 and recently premiered Chris Lemmon in Jack Lemmon Returns. Mr. Felder has been a scholar in residence at Harvard University's department of music and is married to Kim Campbell, former Prime Minister of Canada.
Join us for opening night of "Monsieur Chopin" on July 27 at 7 pm, and save 20% off regular-priced tickets (50% if you're under 30!) on the performance. Just use the code CHOPIN online or by calling the box office at 510 647-2949 (Tues - Sun, noon - 7). Courtyard reception immediately following the performance Berkeley Repertory Theatre (2025 Addison St, Berkeley, CA). 
---
Critics about the show:
"Felder's rapturous, emotionally charged playing of more than a dozen pieces by Chopin is the show's most glorious element…Music was Chopin's solace. And when Felder sits down to play the composer springs to life in a way that says more about the soul of this quintessential Romantic than any words can convey."—Chicago Sun-Times
"Hershey Felder, the show's gifted creator and sole performer, clearly feels deeply attuned to the Romantic sensibility, not just the romantic. And, in his finest moments, he carries a rapt audience along on a wave of true, powerful, and wordless passion."—Boston Globe
"Those who saw George Gershwin Alone are likely to show up for Monsieur Chopin. They will enjoy themselves, even if they've never sat and listened to someone playing Chopin…Felder has two major assets. His lush, romantic playing style at the keyboard is a fine match with Chopin's folkloric but rooted compositions. And the man, clearly, is a fanatic about detail. M. Chopin may be emotional and showy, but it is never inaccurate. At neither script nor keyboard."—Chicago Tribune
The Music of Fryderyk Chopin
Book by Hershey Felder
Directed by Joel Zwick
A co-production with Eighty-Eight Entertainment
Running time: 1 hour and 45 minutes, no intermission
Berkeley Repertory Theater, 2025 Addison St, Berkeley, CA 94704
Link to promo code: http://tickets.berkeleyrep.org/Default.aspx?promo=CHOPIN
Link to show: http://www.berkeleyrep.org/season/1314/8653.asp
Other articles: EDUCATION & SCHOLARSHIPS
SEE MORE