A Place to Stand, a documentary film by Anna Ferens - screening at Columbia University in NY
April 10, 2014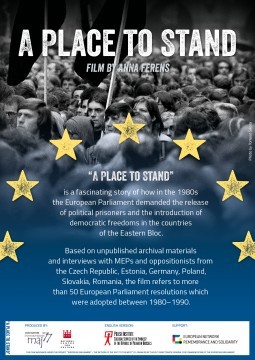 Please join the Harriman Institute and Columbia University Central and Eastern European (CUCEE) Club for the screening of A Place to Stand, a documentary film by Polish filmmaker Anna Ferens. The film will be presented by Anna Ferens, and the event will be moderated by Anna Frajlich, Senior Lecturer, Columbia University.
A Place to Stand examines the fall of Communism in Central and Eastern Europe and the role of the European Parliament in the process of the political transformation of Europe during the years 1980-1990. This film also celebrates the tenth anniversary of Poland's accession to the European Union in 2004.
Based on unpublished archival materials and interviews with members of the European Parliament, the film also features extensive interviews with a number of democracy activists throughout the Eastern Bloc. Moreover, Ms. Ferens's film highlights over 50 resolutions passed by the European Parliament during the seminal decade that began with the rise of the Solidarity movement in Poland in 1980.
Recently screened in Brussels for the leaders of the European Parliament, the film was introduced by Hans-Gert Pöttering, President of the European Parliament from 2007 to 2009 and current Chairman of the Konrad Adenauer Foundation as well as a member of the Reconciliation of European Histories Group.
The screening is free and open to the public.
703 Hamilton Hall

http://harriman.columbia.edu/event/film-screening-place-stand-0
Other articles: EDUCATION & SCHOLARSHIPS
SEE MORE