The Fryderyk Chopin Society of Connecticut presents a piano recital by Lluís Rodríguez-Salvà
April 04, 2014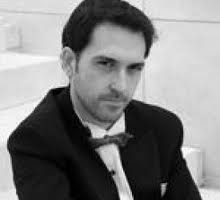 Saturday, April 5, 2014 at 5:15 pm Ss.Cyril & Methodius Church 63 Popieluszko Court / 55 Charter Oak Ave Hartford,CT
Born in Girona, Lluís Rodríguez-Salvà began his musical education at the "Isaac Albèniz" and Barcelona Conservatories in his native Spain where his teachers have included Luiz de Moura Castro and María Jesús Crespo. Graduate studies were pursued at the Manhattan School of Music in New York into the studio of the eminent pianist Byron Janis, student of Vladimir Horowitz, and, Miyoko Nakaya Lotto and he was the recipient of the "Harold Bauer Award", the highest honor bestowed upon a graduating student.
The contact with world-famous artists like Alicia de Larrocha, Martha Argerich, Daniel Barenboim, Bruno Leonardo Gelber, Joaquín Achúcarro, Josep Colom, Galina Egyazarova, Ruth Laredo, Nina Svetlanova and Gábor Tákacs-Nagy has de­nitively contributed to his artistic development.
His musical qualities have always been effusively praised and he has become a 14-times 1st-prize winner in national and international Piano Competitions: "Frechilla-Zuloaga" (2003); Bergen Philharmonic Competition" New Jersey, USA (2001); "Heida Hermanns" Connecticut, EUA (2000); "El Primer Palau" (2000); "Concurso Permanente de Juventudes Musicales de España"(2000); " Ciutat de Carlet" (2000); "Dora Zaslavsky Koch Concerto Competition" New York, USA (1999); "Vilafranca del Penedès" (1998); "Chopin Competition" New York, USA (1998); "Ciutat de Palmanyola" (1997); "Joan Massià" (1996); "L'Arjau" (1996); "Ricard Viñes" (1995) and "World Piano Competition" Cincinnati, USA (1994). He has also received prizes from the "José Iturbi", "5 Towns Competition", "Pilar Bayona", "Manuel Massotti Littel", "Miszieslav Munz", "Ciutat de Berga", "Gregorio Baudot", "Ciudad de Albacete" and "Maria Canals" competitions and he has been awarded a "Special Prize for the best performance of Spanish music" in 4 different occasions.
Particularly esteemed as a prominent performer and connoisseur of Spanish music, he enjoys an intense professional activity as a recitalist, chamber musician, soloist, accompanist and lecturer in Italy, Germany, France, Switzerland, Romania, the United States, Japan, Argentina, Gabón and in the foremost Spanish concert halls, including the Palau de la Música Catalana and the Auditori of Barcelona, Teatro Monumental of Madrid, Teatro Maestranza of Seville and Palau de la Música of València.
He has appeared as a soloist with the Barcelona Symphony Orchestra (OBC), Orchestra of the Spanish Radio and Television (RTVE), Seville Symphony Orchestra, Vallès Symphony Orchestra, Barcelona Sinfonietta, Orchestra of Castilla y León, Orquesta de Elche, Orquestra del Segle XXI, Orquestra de Cambra de Vic, MSM Symphony Orchestra, Bergen Philharmonic (USA), Mar del Plata Symphony Orchestra and San Juan Symphony Orchestra (Argentina) under the batons of conductors such as Eiji Oue, Jerzy Semkow, Uwe Mund, Moshe Atzmon, David Gilbert, Francesc Llongueres, Jordi Mora, David Giménez-Carreras, Alejandro Posada, José María Ulla and Alexei Izmirliev.
Prestigious musicians as the cellist Lluís Claret and the horn player Philip Myers have shared stage with him and he has performed in music festivals like Granada, Torroella de Montgrí, Cadaqués, Isola di San Giulio and Verbier. In 2004 he made his debut at the "Weill Recital Hall" at Carnegie Hall in New York City and he was named Artist-in-Residence of "Centro de Estudios Pianísticos (CEP)".
Other articles: EDUCATION & SCHOLARSHIPS
SEE MORE