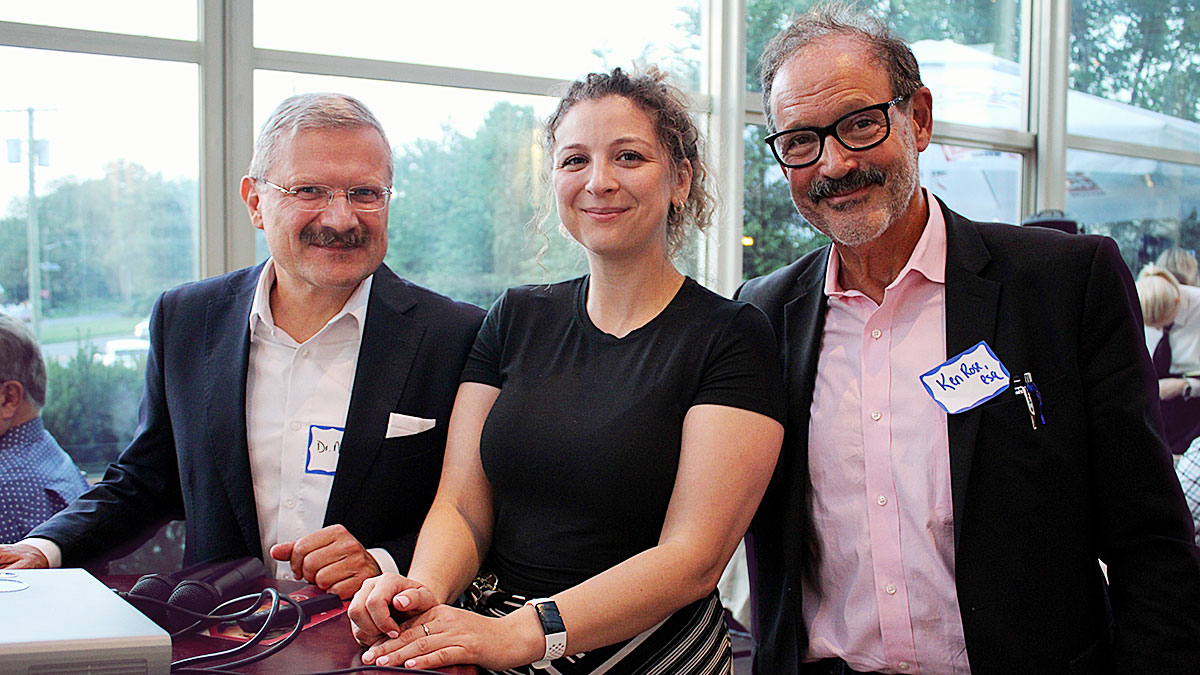 ELMWOOD PARK, NJ – July 20, 2023 – The captivating Dr. Dariusz Nasiek of Allied Neurology Interventional Pain Practice, PC, invited a diverse group of professionals to his monthly networking event on Thursday, July 20th. This evening of synergy, held at the Royal Warsaw Restaurant, saw attorneys, physicians, chiropractors, and medical professionals converge for an enlightening session brimming with networking, presentations, dinner, and drinks. In a noteworthy first, the event featured an international speaker, Lana Last BA, MA, CEO of AIMA, marking a thrilling milestone.
Sean Barresi of WIRX Pharmacy kick-started the evening, illuminating the attendees about this notable mail-order pharmacy's unique approach. Serving the pharmaceutical needs of injured workers, WIRX prides itself on its independence from insurance and managed care companies, their unwavering commitment to continuous client care, and unparalleled customer service.
Following Barresi, the crucial topics of discussion led by Dr. Nasiek was the work of Allied Neurology and Interventional Pain Practice, a recognized Center of Excellence (CE) in the field of neurology, specifically focusing on Traumatic Brain Injury (TBI). Dr. Nasiek emphasized that approximately half of TBI cases are overlooked in emergency departments, a fact that can lead to severe consequences such as a 400% increased risk of dementia and reduction in life expectancy by 9 years. He strongly encouraged his fellow professionals to facilitate referrals of potential TBI cases to the CE for early intervention and improved health outcomes.
Dr. Nasiek, the author of the incoming book, "MISS - Minimally Invasive Spine Surgery: A New Paradigm in the Treatment of Back Pain", elucidated the transformative techniques of MISS. He detailed the methods which offer patients a more comfortable alternative to traditional surgeries. The benefits of MISS range from reduced blood loss and postoperative pain to quicker recovery times and decreased scarring.
The event's highlight was Lana Last's poignant and empowering address. As an advocate for gynecological health, Lana shared her deeply personal journey battling severe menstrual pain. She recounted her exploration into CBD and CBG research sparked by desperation and a need for non-opioid pain relief solutions.
The narrative took a hopeful turn when Lana met her co-founders, Melanie ter Borg COO, BSc, MA, and Dr. Mali Meibod CSO, PhD. Bonded by shared experiences of medical and gender discrimination, they founded AIMA. With patented formulations designed to alleviate menstrual and pelvic pain, their first OTC product, OVY™, aims to bridge the gender pain gap. OVY™, offering targeted high-dosage CBD & CBG relief, is available for purchase at my-aima.com.
In the aftermath of the successful event, Dr. Nasiek extended his heartfelt thanks to AIMA for their generous sponsorship. He further expressed his gratitude towards all attendees, contributors, and the professional community for making these events an ongoing success.
The next meeting is already generating anticipation, slated for August 24th at the Royal Warsaw. Keep your schedules clear, and be part of this remarkable series of events dedicated to pushing boundaries in the field of pain management.
Pain Management
185 Grand Avenue
Englewood
, NJ
tel:
Click phone# to call
973-773-7730
and tell them you found their ad in Polish Pages
SPONSORED ARTICLE
For the most up-to-date information, please contact the company directly.
The photos contained in the article serve only as an illustration of the article.