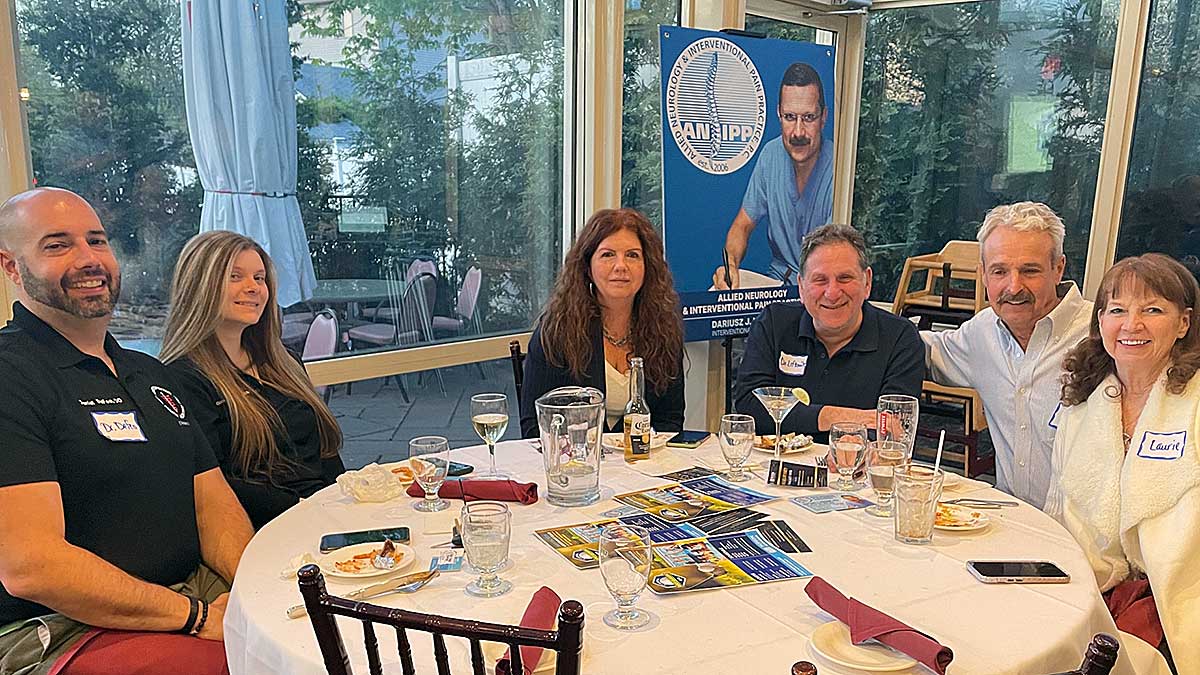 On Thursday, April 20th, Dr. Dariusz Nasiek of Allied Neurology Interventional Pain Practice, PC, hosted his monthly networking event. A multitude of professionals gathered for an enjoyable evening of networking, presentations, dinner, and drinks. The seminar took place at the Royal Warsaw Restaurant in Elmwood Park, NJ, and was sponsored by Hudson Regional Hospital and WIRX Pharmacy.
Bill DeIasi began the evening by representing Hudson Regional Hospital, one of Northern New Jersey's leading hospitals, situated in Secaucus, New Jersey. He informed the audience that Castle Connolly, America's trusted source for identifying top doctors and hospitals through a rigorous and independent process, has selected HRH as one of the top 15 hospitals in New Jersey with fewer than 350 beds for stroke care. This recognition highlights their unwavering commitment to delivering exceptional patient care and their ongoing efforts to enhance stroke prevention, treatment, and recovery.
Sean Barresi spoke about WIRX Pharmacy, a distinguished mail-order pharmacy catering to injured workers' prescription needs. WIRX Pharmacy is not affiliated with any insurance or managed care companies. Instead, they are an independent company dedicated to collaborating with clients and physicians to ensure each client receives uninterrupted prescriptions during their care. They excel at communicating with clients and doctors and provide expedited service and outstanding customer service, with pharmacy managers always available to answer questions.
Dariusz Nasiek, MD, author of MISS - Minimally Invasive Spine Surgery: A New Paradigm in the Treatment of Back Pain, presented on his book. MISS encompasses surgical techniques used to address various spinal conditions. The approach involves making smaller incisions and utilizing specialized instruments to access the spine, as opposed to the large incisions and cutting through muscle and tissue required in traditional open spine surgery. Common spine problems include herniated discs, spinal stenosis, spondylolisthesis, degenerative disc disease, scoliosis, and compression fractures.
Various types of MISS techniques are employed to rectify these issues, each tailored to address specific spinal conditions. For instance, a microdiscectomy is a procedure used to treat a herniated disc in the lumbar spine, involving the removal of the damaged disc portion through a small incision in the back. One of the main benefits of MISS is that it can lead to reduced blood loss, less postoperative pain, and a quicker recovery time compared to traditional surgery. Additionally, the smaller incisions may result in less scarring and a decreased risk of infection.
Dr. Nasiek continued by offering a step-by-step explanation of a MISS procedure, complete with numerous photos. First, anesthesia is administered (usually conscious sedation), and the patient is positioned. Next, a small incision is made, the muscles are dilated, and a tubular retractor and surgical instruments are inserted. The surgeon must visualize the site using a microscope or endoscope. Following this, the problematic tissue or bone is removed, as well as the instruments. Finally, the incision is closed.
Ongoing advancements in MISS techniques and technologies include robotics, navigation systems, and regenerative medicine. It is crucial to note that not all patients are candidates for MISS, and a comprehensive evaluation and diagnosis are required to determine if it is suitable for a particular patient. Patients should also explore more conservative options before considering surgery. It is essential to discuss the potential risks and benefits of MISS with a qualified healthcare provider. If you or someone you know requires a consultation, please contact Allied Neurology & Interventional Pain Practice at 201-894-1313.
Dr. Nasiek extends his gratitude to all supporters who attended this event. He would also like to thank Hudson Regional Hospital and WIRX Pharmacy for sponsoring this delightful evening. His next event is scheduled for May 18th at the same location, The Royal Warsaw.
Pain Management
185 Grand Avenue
Englewood
, NJ
tel:
Click phone# to call
973-773-7730
and tell them you found their ad in Polish Pages
SPONSORED ARTICLE
For the most up-to-date information, please contact the company directly.
The photos contained in the article serve only as an illustration of the article.