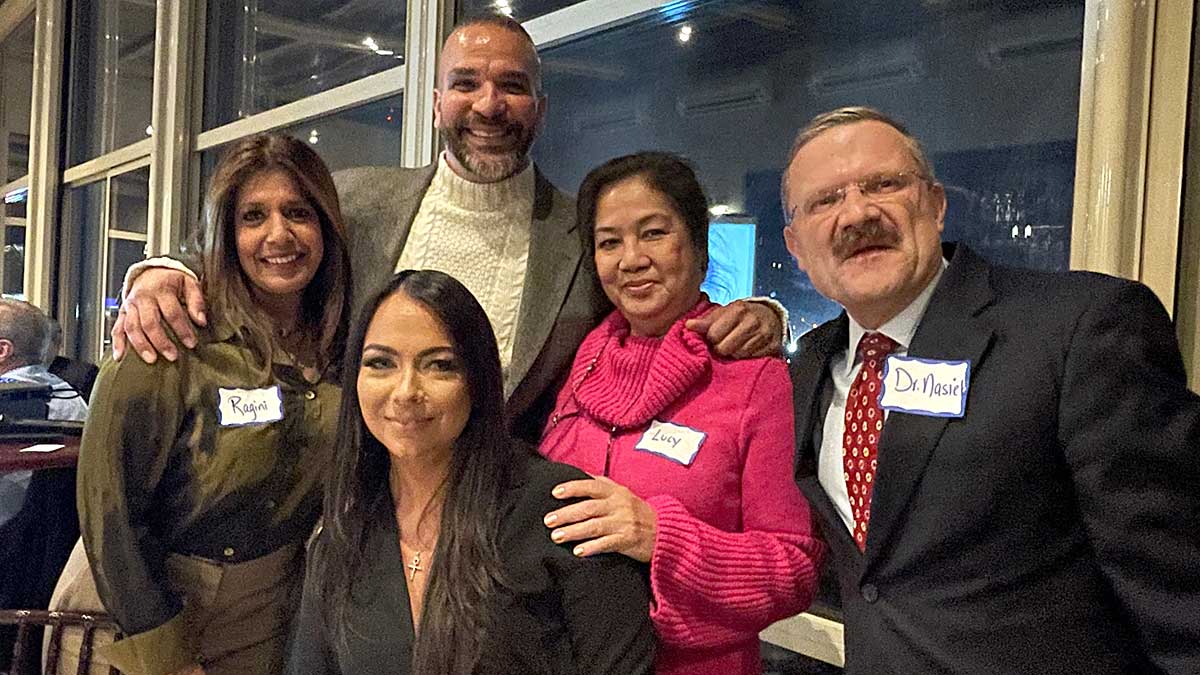 On Thursday, December 1st, Dr. Dariusz Nasiek from Allied Neurology and Interventional Pain Practice, PC hosted a networking dinner & seminar where many attorneys, physicians, chiropractors, and medical professionals gathered. The seminar was held at the Royal Warsaw Restaurant in Elmwood Park, NJ. Attendees were invited by Dr. Dariusz Nasiek, board certified pain management specialist, and they were joined by sponsors Bill DeIasi from Hudson Regional Hospital, Sean Barresi from WIRX Pharmacy & C.O.S.I , and special guest speaker Thomas LaGreca from Callagy Law.
Bill DeIasi started off the evening speaking on behalf of Hudson Regional Hospital, one of Northern New Jersey's Premier hospitals located in Secaucus, New Jersey. He was excited to share the news that HRH most recently received an "A" rating from the Leapfrog Group. For more than 20 years, The Leapfrog Group has collected, analyzed, and published hospital data on safety and quality in order to push the healthcare industry forward. We would like to congratulate Hudson Regional Hospital on becoming a Leapfrog Grade A facility.
Sean Barresi from WIRX Pharmacy & C.O.S.I (Complete Orthopedic Services, Inc.) also presented on both of his companies, a premier auto accident pharmacy and an orthotic/prosthetic company. WIRX is a mail order pharmacy servicing injured worker's prescription needs. WIRX Pharmacy is not affiliated with any insurance or managed care companies. Rather, they are an independent company committed to working with their clients and physicians to ensure each client receives uninterrupted prescriptions during their care. C.O.S.I specializes in orthopedic & prosthetic services for a broad spectrum of conditions including trauma, pediatric, geriatric, limb loss. In addition, they provide a full range of D.M.E. products, including C.P.M. rehab devices. It is their promise that all O&P and D.M.E. services will be provided to their patients in a timely manner and by trained professionals. Please send all new referral demographics to SBarresi@wirxpharmacy.com
Our special guest speaker, Thomas LaGreca, Executive Director of Medical Revenue Recovery at Callagy Law, spoke about the New Jersey State "Surprise Bill" law (SBL), which became effective August 30, 2018, and the Federal No Surprises Act (NSA), which became effective January 1, 2022. These laws introduced additional complexity and uncertainty into the already-complex medical industry as it relates to commercial insurance claims.
Several years ago, states began to pass laws aimed at protecting patients from "Surprise" out-of-network (OON) medical bills. These "Surprise" bills would arise where patients were taken to an OON facility or were seen by an OON medical practitioner in the context of emergency care. They would also arise in a non-emergent context, so-called "inadvertent" OON services, where a patient is seen by an OON ancillary medical provider, such as an anesthesiologist, at an in-network facility. Whether the circumstances are emergent or inadvertent, the patient was seen by an OON medical provider through no decision of the patient. Under these laws, the patient is protected because the patient is required to be billed as if they were seen on an in-network basis.
So, where does that leave the OON medical provider? The provider's recourse is now against the carrier alone and if there is a payment dispute between them, it must be resolved through the state or federal arbitration process, the former if the claim relates to a NJ state-regulated health plan and the latter if it relates to a federally regulated plan or an out-of-state plan. The processes vary, as do the standards of reimbursement.
The NJ State reimbursement standard is relatively friendly to the medical community because it is a process that loosely analyzes reimbursement in the space of usual, customary and reasonable (UCR) rates. The federal process has the potential to be much more unfriendly to the medical community than the state process. There are a number of factors that can be considered in the federal arbitration process, including the median in network rate for the service that exists between that carrier or plan and its network providers. This needs to be challenged very aggressively in order to move the reimbursement standard to something at least approaching market-based levels relevant to the ER world. If not, the entire national emergency medical industry will find their reimbursements dramatically reduced from what have historically been UCR-based rates to very low median in-network rates. This, I am afraid, could jeopardize the quality of ER medical treatment across the country.
Our next event will be held on Thursday January 12th at 7PM at the same location, The Royal Warsaw. A big thank you to Hudson Regional Hospital, WIRX Pharmacy & C.O.S.I., & Thomas LaGreca for making this a very successful event. We would also like to thank all of our friends, contributors, and professional family for making these events such a huge success.
Pain Management
185 Grand Avenue
Englewood
, NJ
tel:
Click phone# to call
973-773-7730
and tell them you found their ad in Polish Pages
SPONSORED ARTICLE
For the most up-to-date information, please contact the company directly.
The photos contained in the article serve only as an illustration of the article.