Photo Gallery: Coronation of the statue of Our Lady of the Immaculate at St. Adalbert Parish Elmhurst, NY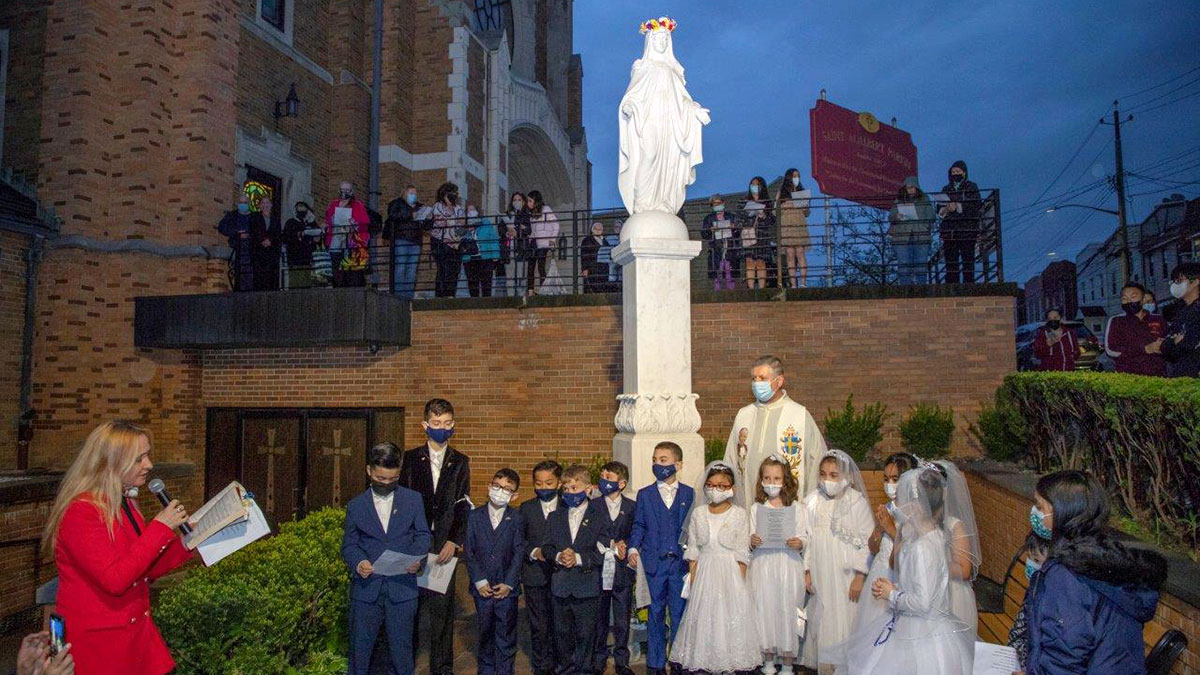 During the month of May, the devotions of the Blessed Virgin Mary are held in the Catholic Church. Marian devotions are practices in the Catholic church that teach us about Mary, the mother of God. In the Polish culture, the famous "majòwki" are celebrated in churches, chapels, by roadside, crossroads and in the fields where people have gathered for centuries to pray to the Blessed Mother.
"Hail Mary, honor and praise to you ..."
St. Adalbert Parish known also as St. Wojciech Parish in Elmhurst is the oldest Polish parish in Queens, funded in 1891 and the fourth oldest Polish parish in New York. A "May Crowning" is a traditional ritual that occurs here at the beginning of May for many years. Last May, there was a consecration of a new statue that was erected in front of the rectory.
Due to the restrictions put into place the ceremony was very simple at the time because of the coronavirus pandemic. It was just not possible to wait any longer as the beautiful sight of the glowing Immaculate Lady made of white marble attracted by a lot of people. Many churches were closed at that time and the small garden outside of the rectory became a safe place for prayers for those who sought for help and intercession of Our Lady. This year, since the restrictions related to the pandemic were eased, the coronation ceremony of the statue of the Blessed Virgin took place.
On Monday, May 3, on the Feast of Our Lady Queen of Poland a beautiful ceremony took place. Due to the demographic changes of the Elmhurst neighborhood, other ethnic groups also participated in the liturgy of this popular devotion. The Mass was concelebrated by Fr. Lucjan Szymański, OFM Conv., together with the Franciscan Friars who reside at St. Adalbert Parish. The mass in English was attended by English, Polish and Filipino speaking groups, as well as children who received the 1st Holy Communion this year along with their families and Sisters of the Holy Family of Nazareth.
"I believe that the new statue of the Immaculate Lady will be a testimony of our Catholic faith and devotion to the Mother of God." stated Fr. Mirosław Podymniak OFM Conv. Fr. Mirosław is the 22nd pastor in the history of St. A's. He started his ministry on September 1, 2014 - as an administrator, and since March 1, 2015 he has been the pastor of this parish.
Photographers
tel:
Click phone# to call
917-783-1325
and tell them you found their ad in Polish Pages