Zoni Language Centers Continues to Offer Help to Our Community
Julio Nieto May 14, 2020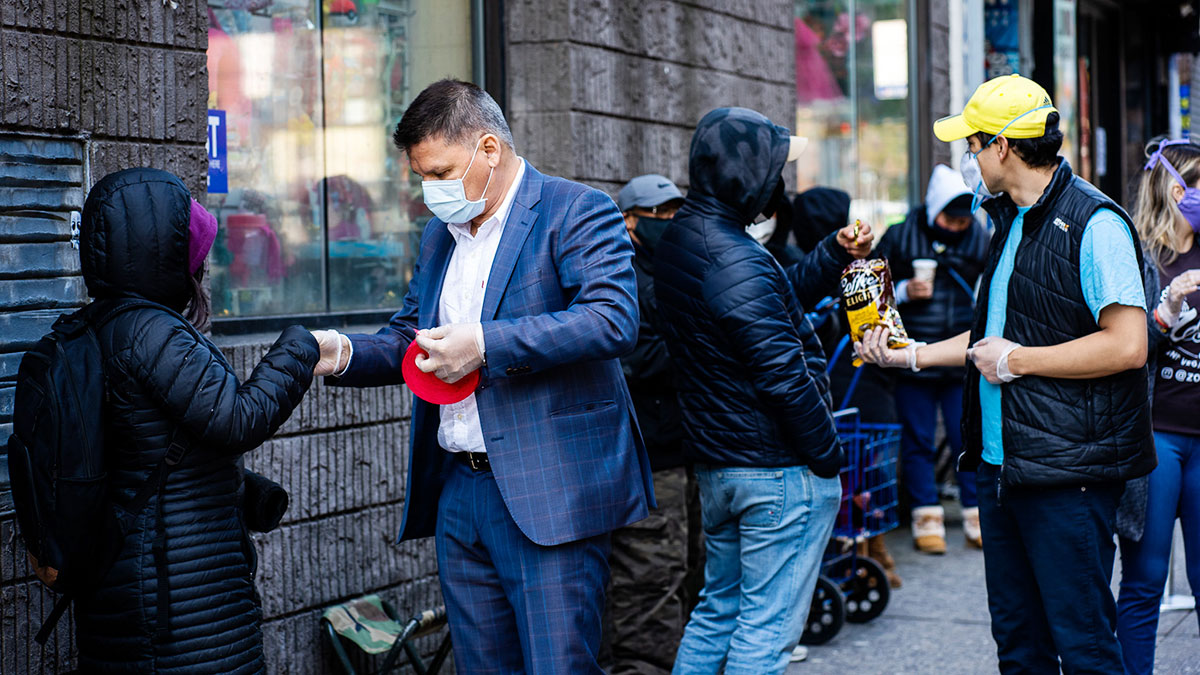 - At Zoni Language Centers we have always thought of our students and their families as part of our extended family and community and as such, we believe that none of our students or extended Zoni community should go hungry during the Corona Virus pandemic, for this reason Zoni has done everything possible and will continue to do so to satisfy each one and everyone.
After the two big events where food distributions offered to endless rows of people from our Zoni community at our Manhattan, NY and Queens, NY locations where hundreds of students had access to their food packages with 5-day supplies, today we announce the Food distribution event at our Zoni Language Centers- West New York, New Jersey that will take place this coming Saturday May 16, 2020 at 10 am.
Zoni Language Centers is asking everyone who can and is willing to help, including staff, faculty and students, to assist us by become volunteers to process and help donate food to those in need. Please contact us directly at: jguerrero@zoni.edu and we will guide you through necessary steps to participate for this noble cause.
Zoni has been doing everything it can to offer numerous ways of support for our students. As we continue to look at ways to assist during these very difficult times we have decided to provide more food options for members of the New Jersey community who find themselves in need, and we hope that you will join us to disseminate the hope for a lot of our students and become a part of this memorable and philanthropic effort.
For more information on this event, please contact:
jguerrero@zoni.edu
Cell: 917-561-0109 
Location
Zoni Language Centers – West New York, New Jersey
Address: 5619 Bergenline Ave, West New York, NJ 07093
Phone: 917-561-0109
Hours: 10 am to 4 pm (On a first come, first served basis and may restrict access due to space, security, safety or control.) Participants: All Zoni students, ex-students and their families
All safety social distance requirements will apply during this distribution.
About Zoni
Zoni's English Classes are now conveniently available through our live Virtual Presence Program- Learning English is as easy as a call and a click away! Zoni Language Centers are now running all classes virtually live for its thousands of students, following the same time schedules and calendar dates as our on-campus program. Join us now and we will give you free support on how to connect with us in a matter of seconds, with any device from anywhere. It does not matter if you do not have computer experience. We have technical support and the best English teachers ready to help you!
SPONSORED ARTICLE
For the most up-to-date information, please contact the company directly.
The photos contained in the article serve only as an illustration of the article.
When calling this company, please reference POLISH AMERICAN PAGES.

We have 9 locations
in NY, NJ & FL:
Zoni Language Centers
585 Main Avenue
Passaic, NJ 07055

Zoni Language Centers
5619 Bergenline Avenue
West New York, NJ 07093

Zoni Language Centers
268 North Broad St, 2nd fl
Elizabeth, NJ 07208

Zoni Language Centers
16 Ferry Street
Newark, NJ
Zoni Language Centers
22 West 34th Street
New York, NY 10001

Zoni Language Centers
2148 Ocean Avenue
Brooklyn, NY 11229
Zoni Language Centers
78-14 Roosevelt Avenue
Jackson Heights, NY 11372

Zoni Language Centers
37-14 Main Street
Flushing, NY 11354

Zoni Language Centers
1434 Collins Avenue, 2nd Floor
Miami Beach, FL 33139