Bishop Brennan to Lead Palm Sunday Procession in Brooklyn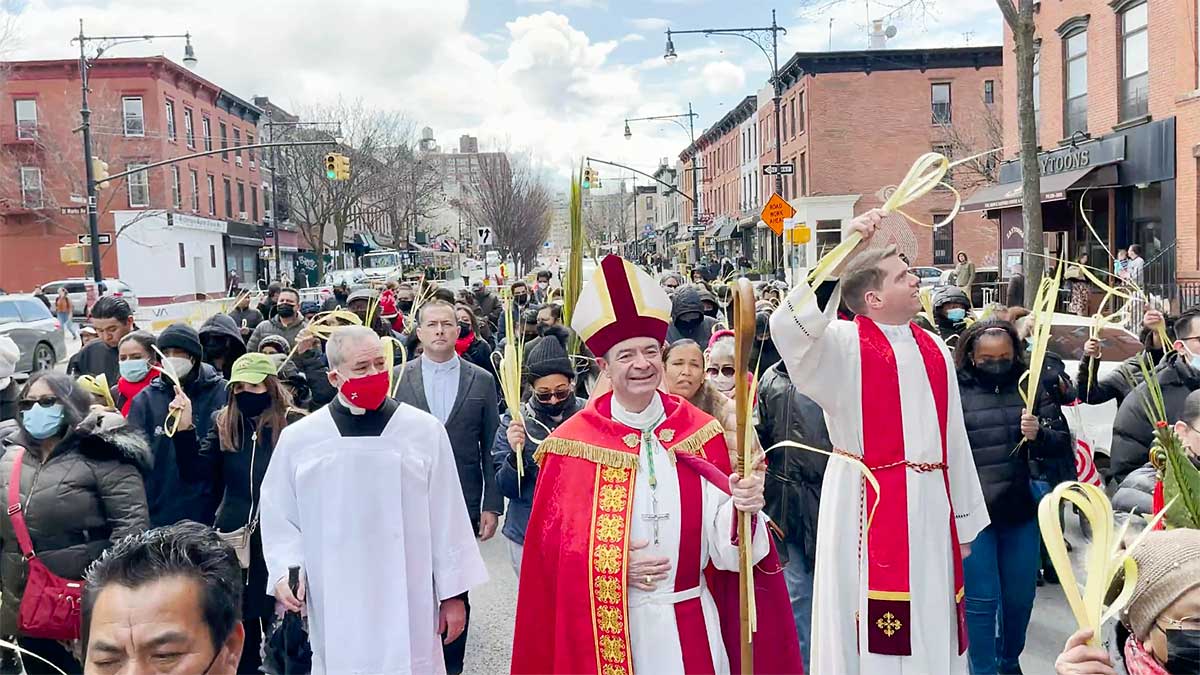 Palm Sunday 2022. Foto: Courtesy of DeSales Media
Bishop Robert Brennan will begin Holy Week with a special Palm Sunday Procession in Spanish beginning at 12:30 p.m. on Sunday, April 2, 2023, at Grand Army Plaza in Prospect Heights, Brooklyn.
After an opening prayer and blessing, Bishop Brennan will lead the pilgrims in procession at approximately 12:45 p.m. with their blessed palms down Vanderbilt Avenue to the Co-Cathedral of St. Joseph, located at 856 Pacific Street.
Palm Sunday commemorates the triumphant entrance of Jesus into Jerusalem, where those who greeted Jesus waved palms and set them on the ground along His path. Palms are recognized as a symbol of victory and peace.
Bishop Brennan will be joined by Father Christopher Heanue, the Rector of the Co-Cathedral of St. Joseph. Following the procession, Bishop Brennan will celebrate the 1:30 p.m. Spanish Mass at the Co-Cathedral of St. Joseph.
Members of the media are invited to attend and are encouraged to confirm their attendance.
The Palm Sunday Procession will be aired live on the Brooklyn Diocesan Cable Channel, NET-TV, available on Channel 97 (Spectrum), Channel 30 (Optimum), and Channel 548 (Fios).
A clean pool feed of the procession can be found on NY POOL 1 at The Switch from noon to 4 PM EDT on Sunday 4/2.
SPONSORED ARTICLE
For the most up-to-date information, please contact the company directly.
The photos contained in the article serve only as an illustration of the article.