Bishop Robert Brennan to Ordain His First Three Men as Priests: Andrew Tsui, Alexander Olszewski, Dung (Vincent) Vu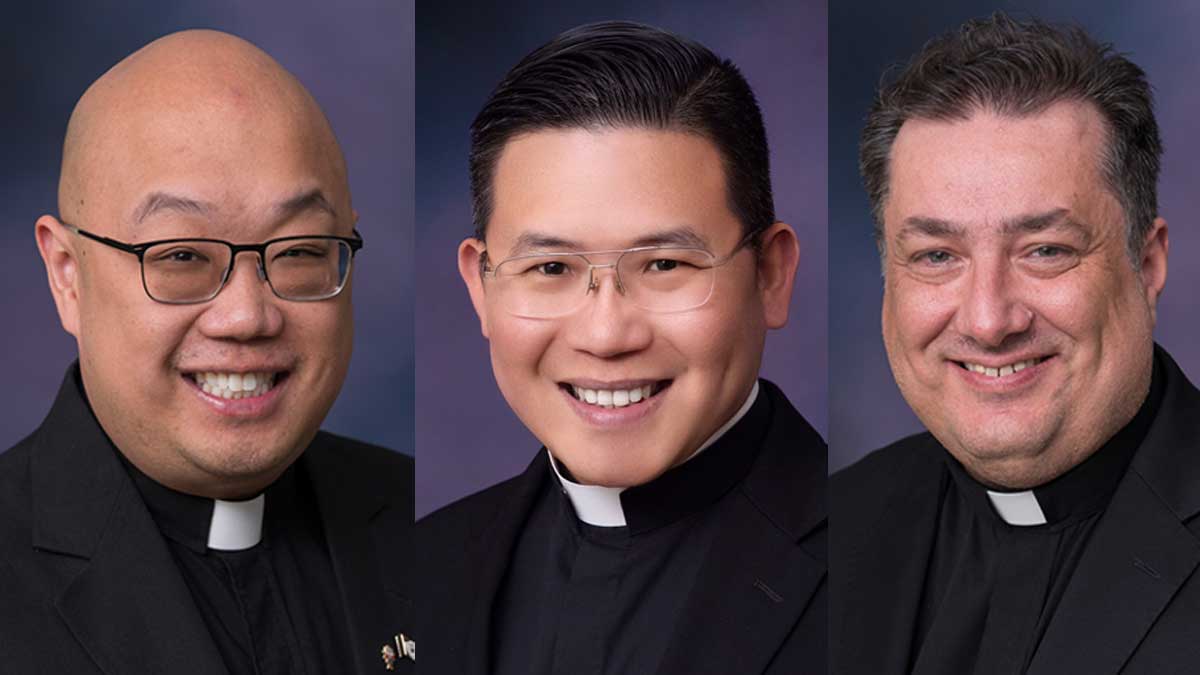 Andrew Tsui, Dung (Vincent) Vu, Alexander Olszewski. Photos: Courtesy of DeSales Media
First American-born Chinese priest to be ordained for the Diocese.
The Most Reverend Robert Brennan, Bishop of Brooklyn, will ordain three men as priests during a Mass of Ordination, on Saturday, June 4, 2022, at 11:00 a.m., at the Co-Cathedral of St. Joseph, located at 856 Pacific Street in the Prospect Heights section of Brooklyn. Bishop Brennan will be presiding over his first ordination in the Diocese of Brooklyn.
The three ordinands include:
Andrew Tsui
Andrew Tsui will be the first American-born Chinese priest to serve the Diocese of Brooklyn. Tsui credits the Catholic Church for helping to save his family. His great-grandmother faced such extreme poverty that her daughters became indentured servants; his father was orphaned in Hong Kong and helped by priests from the Salesian order. His spirituality increased during his high school and college years. Andrew later spoke with Bishop Emeritus Nicholas DiMarzio about the need for Chinese-speaking priests and from there, he received a strong calling to serve the Chinese people. Tsui enjoys fishing, hiking and especially cooking.
Alexander Olszewski
Alexander Olszewski is a former businessman wanting to help redevelop a passion for the faith among people. Alex was born in Bangkok, Thailand to Richard and Vivian Olszewski of Brooklyn. His father was stationed with the U.S. Air Force in Thailand during the Vietnam War. The family was later transferred to Little Rock, Arkansas, where he became an altar boy at his local church. He credits his attendance at Sunday Mass as a contributing factor in his vocation, as well as the sickness and eventual passing of his parents for accelerating his discernment.
Dung (Vincent) Vu
Dung (Vincent) Vu is a native of Vietnam who started to feel the calling to the priesthood while attending college in Ho Chi Minh City. At the time, he was serving as an altar server and Catechist at Holy Family Parish and asked the pastor about a vocation to the priesthood. After graduating college, he traveled to the United States to continue his vocational discernment. He was admitted to the House of Formation in Douglaston by former Bishop Nicholas DiMarzio and completed his studies at Holy Apostles Seminary in Cromwell, Connecticut, and Pope St. John XXIII National Seminary in Weston, Massachusetts.
SPONSORED ARTICLE
For the most up-to-date information, please contact the company directly.
The photos contained in the article serve only as an illustration of the article.