Catholic School Students Apply STEM+ Lessons to Help Historic Pilot Acquire Learjet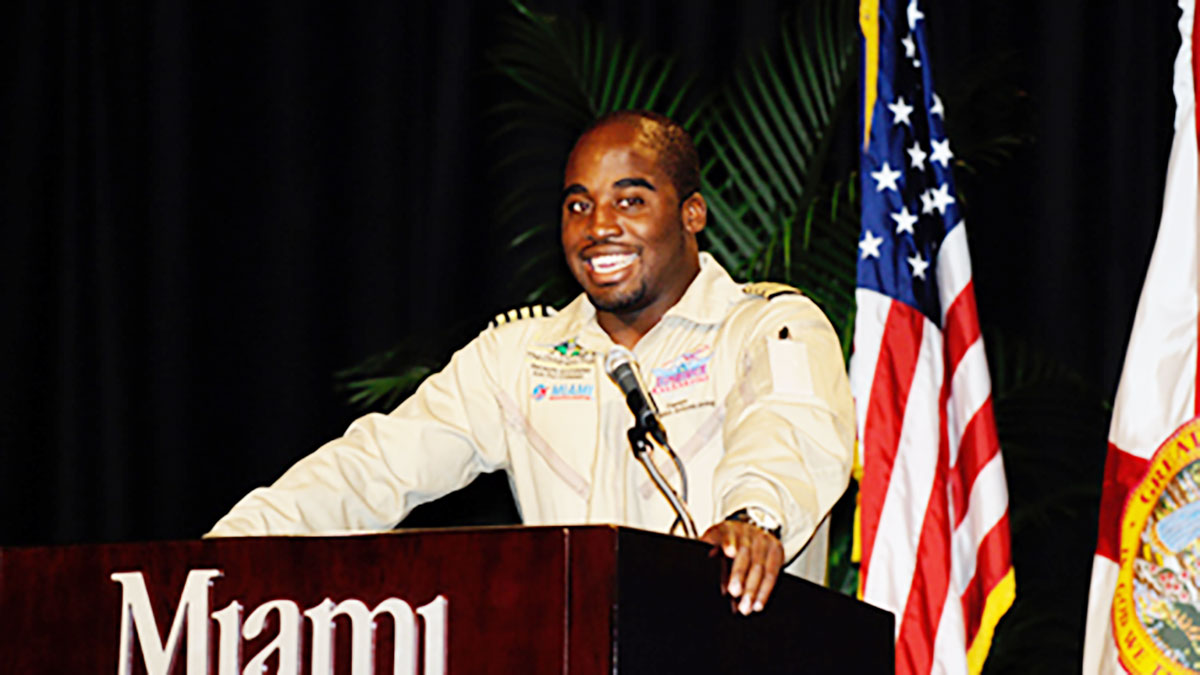 Barrington Irving talks about his experiences as the first African-American and youngest person to fly solo around the world.
Captain Barrington Irving, the first African American to fly around the world solo, and The Flying Classroom, will soar into town to give Catholic School students from the Diocese of Brooklyn and Queens a firsthand look at the Flying Classroom aircraft. Students will also meet STEM 'mission' teachers they have worked with via Zoom for the past two years.
The events 'take off' on May 18th at 10:00 a.m. at Republic Airport, located at 7150 Republic Airport in Farmingdale, New York. Classroom visits to Catholic schools and academies in Brooklyn and Queens will take place on May 19-20th.
Cathedral Prep High School students assisted Captain Irving in the purchase of his latest aircraft. These students completed weeks of research analyzing the top three aircraft options. On Wednesday, these students will see the Learjet 40XR aircraft in person and take an AMAZING STEM+ flight. Some of the students will be surprised with Scholarships and Internships.
Flying Classroom began providing innovative science and STEM lessons to 7 of the Catholic Academies and Parish Schools in the Diocese of Brooklyn in 2020. The partnership has grown, and about 3,000 students have participated in science 'missions' via Zoom. This will be the first opportunity for the special teachers to meet the students in person.
Captain Barrington Irving is the founder of the Flying Classroom curriculum, which allows students to experience STEM+ based upon expeditions conducted around the world. The students of Catholic academies, schools, and high schools in Brooklyn and Queens have participated in more than 30 different expeditions that have brought science, literacy, and math to life.
Every Flying Classroom expedition allows students to engage in real-world relevant content, explore academic standards, and innovate with hands-on activities, including project-based learning and engineering design challenges.
Captain Barrington Irving previously held the Guinness World Record for being the youngest person to fly around the world solo at age 23. Captain Irving is also the first African American pilot to achieve this.
Members of the media are encouraged to attend and are asked to reply to this e-mail to confirm their attendance.
SPONSORED ARTICLE
For the most up-to-date information, please contact the company directly.
The photos contained in the article serve only as an illustration of the article.