Blessing & Dedication of New Joseph Burkacki Academic Center & Richard & Mary Trzcinski Quad at the Orchard Lake Schools
Lisa Healy October 04, 2022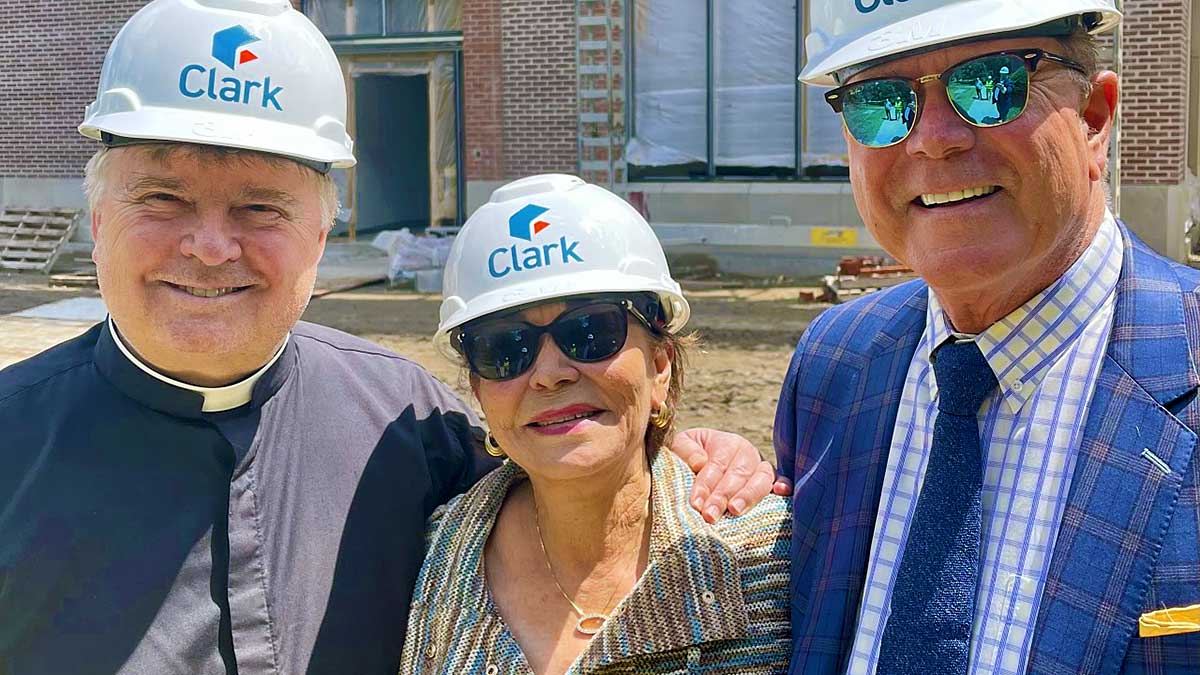 On October 6, 2022, Orchard Lake St. Mary's Preparatory High School, part of the Orchard Lake Schools, will dedicate and bless a new classroom building, "The Joseph Burkacki Academic Center," and its renovated Quad, "The Richard & Mary Trzcinski Quad." Bishop Robert Fisher of the Archdiocese of Detroit will lead the preceding Mass and Blessing, bringing together the Orchard Lake Schools community of students, staff, alumni, benefactors, and friends for a special day on its historic campus. The campus improvements are part of the school's Spirit of St. Mary's Capital Campaign, which has raised $12 million toward its $15.5 million goal.
The all-new Prep classroom building, called the Burkacki Academic Center, is a catalyst for change because it helps represents the future of Catholic education at St. Mary's Preparatory for both our Boys and Girls Divisions, adding 20 new classrooms, numerous collaboration spaces and incredible views of Orchard Lake and the all-new Richard & Mary Trzcinski Quad – the centerpiece of the academic campus that borders the Fr. Rakoczy Old Gym, the Clarence & Lillian Constantakis Prep Building, the Burkacki Academic Center, and our Priests Monument honoring all clergy who have served here on campus. The historic quad dates to 1877 when the Academic Building of the Michigan Military Academy was constructed as "one of the most complete school buildings in the West." Today, that same building recently underwent a multi-million-dollar renovation and is called the Clarence & Lillian Constantakis Prep Building.
Enrollment demand for a St. Mary's education is significantly increasing. The Girls Division, in its third year, has a growing waitlist. The Boys Division enrollments have exponentially increased. The renovations, new building, quad beautification, and upgrades to driveways and pathways are all investments rooted in our historic foundation of faith, academics, Polish culture and tradition. "We value our campus history and have invested in the present and future of educating young men and women of St. Mary's for generations to come thanks to our generous donors," said Chris Czarnik, Chief Development Officer of the Orchard Lake Schools.
Joseph Burkacki Academic Center
Joseph Burkacki, a pharmacist by profession, knew in his heart he wanted to help make a difference in the lives of others. "He valued education, liked to inquire about ways to help others attain their goals, and donated to many causes, including medical research," said Barb Sholy, his great niece and trustee of the Joseph Burkacki Trust.
Her uncle was born on October 31, 1921, in Riverside, New Jersey, to Joseph Burkacki and Bertha Czaplicki, and was one of eight children, including siblings Jean (Gordon), Frank, Stella (Tuch), Edwin, Albin, Henry, and a twin sister who died when she was a toddler. At a young age, Burkacki lost his father. Eventually his mother remarried, and the family grew by four step siblings – Tessie, Lottie, Albina, and Mitchell.
Burkacki lived much of his life in Detroit, Michigan. He attended John J. Pershing High School, graduated in 1940, and worked at Bohn Aluminum & Brass Corporation as a machinist until
August 19, 1942, when he joined the U.S. Navy. He served three years (August 19, 1942 – December 14, 1945) and became a Radioman First Class Petty Officer.

Upon his discharge from the Navy, Burkacki obtained his Bachelor of Science degree in Pharmacy from the Detroit Institute of Technology on January 27, 1950. He became a registered pharmacist by the Board of Pharmacy of the State of Michigan on April 6, 1950. "My uncle worked as a pharmacist at a family-owned drug store his entire career," added Sholy. "He was married and divorced, never having had children. He really liked to attend family events, a variety of local church and Polish festivals, play cards, travel, and invest and follow the stock market. And he was an avid ping pong player."
Burkacki valued working hard, family, education, and supporting the Polish American community. "If he ever needed any work done on or around his house, or repairs made to his car, he liked to hire Polish Americans to help support his community," said Sholy.
In 1989, just a few years after retirement, he moved to Warren. The devout Catholic and parishioner of Our Lady of Grace Catholic Church was also a member of the American Legion and the Knights of Columbus.
"He lived a humble life, was a quiet person, and valued education and his Polish Catholic roots, and that was likely the reason for supporting the Orchard Lake Schools," said Sholy. "Through his legacy, we are helping to carry out my uncle's wishes to help others through the Burkacki Scholarship Fund for young people of Polish descent and The Joseph Burkacki Academic Center. Education always filled his heart."
Richard & Mary Trzcinski Quad
Richard Trzcinski, a St. Mary's Preparatory graduate of the Class of 1970 and commercial real estate developer who founded and is the president of Primerica Group One, Inc. in Tampa, Florida, along with his wife, Mary, a retired schoolteacher, believe that Orchard Lake St. Mary's, grounded in its firm foundation of faith, academic excellence, and Polish tradition, is one of the finest places for students to grow and prosper. "These are some of the major reasons we made this gift for the beautification of the Quad," said Trzcinski. "And with the implementation of the Girls Division now in its third year and the strong leadership of headmaster Bob Pyles and his faculty and staff, we know the students of St. Mary's will continue to grow and prosper into future leaders in society."
Richard Trzcinski was born in Hamtramck, Michigan, and experienced very humble beginnings. By the fourth grade, he and his family moved to Shelby Township, and he went on to attend Orchard Lake St. Mary's Preparatory where he lettered in basketball, baseball, and golf. He was also elected sports director by the student body. He has fond memories of growing up with the brotherhood that is St. Mary's. "Back then, all students lived in the dorms," he said. "The Class of 1970 was special. We had a daily regimen that began with a structured breakfast followed by Mass, classes, athletic practices, and study hall. We all kept busy. That is one of the secrets to what made the student body who we are today. That time management regimen helped prepare me for my acceptance into the University of Michigan."
This year at their pandemic-delayed Class of 1970 50th reunion, many classmates reconnected on campus. One of Trzinski's friends, Fr. Tim Whalen, the former Chancellor of the Orchard Lake Schools (2000-2011), celebrated Mass and alumni paid tribute to Fr. Rakoczy, who passed into eternal rest, by naming the iconic Old Gym in his honor. At the alumni dinner, another good friend and classmate, Dr. Ed Wojtys, was honored as one of the 2022 Distinguished Alumni. And Richard and Mary announced their generous gift to OLSM. The spiritual aspect of St. Mary's Preparatory is very dear to their hearts. They want to help ensure Orchard Lake continues to offer spiritual development, part of the reason for their gift.
And just like the St. Mary's family, Richard and Mary's own family is at the center of everything they do. Their three daughters are thriving in their professions. Marcelle is pursuing her own psychology practice. Danielle is performing in theater and screenwriting as well as assisting her father in real estate development. And Camille is making her way as a singer and songwriter (camilletrust.com). Just like their girls have grown and prospered, the Trzcinski's want nothing more than for the students of St. Mary's Prep to reap the core values inherent in the historic, grounded campus foundations. "It's a place where young men and women are thriving on their motivation and good grades, networking, engaging in cultural traditions, and following their spirituality entrenched in their core moral values," added Trzcinski. "God is their pillar of strength, and the power of prayer can help them accomplish what they are here to do – to thrive."
Other Polonia News from Florida:
SEE MORE