The Warsaw-Based Gallery, lokal_30 at Frieze New York
April 29, 2017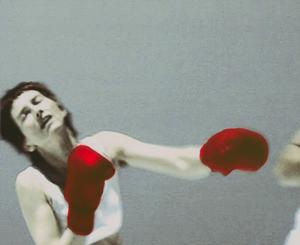 Randall's Island Park, New York City , booth C 10, Thursday, May 4, 2017 - Monday, May 8, 2017
The Warsaw-based gallery, lokal_30 will showcase Incarnations featuring works by three generations of artists: nestor of Polish conceptual art Natalia LL, Zuzanna Janin, established sculptor, installation and video artist, and young but already successful painter Ewa Juszkiewicz. The exhibit will include vintage prints of Natalia LL from her famous series Consumer Art and "TAK / YES", which manifests female self-awareness. Zuzanna Janin's photographs and video work are centered on the universalization of her own biography and experience like boxing practice, which she had previously known only from the stories of her grandfather. Janin's works depicting trained boxing practice with boxer Przemyslaw Saleta come from the making of the video piece Fight, at Zacheta gallery in Warsaw. These works will be juxtaposed with static figurative oil paintings by Ewa Juszkiewicz, who reinterprets the master painters' classic genre of portraiture by replacing faces of the portrayed women with polypore, hair, and white canvas.
Frieze New York is one of the world's leading art fairs, featuring nearly 200 of the world's contemporary art galleries. It is organized by the media and events company Frieze, home to four publications (frieze magazine, frieze d/e, Frieze Masters Magazine and Frieze Week), three international art fairs (Frieze London, Frieze New York, and Frieze masters), programs of courses and talks at Frieze academy, and finally frieze.com--the definitive resource for contemporary art and culture.
The participation of lokal_30 at Frieze Art Fair New York is supported by the Polish Cultural Institute New York and Culure.pl.
Frize Art Fair
Other articles: EDUCATION & SCHOLARSHIPS
SEE MORE