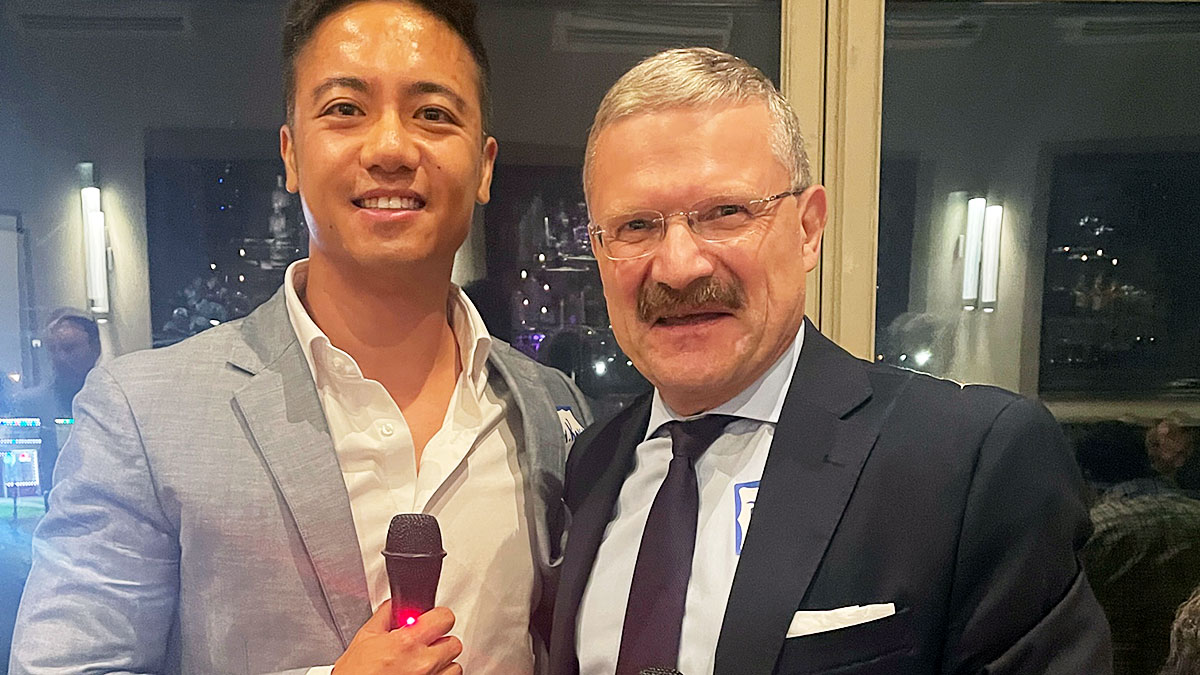 The medical community eagerly gathered on September 14th for a networking event hosted by Dr. Dariusz Nasiek, MD. This event has become a hallmark of the year due to Dr. Nasiek's belief that education and a structured forum for sharing ideas and exchanging professional knowledge are essential for advancing any field.
His meticulously curated events draw professionals, entrepreneurs, and innovators from a myriad of backgrounds and sectors. The goal? To foster genuine relationships, promote the sharing of insights, encourage new opportunities, and more than anything, stimulate an exchange of information that culminates in collective wisdom. Whether one is a seasoned industry professional or just embarking on their professional path, Dr. Nasiek's events stand as a vibrant and dynamic platform to broaden horizons, exchange visionary ideas, and nurture connections, which could be the catalyst for the next big leap in one's career or business.
In the most recent gathering, Dr. Kevin Kwan, MD, a renowned neurosurgeon from Advanced Neurosurgery Associates, was the highlight as the guest speaker.
The evening began with an enlightening presentation by Dr. Dariusz Nasiek of Allied Neurology and Interventional Pain Practice. His discourse, titled "Pain Management before Spine Surgery," elaborated on conservative treatments ahead of spine surgery. These treatments encompass various therapeutic avenues designed to manage spine ailments and alleviate symptoms without immediately resorting to surgery. From physical therapy and medications to advanced techniques like electrotherapy and interventions such as trigger point injections, the options are diverse. However, if these treatments don't yield desired relief, that's when surgical considerations come into play. One significant diagnostic tool in such scenarios is discography, which helps determine the exact surgical needs. It involves injecting a contrast dye into specific spinal discs to gauge their condition and accurately pinpoint pain origins.
An important topic touched upon was the 'failed back surgery syndrome,' where pain lingers post-surgery. One potential remedy is the spinal cord stimulator, designed to disrupt pain signals. Seamless collaboration between pain management experts and spine surgeons is fundamental in these stages to ensure that the patient receives a holistic care experience.
Dr. Kevin Kwan then took center stage, discussing surgical treatments for spinal stenosis. Dr. Kwan, with his role as a co-director of the adult and pediatric spine program at Advanced Neurosurgery Associates, brings a wealth of knowledge. He champions conservative treatments before delving into surgical options and customizes his approach based on each patient's distinct needs. His commitment to ensuring the least discomfort post-operation and aiding in faster recovery is evident. Dr. Kwan's comprehensive training from esteemed institutions like Stony Brook University and Columbia University, combined with his innovations in robotic navigation and minimally invasive spine surgery techniques, has positioned him as a luminary in the field.
In this event, Dr. Kwan's presentation, "Lumbar stenosis and utilizing novel, minimally invasive techniques," especially emphasized the role of robotics in enhancing surgical precision. The ensuing interdisciplinary discussion further underlined the collaborative spirit of the evening, with experts brainstorming to uplift patient care standards.
In conclusion, Dr. Nasiek expressed his profound gratitude to everyone who graced the event, with a special mention to Advanced Neurosurgery Associates & Dr. Kevin Kwan for their invaluable contributions. Attendees indulged in delightful dinner and drinks, and the atmosphere was one of camaraderie and shared purpose.
Mark your calendars as Dr. Nasiek looks forward to reconvening with industry peers and enthusiasts on October 26th at the same venue for another round of enriching exchanges.
Pain Management
185 Grand Avenue
Englewood
, NJ
tel:
Click phone# to call
973-773-7730
and tell them you found their ad in Polish Pages
SPONSORED ARTICLE
For the most up-to-date information, please contact the company directly.
The photos contained in the article serve only as an illustration of the article.