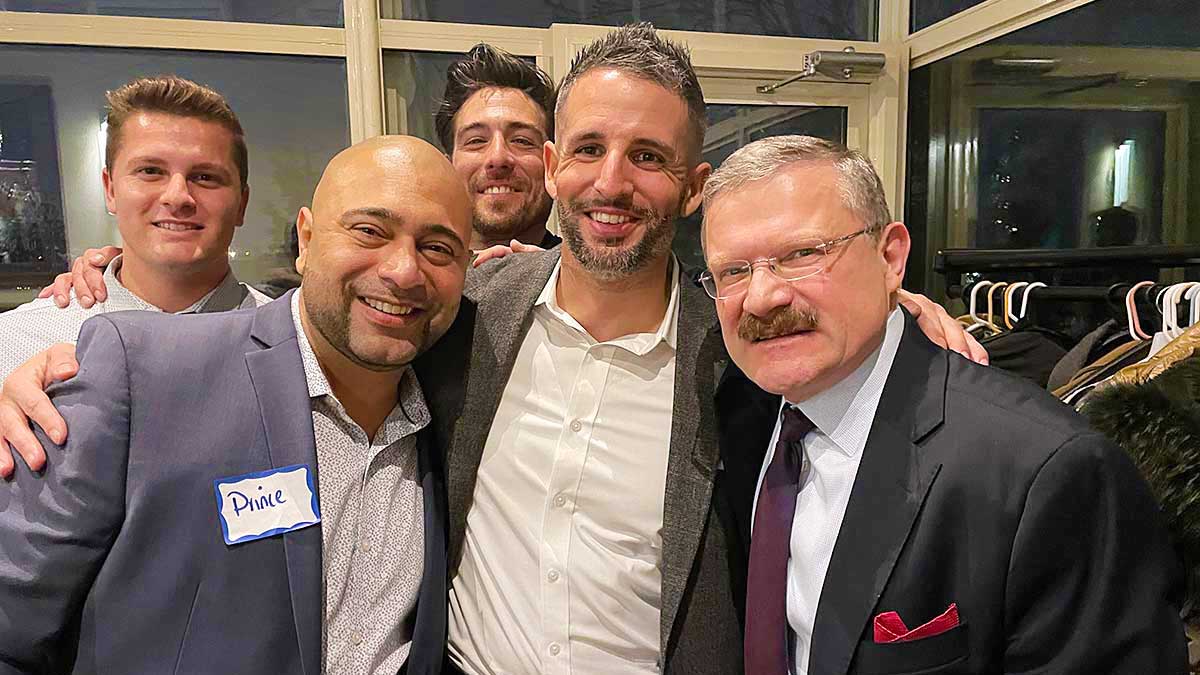 Over 60 people gathered on February 9th at The Royal Warsaw restaurant in Elmwood Park, NJ in support of Dr. Dariusz Nasiek of Allied Neurology and Interventional Pain Practice. Dr. Nasiek, pain management specialist, hosted this networking dinner & seminar for attorneys, physicians, chiropractors, and medical professionals. They were joined by sponsors Bill De Iasi and Sarah Falivene from Hudson Regional Hospital as well as guest speaker Dr. Nilay Shah, neurologist.
Bill DeIasi started off the evening speaking on behalf of Hudson Regional Hospital, one of Northern New Jersey's Premier hospitals located in Secaucus, New Jersey. He informed the audience that The North Hudson Community Action Corporation officially opened its 10th Federally Qualified Health Care Center on January 24 in Secaucus. The new health center will be located inside Hudson Regional Hospital at 55 Meadowlands Parkway, Secaucus. Services offered at the center will include adult medicine, pediatrics, family planning, and women's health care. Any patients worried about paying are in luck, as patients with or without insurance are welcome! This is because all Federally Qualified Health Care Centers (FQHCC's) offer care to everyone who needs it regardless of whether or not they can pay.
The hospital also has centers of excellence for robotic GYN, spine, joint replacement and bariatric surgeries. It is also a center of excellence for minimally invasive surgery and has had the greatest reduction in C-section rates in Hudson County.
After Mr. DeIasi spoke, Dr. Nasiek presented on what goes into creating a Center of Excellence For Evaluation and Treatment of Traumatic Brain Injury and how they standout. A center of excellence (COE) is a team, a shared facility, or an entity that provides leadership, best practices, research, support, or training for a focus area. Allied Neurology and Interventional Pain Practice provides just that – the evaluation and treatment for TBI at the highest level both clinically and the purpose of medico-legal documentation and is the first COE in respect of evaluating and treating Traumatic Brain Injury (TBI).
The protocol followed at Allied Neurology and Interventional pain Practice for evaluating a head injury allows for the elimination of a lot of false negatives or missed diagnoses of TBI. Clinical literature states that Emergency Department visits often miss up to 56% of TBI cases. In our practice, subsequent evaluation through brain MRI and EEG post neurological consultation can eliminate or narrow that statistical gap, while TELE EEG evaluations provide the most accurate determinations of the consequences of head injury and allow for the proper treatment of victims of TBI.
If you or someone you know suffered a TBI, please call Allied Neurology and Interventional Pain Practice at 201-894-1313.
The final guest speaker was Nilay Shah, MD, an expert neurologist who concluded the evening with a very informative presentation on Traumatic Brain Injury. Dr. Shah spoke about TBI - an injury of the head from an external, mechanical force. Common symptoms of TBI include loss of consciousness at the initial time of the injury, amnesia of the accident or for some time after, focal neurologic deficit such as weakness or the inability to speak, and neuropsychological abnormalities, such as change in mood, personality, or behavior. Yet determinations of TBI via neurological examination are negative 75% of the time, and CT scans or MRIs of the brain may show negative findings. EEG – a method used to record electrical activity of the brain – can reveal problems missed on an MRI. This process looks at brain function in "real time" to identify potential problems missed on an MRI and is the best way to diagnose TBI in a patient.
Allied Neurology and Interventional Pain Practice, PC would like to thank Hudson Regional Hospital for sponsoring such a successful event. We would also like to thank Dr. Nilay Shah from BonLeven Healthcare for being our special guest speakers.
Dr. Nasiek's next monthly dinner-seminar will be held on March 16th at The Royal Warsaw. We are extending our invitation to all our friends, contributors, and professional family to participate in all future events. We also extent our invitation to participate in our daily newsletter through which is are committed to disseminate free medical information to all our friends and collaborators. Please, contact Lauren Bellini at Lauren@anippnj.com or call / text her cell number 201 486 1815 to obtain a free copy of our daily newsletter.
Pain Management
185 Grand Avenue
Englewood
, NJ
tel:
Click phone# to call
973-773-7730
and tell them you found their ad in Polish Pages
SPONSORED ARTICLE
For the most up-to-date information, please contact the company directly.
The photos contained in the article serve only as an illustration of the article.