Rafalski Retires, Had Spectacular NHL Career
26 maja, 2011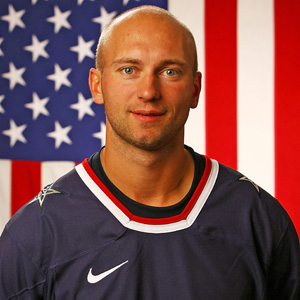 Photo by Jamie Squire, USA Hockey.
Brian Rafalski, 37, who went from the rinks of Metro Detroit to an international ice hockey career, has retired from the NHL.
By Raymond Rolak

DETROIT - The Polish-American and Dearborn, Michigan native son announced his retirement at a lunch-time reception at Joe Louis Arena. "After 15 years of playing professional hockey, I'm here to announce my retirement," Rafalski said. "This was probably the most challenging season of my career, physically, mentally and spiritually, but it was the also the most rewarding and most blessed."

With his wife Felicity by his side, Rafalski said, "The decision was made between myself and my wife approximately two months ago. We went through a long process of weighing different factors in our lives. At the end of the day it came down to priorities, with the top three priorities being, serving God, serving my family and serving others."
Rafalski went undrafted and played collegiately at Wisconsin. He was an All-America his senior season in 1995 and earned a degree in Economics.

He was a part of three-time Stanley Cup winners and two-time Olympic silver medal winner. His skating ability and finding the open man were his strong points on the ice. His great hockey mechanics and defensive confidence made him a favorite with his respective goalies.

"He\'s an incredible story, a 5-foot-9 defenseman that was never drafted and spent four years in Europe," Red Wings general manager Ken Holland said. "It was a great move by the New Jersey Devils to sign Brian Rafalski. In 11 years, he played five times in the Stanley Cup finals, was a three-time Stanley Cup champion and the best defenseman at the Olympics in 2010."
He started his pro career in Europe, a year in Sweden followed by three more in Finland.
He made his NHL debut with the New Jersey Devils in 1999 and the Devils were a force while playing with talented blueliners such as Scott Stevens and Scott Niedermayer.

"Brian is a quality individual, whose character, commitment, work ethic and team-first attitude made him the player and person he is," Devils president and general manager Lou Lamoriello said in a statement released by the team. "We were fortunate to have him in a Devils\' sweater for seven seasons."

In attendance were some of his Detroit Red Wing teammates. Included were Todd Bertuzzi, Henrik Zetterberg, Jimmy Howard, Chris Osgood and Kris Draper. "We just lost one heck of a hockey player," Wings teammate Kris Draper said smiling.
He was genuinely pleased to finish his career in Detroit. "It was an opportunity of a lifetime, when I came to Detroit. I loved the style of play, the quality of players and quality of the organization from top to bottom," Rafalski said. "I was very excited (when he came here). It definitely gave me a fresh start."

Over his 11 season NHL career, the defenseman had 79 goals and 515 points in 833 games playing with New Jersey and Detroit. Rafalski, who had back and knee injuries this past season was limited to a career-low 63 games. He finished with just four goals. "The injuries took a toll. There wasn\'t a day this year I wasn\'t on the training table," Rafalski added. "I wasn\'t able to skate the way I\'d like to. It wasn\'t as much fun coming to the rink."

Rafalski said spending time with his family and staying in good health is more important than the $6 million (US) he would have made next season. He had one year left in multi- year contract with the Detroit Red Wings.

"It is time for me to move on," Rafalski concluded.

Rafalski helped the New Jersey Devils win two Stanley Cups in 2000 and 2003. He added another with the Detroit Red Wings in 2008. He also played for the U.S. National Team in three Olympics. He won silver on the 2002 and 2010 teams.
A three time NHL All-Star, Rafalski has three young sons, Danny, Evan and Mathew.

"He was so effective moving the puck," Wings goalie Jimmy Howard said. "He was always strong on the power play. He's going to be sorely missed. He's a great personality and a great guy in the room. He brought a lot of character to this team."
Bill Zito, the only agent Rafalski had in his 15 years of pro hockey said, "It doesn't surprise me at all that family came first for Brian, now he will have more time with his sons."

The salary cap savings for the Red Wings will allow for a free agent signing. Potential unrestricted free agents include Kevin Bieksa, Ed Jovanovski, Joni Pitkanen, Sami Salo and James Wisniewski. Others being looked at include Eric Brewer, Tomas Kaberle, Christian Ehrhoff, Bryan McCabe and Roman Hamrlik.

Other speculative hockey discussion has future Hall of Famer Nicklas Lidstrom is expected to return and play a 20th season with the Red Wings. "I am hoping that we get good news on Nick," Holland added.

---

Chicago Favorite Battles Cancer
Hall of Famer Stan Mikita is battling cancer oral cancer. The former Chicago Blackhawks center has been was given an 'excellent' prognosis by Richard Borrowdale of Loyola Medical Center, who will be treating Mikita. He will receive beam radiation therapy.

Mikita, who recently turned 71, had 541 goals and 926 assists in his 22-year NHL career with Chicago. He won back-to-back Hart Trophies (MVP) in 1987 and \'68, and led the Blackhawks to the Stanley Cup in 1961 and was inducted into the Hockey Hall of Fame in 1983. He was a nine time All-Star.

Mikita, who was born in the Slovak Republic but was raised in Canada, spent his entire 22-year playing career with Chicago.

---

Weight Expected to Retire Also
Veteran New York Islander Doug Weight was expected to announce his retirement today. Weight also played for the New York Rangers, Edmonton Oilers, St. Louis Blues, Carolina Hurricanes and Anaheim Ducks.

The Islanders Captain scored 278 goals and 755 assists for 1,033 points in 1,238 regular-season games in his 19-year career. He also was solid in playoff games also notching 23 goals and 49 assists in 97 postseason games. In 2005-06 season he led the Carolina Hurricanes to their only Stanley Cup title.

Weight played for Lake Superior State before signing with the Rangers in 1991. He played in four NHL All-Star games.

---
Courtesy of www.mypolishtimes.com