PGNiG Super Match Poland vs Rest of World - Artur Siódmiak - End of Sports Career
01 grudnia, 2013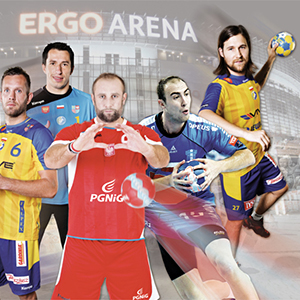 PGNiG Super Match Poland vs Rest of World - Artur Siódmiak - End of Sports Career
Artur Siódmiak Handball Academy is pleased to announce that on 15 December 2013 a great handball game in ERGO ARENAHall will take place: \"PGNiG SUPER MATCH Poland vs Rest of the World \", in order to mark the end of King Arthur sports career.
There has never been such an event before. During the match Poland vs Rest of the World leading world handball players together with " OrłyWenty " say goodbye to ArturSiódmiak, one of the greatest " fighters " of national handball team of the last decade.
- The most beautiful in handball is a team . The result of a game is the success of the whole team . Without all those team members, rip and atmosphere a former Polish National Team under the leadershipof Bogdanand Danielwouldn't be so successful. and of If it were not such and no other part , rip and atmosphere of the former Polish National Team under the leadership of Bogdan and Daniel , it would not be as successful . I would like by this event thank my team-mates because it was the most beautiful moment in my career.
The official farewell of Arthur Siódmiak aims to thank him for his great contribution and effort to the success of the Polish National Team and other teams he played in, as well as for strong emotions delivered handball fans during his brilliant career. Thanks to himfans ofthis sportcould watch the successes of the Poles with proud.
The main character of the evening, as we know, is a silver medalist of the World Championships 2007 and bronze medalist of the World Championships 2009, when "Orły Wenty" reached peaks.
His game in Match Poland-Norway to enter the semi-finals of the World Championships in Croatia has gone down in history. Is a measure of ambition, struggle and passion that Siódmiak emanated during his sports career.
- We are going to see my friends, people who have influenced my career as an athlete and players who have provided unique emotions on Polish and European handball fields. The match gathers the biggest Polish celebrities, among others, Karol Bielecki, Slawomir Szmal, Mariusz Jurasik, Michal Jurecki, or Lijewscy brothers. Polish National team is going to be led by Bogdan Wenta and Daniel Waszkiewicz. Against them will play well known foreign players like Uros Zorman, Ivan Cupic, Julen Aguinagalde, and Ivan Marin Sego Nikcevic, led by trainers Manolo Cadenas and Patrik Liljestrandazapowiedział Siudym.
A large group of Polish artists and stars of sport will participate in a farewell of famous King Artur. Names like Dariusz Michalczewski, Piotr Gruszka, Robert Korzeniowski, Kajetan Kajetanowicz, Krzysztof Skiba, Leszek Blanik, Iwona Guzowska, Radosław Majdan, Adam Korol, Piotr Świerczewski, Mariusz Czerkawski, Grzegorz Kacała czy Michał Probierz will take part in this meeting.
In addition to the fun and excitement of sports there will be a place for charity.
- Athletes should support actions aimed at improving the lives of those in need. With this in mind I set up a Foundation, which under my name acts in order to equal opportunities for different social groups. Today we also support the Foundation "Żyć z POMPĄ" which by the end of this year aims to purchase of equipment for sick children so that they can live independently and maybe take part in a sport event next year. Such activities are part of the task of the Foundation, which is the outcome of Gdansk JetSki Racing project. Watercraft racing, concerts, fireworks shows or sports charity auctions. I continue this valuable mission as part of the social responsibility of sports activities. I have a dream that a year from now a child surrounded by our help will play in Mecz Gwiazd (Stars Game ) in ERGO ARENA - said Arthur Siódmiak.
The event will be a true celebration of handball. It starts off with derby match of the premier division championship between Wybrzeże Gdańsk and KAR-DO Spójnia Gdynia.
Later on there is a VIP game, played by sport celebrities. The blockbuster of the evening – Poland vs Rest of the World game – finishes the whole event.
Time schedule of the event:
15.00- derby match of the premier division championship
between Wybrzeże Gdańsk and KAR-DO Spójnia Gdynia

17.00- VIP match

17.50- teams presentation

18.00- Poland – Rest of the World.
The event will abound in many accompanying events.
ReV Revenge, rock band that plays the song "It\'s not the end" prepared specially for this occasion, will add a splendor to the game with its performance.
Many well-known personalities from the world of sports, entertainment, politics and business will sit in the sands.
The organizers have prepared plenty of surprises and attractions for fans. We invite people of all ages and whole families. Next to the main field, PGNiG fan zone will be opened during the whole event, where games and competitions for children will be conducted. Everyone will be able to try their hand in the throw into the goal, take part in contests and win fan kits.
Whole day tickets cost from 10 to 40 zloty and can be purchased on www.eventim.pl as well as at ERGO ARENA ticket offices from 10.00 to 16.00 every day.
A detailed schedule of ticket sales available at: www.eventim.pl , www.ergoarena.pl , www.artursiodmiak.pl www.akademiapilkirecznej.pl
A TV broadcast of the match coming live on Polsat Sport channel. The promotion of this enormous undertaking is delivered by Menu Group and Exodus Group belonging to the National Cluster of Innovative Enterprises OKIP, who care about PR and marketing of Artur Siódmiak.
---
Sponsors and Partners: Polskie Górnictwo Naftowe i Gazownictwo SA, Miasto Gdańsk, Lotto, Kompania Piwowarska, Hotel Mera & SPA, Amber Expo, Supra, ERGO ARENA, Świat Reklamy, drukarnia VIPRO, Befit Club, Hotel Arłamów, Exodus Group oraz Menu Group.
Media sponsors: Polsat Sport, Radio Zet, Onet.pl, Przegląd Sportowy, Magazyn Prestiż. Partnerzy Akademii Piłki Ręcznej Artur Siódmiak: Interplastic, Kulik&Kurek, STBU, Brandish, Ministerstwo Sportu, PKOL, ZPRP, Drukarnia VIPRO, Świat Reklamy, Kancelaria Nowosielski Gotkowicz i Partnerzy Adwokaci i Radcy Prawni, Befit Club, Trójmiasto.pl