Skowron Honored in New York
02 maja, 2012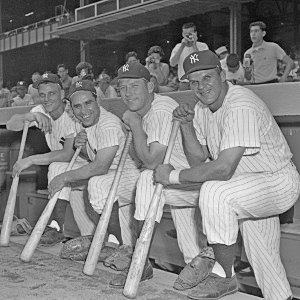 Seven New York Yankees made the 1960 American League All-Star Team, including those pictured, (L-R) Roger Maris, Yogi Berra, Mickey Mantle and Moose Skowron. ( NY Yankees file photo)
By Raymond Rolak

New York--  Bill \"Moose\" Skowron, 81, passed recently after a lifetime connected with baseball.  He professed a love for his hometown of Chicago and his Polish heritage.  He had most recently been a community ambassador for the Chicago White Sox.  Skowron, who had been ailing, suffered from congestive heart failure complicated by lung cancer.  He had been a patient at Northwest Community Hospital in Arlington Heights, Illinois.
"There weren't many better guys than Moose," said former teammate Yogi Berra. "He was a dear friend and a great team man. And a darn good ballplayer, too."

The Yankees honored their former first baseman before they took on the Tigers in their scheduled games. "He was great to be around," Yankees manager Joe Girardi said. "Very energetic, went to some of the fantasy camps we put on, we'd see him every year we went to Chicago. He was so very popular at the old-timers games here. He had a real zest for life. Loved the game, (he) loved to talk about the game."

Former teammate Ralph Terry said, "Moose was a Yankee all the way. He was a true professional who always worked hard and took the game as serious business. I am proud to have been able to call him a good friend. I remember during spring training when I was 18; he took me for my first pizza."

Everyone affectionately knew him as Moose and he was known for his great baseball stories along with the reputations of being one of the best clutch hitters of all time. He had tremendous success in the post season, earning five World Series rings, four with the New York Yankees and one with the Los Angeles Dodgers. He was inducted into the National Polish-American Sports Hall of Fame in 1980.

Sometimes he would call bingo in Polish at the White Sox games on the right field patio porch at U.S. Cellular Field in Chicago.

Skowron starred with the Yankees from 1954 to 1962 before playing with the Dodgers, White Sox, Angels and the expansion Washington Senators.He appeared in eight All-Star games over his 14 year career.

Born William Joseph Skowron in Chicago with humble upbringings he went to Purdue on a football scholarship. He signed with the Yankees in 1950 after hitting .500 in his sophomore Big Ten baseball season. His college baseball coach at the time was the then Purdue assistant football coach, Hank Stram (NPASHF 1985).

After his playing days, Skowron stayed involved in baseball, and was in great demand as a speaker recalling his stories of his Yankee experiences. His most appreciative audience was present day players.

Another teammate and NPASHF inductee (1982), Toney Kubek, spoke fondly of Skowron, "Casey Stengel had us room together on the road. Stengel wanted me with a winner, with a mentor who was a consummate professional and knew how to win championships. And that's what Moose was."

Native Detroiter and famed White Sox pitcher Billy Pierce said, "Moose was a champion in the game of life. He will be sorely missed."

Skowron is survived by his wife Lorraine "Cookie," and adult children Lynette, Greg and Steve along with four grand-children. He has one surviving brother, Edward. Visitation was at the Colonial-Wojciechowski Funeral Home in Niles, Illinois. A Requiem Mass of Resurrection was held at the Queen of All Saints Basilica in Chicago.