Purdue Wins Little Caesars Pizza Bowl
01 stycznia, 2012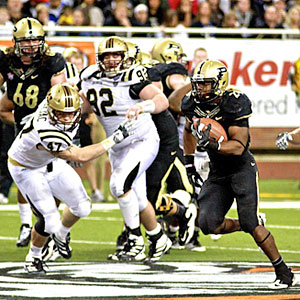 Western Michigan linebacker #47 Mitch Zajac and defensive end #99 Paul Hazel can\'t catch Purdue runningback #24 Akeem Shavers in the 2011 Little Caesars Pizza Bowl. Purdue beat WMU 37-32 in front of a great crowd and both teams finished the season at 7-6
Zajac, \"The Rabbit\" Ties Record for Games Played at WMU.
By Raymond Rolak

Detroit - Bowl games are marketed as post-season rewards for excellence. The Ford Field spectators in attendance also got an awarded show with all the offence generated in the 2011 Little Caesars Pizza Bowl at Ford Field.

The crowd was announced at 44,600. The noise level showcased that there were probably way more folks than that. The high octane passing of both teams kept the turnout energized as Purdue won their second Little Caesars Pizza Bowl by beating Western Michigan 37-32.

Outstanding individual efforts kept the crowd spirited and entertained throughout the game. Mistakes forced by Purdue's defense never allowed Western Michigan a chance to command the game. WMU had seven turnovers. It wasn't all sloppy play, but the Boilermaker pressure did in the Bronco's. "Two onside kicks really hurt us," Western Michigan head coach Bill Cubit said. "We never got a break on defense in the first half."

Purdue head coach Danny Hope said after the game, "I'm really proud of our football team for making it happen, for getting us here to this great bowl event. We talked about it at length since we became bowl eligible, about making sure that we had a winning season rather than just a successful season. There's a huge difference between 6-7 and 7-6, and there's a huge difference between going to a bowl and being a bowl champion, and that meant a lot to our football team."

WMU struck first and had a nifty two point conversion. Junior quarterback Alex Carder completed a 49-yard pass to Jordan White off a flea-flicker trick play, thanks to a Purdue fumble near midfield. Kicker John Potter then ran the extra point in for a two-point conversion.



Western Michigan linebacker #47 Mitch Zajac and defensive end #99 Paul Hazel can\'t catch Purdue runningback #24 Akeem Shavers in the 2011 Little Caesars Pizza Bowl. Purdue beat WMU 37-32 in front of a great crowd and both teams finished the season at 7-6. Shavers was named game MVP. Photo by Lars Hjelmroth, Rolco Sports Network.

Purdue freshman Raheem Mostert returned a 99 yard kickoff in the first-half for a Boilermaker score and senior kicker Carson Wiggs recovered his own onside kick. These were back-breaking plays that WMU never recovered from.

Purdue junior running back Akeem Shavers, filling in for the injured Ralph Bolden, rushed for 149 yards on 22 carries and Reggie Pegram scored the first two touchdowns of his career. They went into halftime leading 27-15. Purdue had a season high 265 yards on the ground. Shavers was named game MVP and Purdue linebacker Joe Holland was name Outstanding Lineman of the game.
The Boilermakers' fourth touchdown of the game came on a 33-yard TD pass from Caleb TerBush to Gary Bush in the third quarter. Wiggs added three field goals for the winners. Defensive end Gerald Gooden had two interceptions while Albert Evans and Taylor Richards each had a pick. The Boilermaker defense also recovered three Broncos' fumbles.

Senior Jordan White was spectacular for WMU, even when doubled teamed. He wound up with a Western Michigan reception career record of 265 yards on 13 receptions and one TD reception. He also broke the Mid-American Conference all-time reception record. Another WMU highlight was the two strips and recoveries by sophomore Josh Schaffer.

The Broncos had a chance to win with less than two minutes left but quarterback Alex Carder fumbled while being sacked.
After the game Western Michigan head coach Bill Cubit said, "I don\'t know what to tell you. You go out there and the kids' effort was unbelievable. What our kids did, despite all the stuff we did, we ignored the kicking game which has been really solid. We had two onsides against us and the kickoff return. Alex (Carder) has been really good not throwing some of those picks and he picked a tough day. Give (Purdue) a lot of credit. Effort-wise, when we stopped them at the end I thought we would walk out of here with the trophy and everyone would be happy. I thought we showed a lot of heart. I want to thank Ken (Hoffman) and his staff. It was a great experience. We'll be back real soon.

With the victory, Purdue finishes the season 7-6, its first winning season since 2007. That same year they beat Central Michigan here at the LCPB on the last play of the game. WMU also ended the year at 7-6.

Purdue flanker and Detroit native son Justin Siller had a 99 total day with 55 rushing yards on five carries and five receptions for 44 yards. Siller had an outstanding high school career at Orchard Lake St. Mary's as a quarterback. WMU senior kicker John Potter added to his career record for tackles by a kicker at 36. Linebacker Mitch Zajac from Holt, Michigan, Paul Hazel and Ben Armer all played in their 50th career game for Western Michigan.

Both schools had their full complement of marching bands present at Ford Field and they rocked the house with their informal battle of the bands.
---
WMU won the other "Bowling Match"
Two Cents Worth – and Talking Out Loud
ALLEN PARK - College Bowl Games are rewards for excellence and the festivities include community outreach and entertainment. One of the best events for the Little Caesars Pizza Bowl was on Christmas Day evening. There was a pizza dinner with all the trimmings and the Western Michigan and Purdue players participated in a different bowling outing. It was at the world famous Thunderbowl Bowling Center. The location has 90 lanes with arcades galore and the event provided some relaxation, diversion and spirited sporting competition. There was even a four man team Purdue-WMU bowl-off.

WMU won 558-430 with a four-member squad of Darevon Chance, Keith Dixson, James Kristof and Drew Nowak. Kristof opened with four straight strikes for the Bronco's and it became a rout. The gallery of players urging on their teammates was a sight worthy of the television crews that shot some feature video.

It was interesting to see all the Detroit bowling history and the story of Eddie Lubanski. The concept of arena bowling and the history of the National Bowling League are showcased at the Thunderbowl. It was 50 years ago that The Detroit Thunderbirds captained by Lubanski won the first title of the National Bowling League.

The night was spirited and provided good natured sportsmanship. Earlier in the day at a Christmas luncheon at the Sound Board entertainment venue inside the Motor City Casino and Hotel, former University of Michigan football coach Lloyd Carr talked to both teams about enjoying the rewards of the football 'Bowl' experience and representing their schools in the best light. Both university presidents can rest assured that the players were a credit to their respective institutions. The sport of bowling shined on this Christmas night also.

Jacek Urbanczyk contributed