Owning car, TV linked to heart attacks
13 stycznia, 2012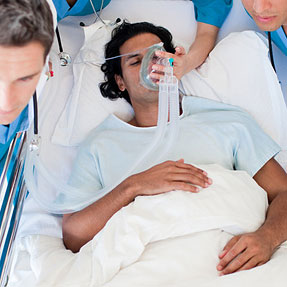 Car owners with a television are 27 percent more likely to suffer heart attacks than people who have neither, according to a global study on physical exercise and heart disease published Wednesday.
More broadly, the study -- covering more than 29,000 people in 52 countries -- showed that working up a light sweat may be the best preventative medicine against heart failure.
Until now, surprisingly little research has focused on how physical exertion at work and play influences the incidence of heart attacks, and even less has directly compared this data across nations at all income levels.
"This study shows that mild to moderate physical activity at work, and any level of activity during leisure time, reduces the risk of heart attacks," said lead researcher Claes Held, a professor at Uppsala University in Sweden.
It also "extends previous findings of the protective effect of leisure-time physical activity ... to low- and middle-income countries."
Held and colleagues poured over data collected from 1999 to 2003 for the so-called Interheart study.
They compared one group of more than 10,000 middle-aged men and women who had had a single heart attack with an even larger cohort with no history of cardiovascular disease.
Physical activity at work and during leisure time was divided into four levels of exertion: being completely sedentary at one extreme, and, at the other, doing hard physical labour on the job or heart-pounding aerobic exercise while at play.
Not surprisingly, the study, published in the European Heart Journal, found that exercise is good for the heart.
But the effectiveness of physical activity varied depending on the setting and intensity, according to the research.
Any kind of workout during leisure time was shown to be a plus, with heart attack risk -- compared to doing almost nothing -- dropping 13 percent for mild activity and 24 percent for moderate or strenuous exercise.
The advantages were similar for light and moderate levels of physical activity on the job. Unexpectedly, however, heavy physical labour did not reduce risk at all.
Held and colleagues also investigated whether owning an automobile, motorcycle, stereo, TV, computer, land or livestock influenced heath outcomes.
"Subjects who owned a car and a TV" -- 25 percent of the respondents in poorer and middle-income nations, and two-thirds in rich ones -- "were at higher risk of myocardial infarction," the medical term for a heart attack, the researchers concluded.
Diabetes and high blood pressure was also more common, but only in the developing world, the researchers found.
What accounted for the link? Another set of figures from the study points to a common-sense explanation.
Possessing these coveted consumer items made it about four times more likely in poorer and middle-income countries -- and twice as likely in wealthy ones -- that people would be sedentary, especially at work.
The implication, in other words, is that TVs breed couch potatoes, and motor vehicles discourage walking.
"If we want to support healthy longevity, we should put a stop to the pandemic of sedantism," Emiline Van Craenenbroeck and Viviane Conraads, both of Antwerp University Hospital Belgium, noted in a commentary in the same journal.
"Staying physically fit throughout life may be well be one of the easiest, cheapest and most effective ways to avoid the coronary care unit."
Overall, the portion of people whose pulse did not speed up during leisure time was nearly twice as high -- almost 70 percent -- in less wealthy nations.
"Since the main burden of heart disease now lies in developing countries, this information should inspire a shift in healthcare strategy in low-income regions," Van Craenenbroeck and Conraads said.
© Copyright AFP Agence France-Presse GmbH - All rights reserved. This material may not be published, broadcast, rewritten or distributed. All reproduction or redistribution is expressly forbidden without the prior written agreement of AFP.