Adam S Budzikowski, MD, PhD, FHRS - 2020 Clinician Recipient of the Alfred Stracher Faculty Recognition Award
May 07, 2021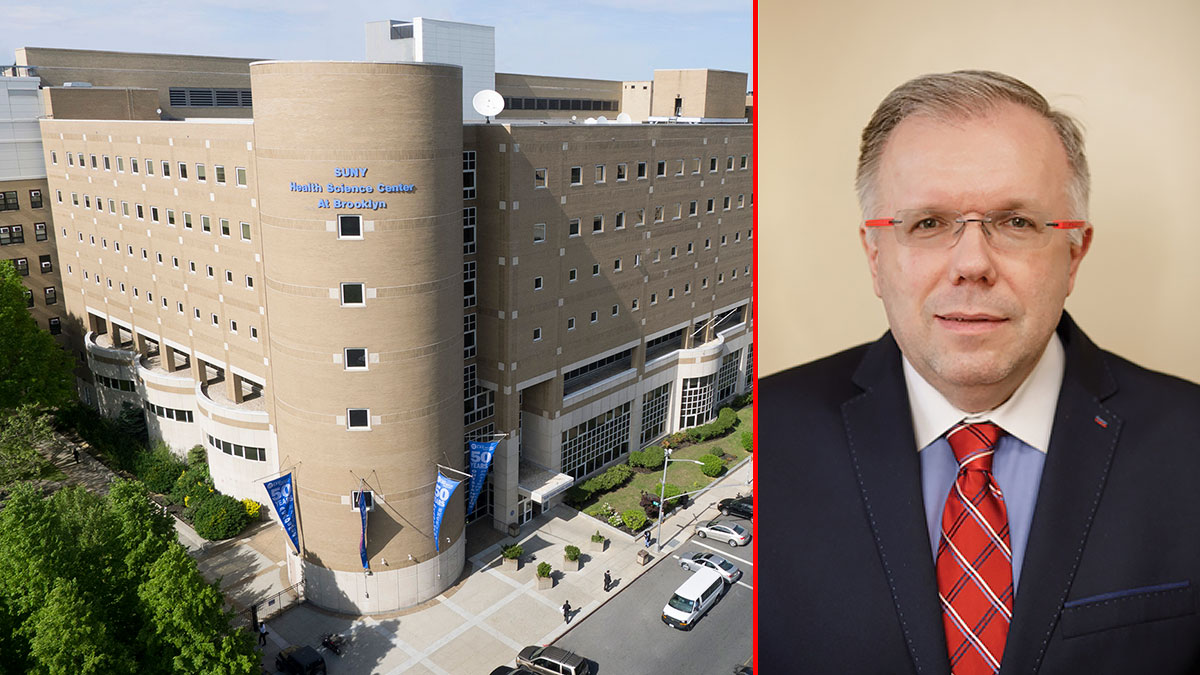 Adam S Budzikowski, MD, PhD, FHRS & SUNY Downstate Health Sciences University. Foto: www.students.clinicalmonster.com
Adam S. Budzikowski, MD, PhD, FHRS is an Associate Professor of Clinical Medicine at SUNY Downstate Health Sciences University. He received his MD degree in 1990 from the Medical University of Warsaw in Poland. He then joined its Department of Clinical and Applied Physiology, where his research focused on neurogenic mechanisms of spontaneous hypertension in an animal model and culminated in a PhD degree in 1995 under the supervision of Dr. Ewa Szczepańska-Sadowska.
Following his graduation, he pursued post-doctoral training in neurogenic mechanisms of salt-sensitive hypertension at the Hypertension Unit of the University of Ottawa Heart Institute, funded by the Heart and Stroke Foundation of Ontario and under the guidance of Dr. Frans HH Leenen. The research, completed in both Warsaw and Ottawa, showed a pivotal involvement of the median preoptic nucleus in translating pulsatile increases in plasma sodium, associated with feeding, into sustained elevation of sympathetic output and a resulting hypertension. The mechanism involves release of endogenous ouabain and downstream activation of angiotensin II and the vasopressin system.
Most of his clinical training was completed in the USA, starting with a medicine residency and a cardiology fellowship at SUNY Stony Brook. There, with the inspiration and guidance of Dr. Roman T Pachulski, he decided to pursue training in clinical cardiac electrophysiology, which he completed at the University of Rochester Medical Center in Rochester, NY. The Medical Center provided a unique exposure to hereditary arrhythmias, given its registry of patients with long QT syndrome—the oldest and largest in the country. Furthermore, being a home to all Multicenter Automatic Defibrillator Implantation Trials, the Center allowed access to some of the most advanced devices and groundbreaking device-based therapies. The training completed here was very influential in shaping a future research interest in device-based strategies for reduction of ventricular tachycardia.
Since coming to SUNY Downstate in 2007, Dr. Budzikowski has developed a complex ablation program from the ground up, including the ablation of atrial fibrillation and scar-related ventricular tachycardia. A number of technological advances in electrophysiology were introduced, including 3-dimensional mapping, irrigated catheter ablation, force sensing catheters and high-density arrythmia mapping. Most recently, thanks to his efforts, the institution acquired a laser ablation system for pulmonary vein isolation for treatment of atrial fibrillation.
Medical education has been his passion from the very beginning of his career, when he became a physiology course director at the Medical University of Warsaw. Here at Downstate, in addition to helping supervise and mentor for the Student Summer Research Program, he has mentored numerous residents and fellows. Currently, he is an Associate Program Director for the Cardiology Fellowship and a Program Director for the Clinical Cardiac Electrophysiology Fellowship. He has had the privilege of being involved in the training, so far, of 14 electrophysiology fellows and many general cardiology fellows.
Mentoring and providing guidance in professional and research career development is one of the most essential functions of an academic teacher. On a personal level, it is a way of expressing his gratitude to his mentors for influencing, guiding, and accelerating his professional and personal growth.
SPONSORED ARTICLE
For the most up-to-date information, please contact the company directly.
The photos contained in the article serve only as an illustration of the article.
Dzwoniąc powołaj się na reklamę z POLONIJNEJ

 KSIĄŻKI - 

Polish Pages.