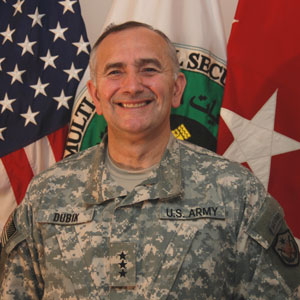 Lieutenant General James M. Dubik relinquished command of the Multinational Security Transition Command-Iraq and the NATO Training Mission-Iraq on 3 July 2008. There he led the growth and development of all Iraqi Security Forces, military and police, to include improving the capabilities of Iraq's Ministries of Defense and Interior as well as the Joint Headquarters. The men and women of his command—representing all of the US services and 15 nations as well as civilian governmental employees and contractors—contributed significantly to the improving political and security situation in Iraq.
LTG Dubik began his service in 1971. After graduating from Gannon University with a bachelor degree in Philosophy, he was commissioned a 2LT of Infantry and assigned to the 82D Airborne Division. Following this assignment, he helped form the 2nd Ranger Battalion, 75th Infantry, staying there for over 3 years. He was also assigned to the 1st Ranger Battalion as the executive officer. He commanded the 5th Battalion, 14th Infantry, 25th Infantry Division followed by the 2nd Brigade, 10th Mountain Division. When a brigade commander, he led US and Multinational Forces in Northern Haiti during Operation Uphold Democracy. LTG Dubik was also assigned to the 1st Cavalry Division as Deputy Commanding General of Task Force Eagle and Multinational Division North, Bosnia-Herzegovina. He then became a Deputy Commanding General for Transformation, US Training and Doctrine Command at Fort Lewis, Washington to stand up the first Stryker Brigade Combat Team. Afterwards, he became the Commanding General, 25th Infantry Division and US Army Hawaii. In 1992, he was assigned to Joint Forces Command, Norfolk, Virginia to conduct experiments concerning future warfare concepts and technologies for the Department of Defense. Prior to Iraq, he commanded I Corps overseeing the formation and deployment of two more Stryker Brigade Combat Teams as well as the creation of a global, distributive, collaborative learning network connecting all Army Stryker brigades.

LTG Dubik served as a Special Assistant to Army Chief of Staff GEN (ret) Gordon Sullivan and Vice Chief of Staff GEN (ret) Dennis Reimer as well as the Executive Officer to Army Chief of Staff GEN (ret) Dennis Reimer. LTG Dubik graduated from the USMC Amphibious Warfare School, Army Command and General Staff College, and the Advanced Operational Studies Fellowship Program. He taught Philosophy at the US Military Academy, West Point, and Military Arts and Science at the US Army School of Advanced Military Studies. He completed an MIT fellowship program for national security studies as well as executive programs in national security at Harvard's JFK School of Government and Syracuse University's Maxwell School of Citizenship and Public Affairs. He holds two masters degrees, one in Philosophy from the Johns Hopkins University and the other in Military Arts and Sciences from the Army Command and General Staff College.

LTG Dubik's wife, Sharon Basso, is a former Senior Intelligence Officer of the Central Intelligence Agency whose last position was Agency Ombudsman. He has two daughters and 3.7 grandchildren. Kerith, a former senior manager with the Counterintelligence Field Agency, is married to Major Todd Massengill of Military Intelligence. They have twin daughters. Kathryn, a former Peace Corps Volunteer, is married to Jonathan Schwarz who is the Director of Corporate Development, Danaher Corporation. They have one daughter and are expecting a son in November.

LTG Dubik recently retired from the US Army after 37 years of active service. He and Sharon formed "Dubik Associates," a consulting firm. Their company's focus areas are national security issues; strategic planning—military, governmental, and business; leader development; and media relations.