NYC. Save a Date: October 21, 2021, Manhattan - Ignacy Paderewski Tribute Gala
October 10, 2021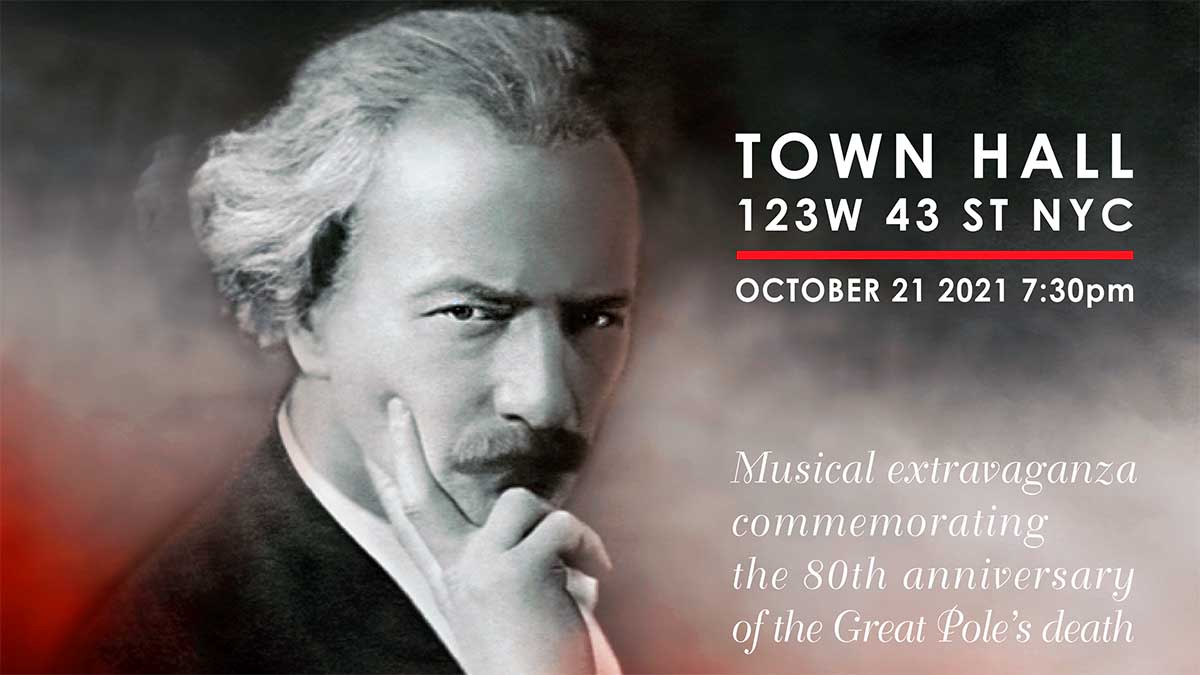 Experience the magnificent music of Polish composers. Discover the charm of F. Chopin's waltzes, preludes, polonaises and nocturnes, work by I. Paderewski and H. Wieniawski, as well as beautiful, romantic opera arias.
IGNACY PADEREWSKI TRIBUTE GALA concert will take place on October 21, 2021, 7.30pm at the old theatre Town Hall, Midtown Manhattan (123 West 43rd Street, between 6th Avenue and Broadway).
Tickets can be purchased online at:
https://www.ticketmaster.com/ignac.../event/03005B302EBD0895
www.thetownhall.org 
own Hall Box Office in Manhattan
Ignacy Paderewski (1860-1941) was one of the most famous people of the 20th century. He was a pianist, composer, politician, statesman, patron of art and architecture. Public loved him, especially the American public. In 1941, he witnessed a touching tribute to his artistry and humanitarianism as US cities celebrated the 50th anniversary of his first American tour by putting on a Paderewski Week with over 6,000 concerts in his honour. Paderewski died on June 29th in New York, the city where Paderewski's American adventure began. The artist's wish was to be buried in free Poland. This wish was granted in 1992 when his remains were transferred to Poland and his ashes placed in a crypt in St. John's Cathedral in Warsaw. Mass was attended by President George Bush and Polish President Lech Walesa. The heart of Paderewski remains in America. "My heart belongs to America," On 8 October 1960, the United States Post Office released two stamps commemorating Ignacy Jan Paderewski.
Concert will feature distinguished artists: Alexander Kobrin, laureate of F. Chopin International Piano Competition in Warsaw, Poland, Richard Lin laureate of H.Wieniawski Violin Competition in Poznan, Poland and 10th International Violin Competition in Indianapolis, also Magdalena Stern - Baczewska, Kenneth Merrill, Takeshi Nagayasu, Kyoung Im Kim and as a special guest MaryAnn McCormick soloist from the Metropolitan Opera, where she has over 140 performances on the stage, including Valkyrie, Don Carlo, Carmen, La Traviata, The Magic Flute, L'Enfant et Les Sortilèges, Rigoletto, and John Corigliano's The Ghosts of Versailles. In the 2015 season, she appeared at the Metropolitan Opera as Giovanna in Verdi's Ernani conducted by James Levine with Placido Domingo as Carlo. The Gala will be held under the patronage of the R. Dmowski and I. Paderewski Institute for the Heritage of National Thought, Polish American Congress in Washington DC, Consulate General of the Republic of Poland in New York and Polish Cultural Institute in New York. Concert in organized by Culture & Art Foundation
Tickets can be purchased online at www.TicketMaster.com, and www.thetownhall.org Town Hall Box Office in Manhattan, and Polonia Book Store, 882 Manhattan Ave, Greenpoint, phone 718-389-1684.
Media Sponsor: Dziennik Polonijny