May 3rd Constitution: Its Genesis, Meaning, and Legacy. A Lecture
April 30, 2022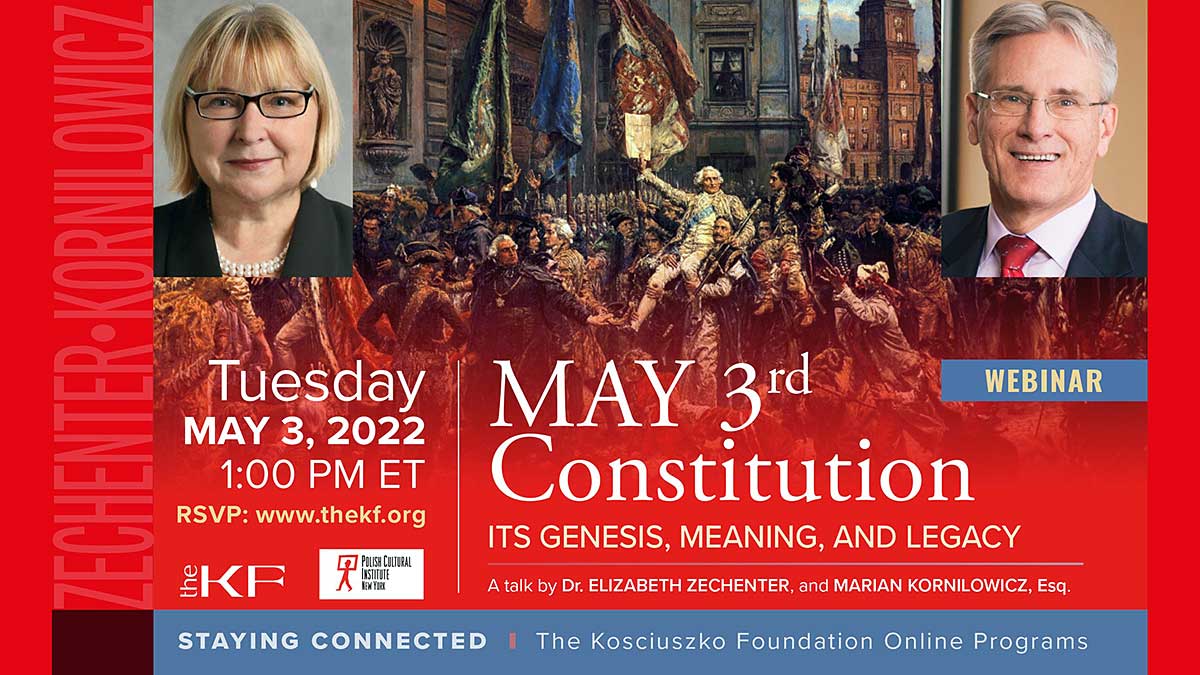 Tuesday, May 3, 2022, at 1:00PM
Irish statesman Edmund Burke called it "the noblest benefit received by any nation at any time." Scholars refer to it as the world's second modern national Constitution after the United States Constitution of 1789 and the first Constitution of this type in Europe. In Poland, it is viewed as a national symbol and the culmination of all that was good and enlightened in Polish history and culture. The May 3 anniversary of its adoption has been observed as Poland's most important civil holiday since Poland regained independence in 1918.
In the webinar, "May 3rd Constitution," international attorney, social scientist, and academic researcher Dr. Elizabeth Zechenter and Attorney Marian Kornilowicz will discuss the genesis of the Constitution, its merits, and the challenges it faced. They will share their reflections on the achievements of the Constitution, its role in the history of Poland, and the preservation of the Polish nation under the partition. They will also showcase how this document and enlightened Polish legal thought contributed to developing modern democratic traditions in the Western world.
The lecture is organized by the Kosciuszko Foundation in cooperation with Polish Cultural Institute New York. It is presented as part of the celebration of the Polish Heritage Days. Free and open to the public. Spots are limited.
Registration is required.
SPONSORED ARTICLE
For the most up-to-date information, please contact the company directly.
The photos contained in the article serve only as an illustration of the article.
Founded in 1925, the Kosciuszko Foundation promotes closer ties between Poland and the United States through educational, scientific and cultural exchanges. It awards up to $1 million annually in fellowships and grants to graduate students, scholars, scientists, professionals, and artists, and promotes Polish culture in America. The Foundation has awarded scholarships and provided a forum to Poles who have changed history.
Other articles: EDUCATION & SCHOLARSHIPS
SEE MORE