Catholic Schools in Brooklyn and Queens Launch Workshop Series for School Families Post Covid-19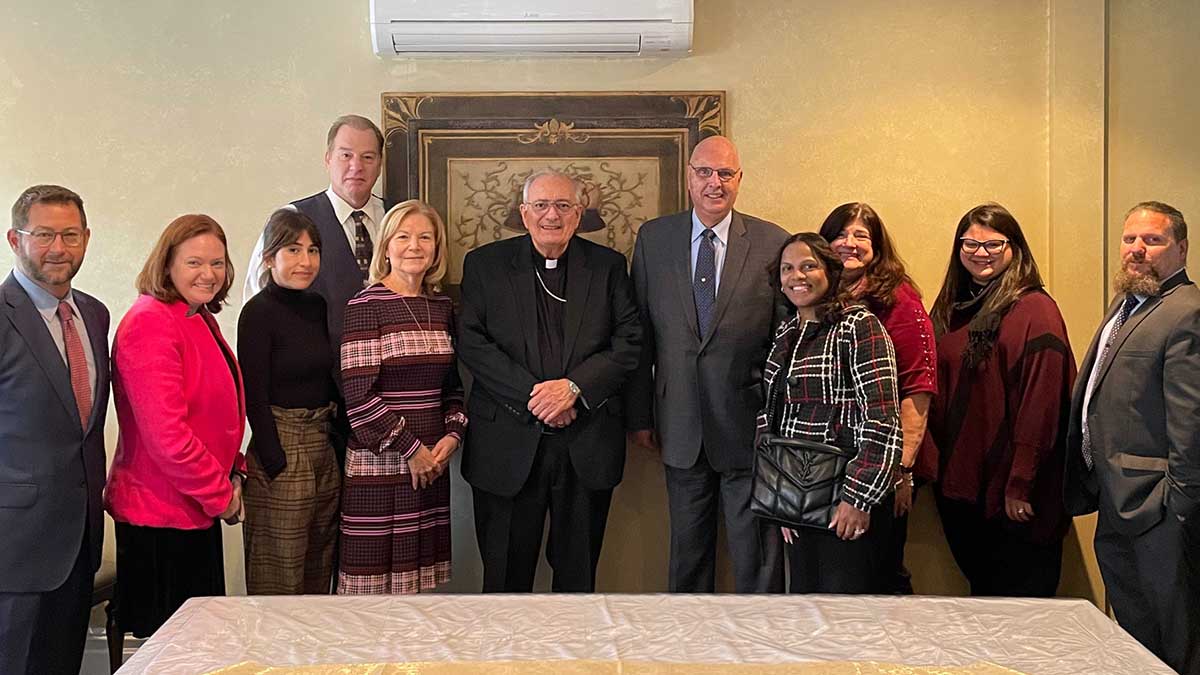 Bishop Nicholas DiMarzio is joined by Dr. Thomas Chadzutko and members of the Diocesan Schools office following the prayer service and celebration. Foto: Courtesy of the Diocese of Brooklyn
Dr. Thomas Chadzutko, Superintendent of Schools, and the Diocese of Brooklyn's Office of Catholic School Support Services has launched a series of virtual workshops designed to help families transition their young children into the classroom setting, who have until now, primarily been home with family due to the COVID-19 pandemic.
The six-part series will offer guidance to parents as they continue to make this transition. The workshops will also offer parents and caregivers insight into the behavioral changes their child may exhibit. Each workshop will be offered as either a morning or evening session and will be available in both English and Spanish.
"We continue to work with principals, teachers, and parents to come out as educationally strong as possible in the wake of the Coronavirus pandemic. With enrollment on the rise in our schools, we recognize that families continue to call upon us during these times to give their children the attention they deserve and need in the classroom. We know that education is a team effort and these workshops are designed to strengthen the bonds uniting us in our mission to provide the best education possible," said Dr. Thomas Chadzutko.
The workshop topics include:
Difficulty transitioning from home to a school environment displayed through separation anxiety
Supporting classroom transitions and socialization at home
Delay with fine motor skills and how parents can support this at home
Short attention span – how to develop stamina
Delay in language (especially those who were to receive speech therapy)
Supporting foundational literacy and math skills at home to enhance the in-person school experience.
The Office of Catholic School Support Services will also be introducing a series of workshops designed around transitioning early adolescents into school post-COVID. Those topics will focus on areas such as settling back into routines, the effect of social media, the increase of use during the COVID pandemic, and monitoring social media use.
"For adolescents whose interactions with their friends and classmates has been a central focus in their lives and development, the pandemic's reduction of their world has been especially difficult. Families are adapting to the evolving changes in daily life caused by the COVID-19 pandemic. This includes trying to keep children occupied, feeling safe, and attempting to keep up with schoolwork as best as possible," said Michael LaForgia, District Superintendent for the Diocese of Brooklyn.
In May, the Superintendents of both the Diocese of Brooklyn and the Archdiocese of New York sent a letter to New York City Schools Chancellor Meisha Ross Porter asking for mental health services to be provided for children in Catholic schools. The request for the services to begin in the 2021-2022 school year in the wake of the COVID crisis. To date, the letter has not been responded to.
Section 912 of the New York State Education Law requires school districts, of which New York City is one, to provide non-public school students with "any or all of the health and welfare services and facilities which are made available…to or for children attending the public schools of the district."
To learn more about the opportunities available at the 70 Catholic Schools in Brooklyn and Queens, visit catholicschoolsbq.org
Other articles: EDUCATION & SCHOLARSHIPS
SEE MORE