From The KF. Sixty Years of Studying Poland. Prof. Norman Davies and Prof. Robert Frost
September 17, 2021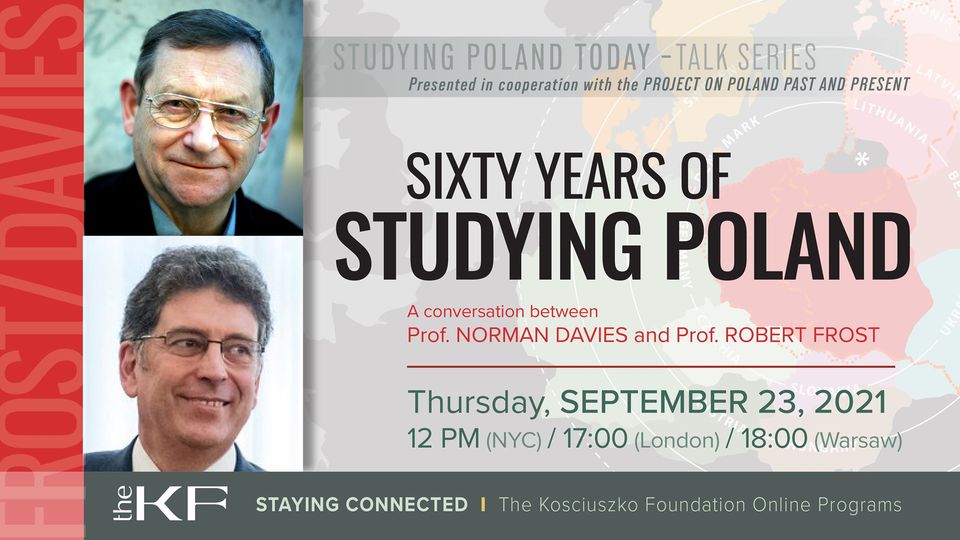 The Kosciuszko Foundation is excited to partner with the Project on Poland Past and Present to bring you Studying Poland Today - a new webinar series aiming to promote a broad vision of both Poland's heritage and of Polish Studies in English-speaking universities
Join us for the series' first episode featuring distinguished scholars and specialists in Polish history Professors Norman Davies and Robert Frost as they discuss Sixty Years of Studying Poland.
Free and open to the public. Spots are limited. Registration required.
Q&A session with an audience will follow the presentation.
Founded in 1925, the Kosciuszko Foundation promotes closer ties between Poland and the United States through educational, scientific and cultural exchanges. It awards up to $1 million annually in fellowships and grants to graduate students, scholars, scientists, professionals, and artists, and promotes Polish culture in America. The Foundation has awarded scholarships and provided a forum to Poles who have changed history.
Other articles: EDUCATION & SCHOLARSHIPS
SEE MORE