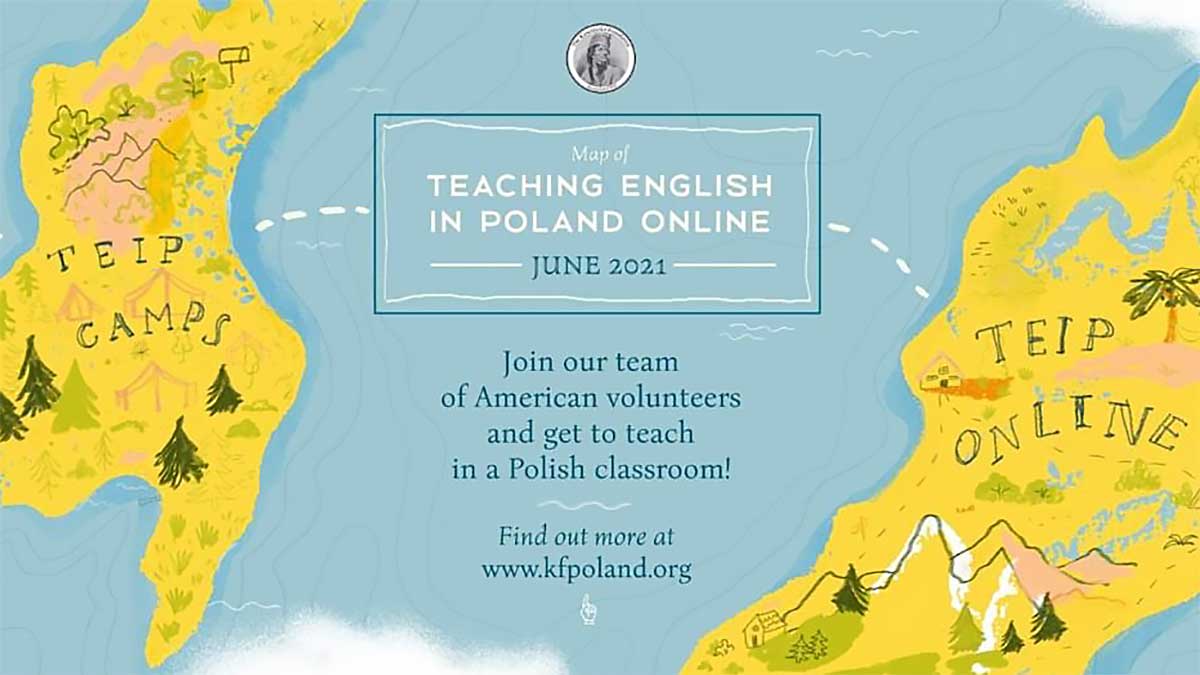 The Kosciuszko Foundation's Teaching English in Poland Program is looking for American volunteers who wish to connect with Polish children and teachers during the summer in Poland. Teachers of all subject areas and levels are encouraged to apply for the 31st edition of the program! Deadline to apply: April 1st, 2021.
TEIP Online will extend throughout June and will enable you to practice your professional teaching skills as well as simply connect with Polish students during their last month at school. We plan to bring all American volunteers together with as many students (both secondary and high school students), and their teachers, as possible. This is a great opportunity to get to know Poland, connect with your Polish roots, and gain some practical, teaching experience. Apply today!
About The Program: Developed and conducted by The Kosciuszko Foundation since 1991, the Teaching English in Poland Program offers a truly unique and mutually beneficial educational opportunity for its Polish and American participants. Its purpose is to provide Polish students (upper elementary through high school) with instruction and practice in conversational English within an American cultural context at summer camps throughout Poland. The program also provides an opportunity to become acquainted with the people, history, language, culture, and educational system of Poland.
Read more about the 2021 TEIP Program on our website >>>
Polish-American Organizations
15 East 65th Street
New York
, NY
tel:
Click phone# to call
212-734-2130
and tell them you found their ad in Polish Pages
Founded in 1925, the Kosciuszko Foundation promotes closer ties between Poland and the United States through educational, scientific and cultural exchanges. It awards up to $1 million annually in fellowships and grants to graduate students, scholars, scientists, professionals, and artists, and promotes Polish culture in America. The Foundation has awarded scholarships and provided a forum to Poles who have changed history.
Other articles: EDUCATION & SCHOLARSHIPS
SEE MORE