Learn Polish at the Jagiellonian University. Kosciuszko Foundation Scholarship
Gosia Szymanska January 31, 2020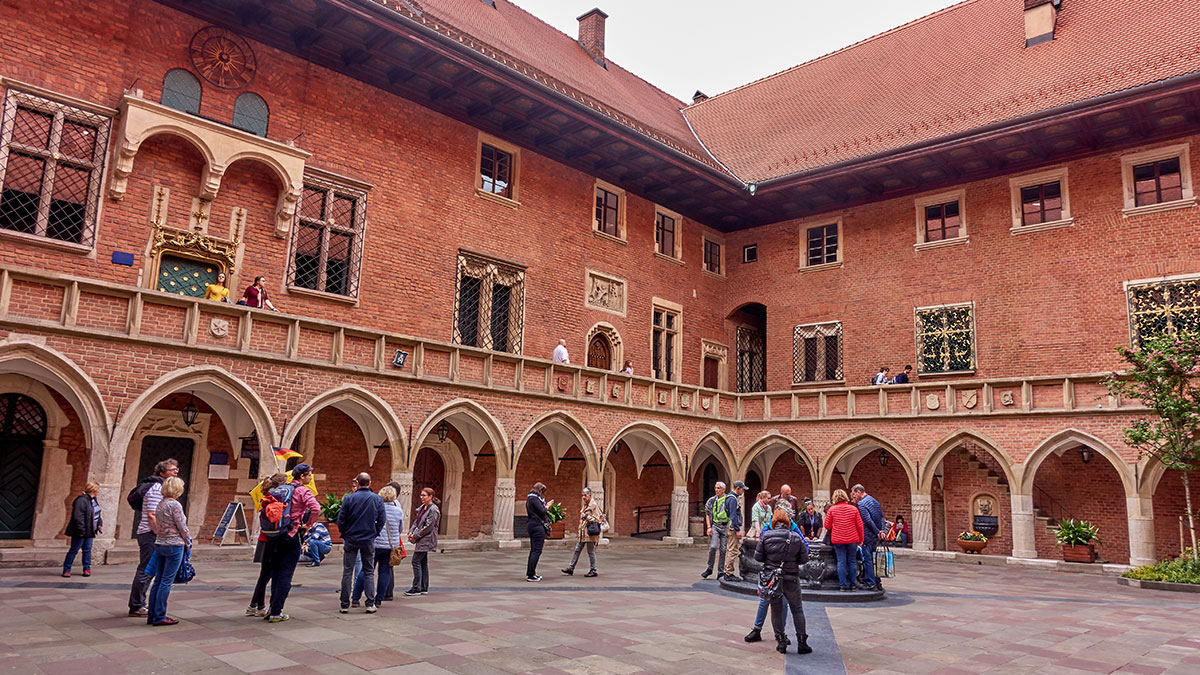 KRAKOW, POLAND. Collegium Maius-Jagiellonian University. Historic Polish university. Foto: Ryszard Stelmachowicz
The Year Abroad Scholarship supports Polish language studies at the Jagiellonian University's Center of Polish Language and Culture in Cracow, Poland. Scholarships are awarded under the auspices of the Foundation's Exchange Program with Poland. Students who are awarded a scholarship are accepted to attend the Center for Polish Language and Culture program at the Jagiellonian University. The scholarship includes a tuition waiver and 1,600 zloty per month for living expenses as well as $900 per semester in additional support. E-mail for letters of recommendation and questions: exchangetopoland@thekf.org Telephone: Tel. (212) 734-2130 ext. 413
Airfare is not covered by the scholarship. Please note that the Scholarship Selection Committee may elect to award semester-only grants.
POLISH STUDIES FOR FOREIGNERS CATALOG
The academic year in Poland begins in early October and ends in late June. Students may apply for an academic year or for one semester. For an overview of the program, please see the most recent catalog here. The catalog includes an academic calendar, list of courses, information on dormitory housing, medical insurance, the University's grading system, etc. Please note: 2020/2021 dates will differ slightly than the dates listed in the catalog link above.
ELIGIBILITY
Eligible candidates include undergraduate sophomores, juniors, seniors and graduate students who have a minimum GPA of 3.0 who are US citizens.
SELECTION CRITERIA
Selection is based on academic excellence, the applicant's motivation for pursuing Polish studies, interest in Polish subjects and involvement in the Polish American community. Applications are reviewed and ranked by the Jagiellonian University and the Foundation's Scholarship Selection Committee.
APPLICATION PROCEDURE
Prepare the following supporting materials and have items A to E ready to upload to the on-line application form. Supporting materials include:

Item A – A photo of yourself, which is suitable for publication such as a portrait photo or headshot which is 2 inches x 2 inches. Save file as: Last Name-First Name-photo;
Item B – A scan of your U.S. passport ID page or a birth certificate. Save documents to one file. Save file as: Last Name-First Name-diplomas;
Item C - University diplomas and language certificates. Save documents to one file. Save file as: Last Name-First Name-diplomas;
Item D –Your Curriculum Vitae (C.V.). Save file as: Last Name-First Name-CV;
Item E - An essay/personal statement on why you are applying to attend the program at the Center for Polish Language and Culture at the Jagiellonian University. Your essay will be 2-3 pages and will include: your last and first name, Save file as: Last Name-First Name-Essay;
Item F – Submit official transcripts of credit for 3 years of academic work. This document should have an official signature and stamp from your school or faculty. There are two ways you can send us the transcripts:

Mail transcripts to: Gosia Szymanska, 15 East 65th Street, New York, NY 11065
or
Go to your student account online and request a Secure Electronic PDF Transcript be sent to ExchangetoPoland@thekf.org via their electronic delivery service. Secure Electronic PDF Transcripts must be sent directly from your college/university's electronic delivery service.

Item G - Secure two recommendation letters and have your recommenders send them directly to the ExchangeToPoland@thekf.org. Letters should be written on university letterhead and sent as PDF attachment by your current professors or degree advisors directly to the Kosciuszko Foundation at ExchangeToPoland@thekf.org from institutional email addresses. Recommendations sent by the candidate will not be considered.

Complete the online application form at the Click Here to Apply button found below and pay a $50 non-refundable application fee.
E-mail for letters of recommendation and questions: exchangetopoland@thekf.org
Telephone: 212-734-2130 ext. 413
Founded in 1925, the Kosciuszko Foundation promotes closer ties between Poland and the United States through educational, scientific and cultural exchanges. It awards up to $1 million annually in fellowships and grants to graduate students, scholars, scientists, professionals, and artists, and promotes Polish culture in America. The Foundation has awarded scholarships and provided a forum to Poles who have changed history.
Other articles: EDUCATION & SCHOLARSHIPS
SEE MORE