The Academy of Young Diplomats (AYD) - XVI Edition Program
October 19, 2019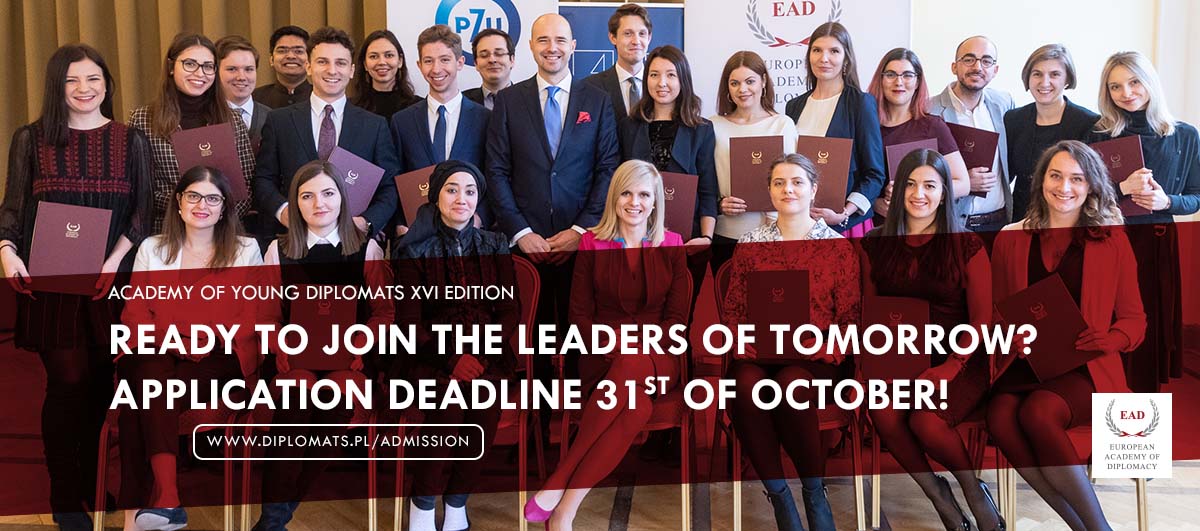 Application deadline 31st of october 2019
The Academy of Young Diplomats (AYD) is a top-tier postgraduate diplomatic Program, which empowers a new generation of global leaders, through an innovative annual training experience, ending with an Executive Diploma in the Art of Diplomacy (EDAD).
Established in 2004, the AYD prepares future diplomats, civil servants and social entrepreneurs for international careers.
The Program is known for its world-class faculty, practitioners-oriented approach and a network of more than 3000 graduates from over 60 countries. It is also accredited with the Ministry of Education of Poland.
A selected cohort of approximately 100 promising talents from around the world will take part in over 140 hours of lectures, workshops, practical exercises, study-visits and personal leadership development groups.
The European Academy of Diplomacy (EAD) is the first non-governmental, non-for-profit diplomatic academy in Europe, with a mission of shaping, sharpening and inspiring a new generation of enlightened international leaders.
Since its inception in 2004 and with over 8000 graduates from more than 100 countries, EAD offers the highest quality tailor-made programs at graduate, post-graduate and executive levels. Renowned for its teaching methods, international faculty and distinguished speakers, the EAD prepares diplomats, civil servants, political and social leaders, as well as representatives of businesses, academia and the non-governmental sector for the challenges of a globalizing and ever changing world. As partner of the Council of Europe and a member of the Network of Schools of Political Studies, the European Academy of Diplomacy focuses on promoting democratic values, human rights and rule of law.
Other articles: EDUCATION & SCHOLARSHIPS
SEE MORE