Miami, FL: Scholarship from The American Institute of Polish Culture (AIPC)
June 05, 2019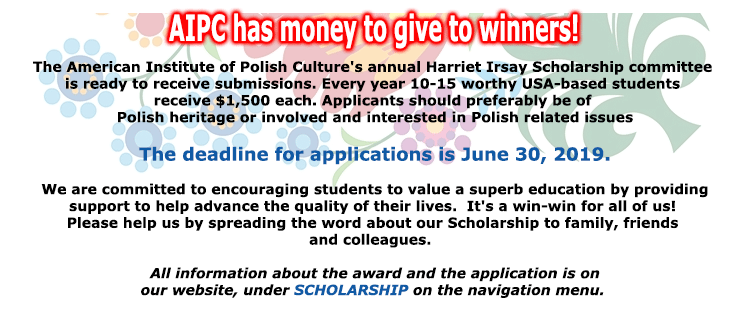 Attention all college & college bound students in USA
We'd like to give you $1,500!
The American Institute of Polish Culture (AIPC) awards 10-15 top-notch students the Harriet Irsay Scholarship every year. If you're of Polish heritage or involved and interested in Polish related issues, and will be studying in a US college during the coming year, we would love to hear from you.
Go to our website at www.ampolinstitute.org to see the Scholarship requirements and print an application. The deadline is June 30, 2019, so the time is now to get your submission in. And please let your friends who are students know about this great opportunity.
Let us help you achieve your dreams. It will be our pleasure!
Other articles: EDUCATION & SCHOLARSHIPS
SEE MORE