The Big Six - Polish Queens of the American Culture of the 1920s. - by Andrzej Krakowski, Ph.D. in NYC
May 07, 2019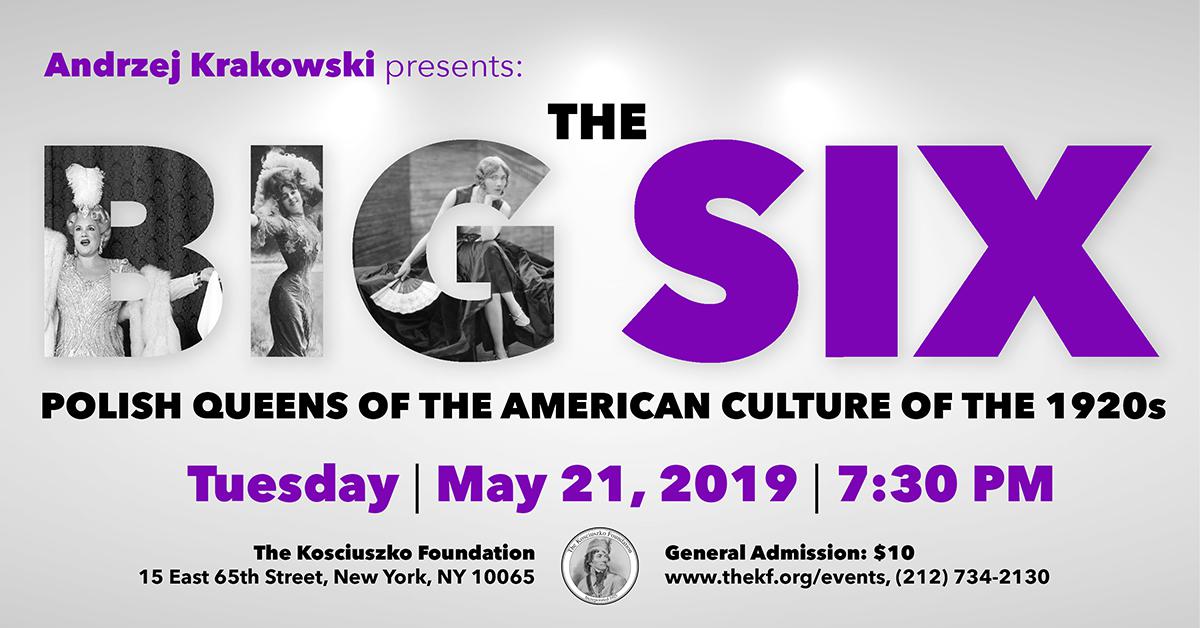 The Big Six - Polish Queens of the American Culture of the 1920s.
Tuesday, May 21, 2019, at 7:30am
When in 1922 Pola Negri was disembarking the ship in New York she was greeted by cheering crowds of fans, the city mayor and a new luxury car - a gift from the Paramount studio. What she did not know was that at the same time five other her compatriots ruled American culture. Stage belonged to Gilda Gray, theater – to Anna Held, jazz - Sophie Tucker, literature - Anzia Jezierska and journalism to Rose Pastor-Stokes.
Join us for an insightful, entertaining and very much informative evening with Prof. Andrzej Krakowski as he shines light and gives long-due credit to Polish women who made fundamental contributions to shaping the American culture. 
Andrzej Krakowski, Professor of Screenwriting and Producing at the City College of NY, awarded film producer, author and director. His production of a 10-episode dramatic TV series titled We Are New York won two Emmy Awards in 2010.
Wine and cheese reception will follow the presentation.
Regular admission: $10
Founded in 1925, the Kosciuszko Foundation promotes closer ties between Poland and the United States through educational, scientific and cultural exchanges. It awards up to $1 million annually in fellowships and grants to graduate students, scholars, scientists, professionals, and artists, and promotes Polish culture in America. The Foundation has awarded scholarships and provided a forum to Poles who have changed history.
Other articles: EDUCATION & SCHOLARSHIPS
SEE MORE