Classical Music Concert by Young Musicians from Poland in Washington, D.C.
August 28, 2014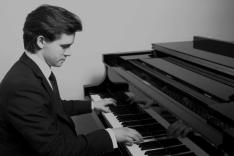 Roanoke Valley sister Cities and the Kosciuszko Foundation in Washington, D.C. are pleased to present a classical music concert, featuring students from the Frederick Chopin School of Music Level II in Opole, Poland.
 The concert will highlight Polish composers and music for the piano, violin, and flute. Roanoke Valley Sister Cities has partnered with Opole, Poland since 1995 with primary cultural exchanges in music and art.
The Artists:
Martyna Kaszkowiak - Violin
Mateusz Rozek (pictured) - Piano
Antoni Pikuta - Piano
Jagoda Krzeminska - Flute
 
Saturday, August 30, 2014, at 5:00pm
The Kosciuszko Foundation
2025 O Street NW, Washington DC 20005
Suggested Donation $10
Other articles: EDUCATION & SCHOLARSHIPS
SEE MORE