Quintet of the Americas at St. Josaphat's Church, NY
June 30, 2014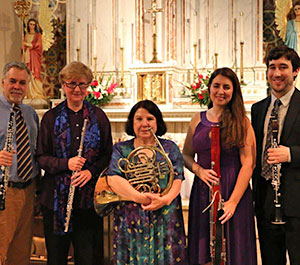 Quintet of the Americas performed at St. Josaphat's Church in Queens on Saturday, June 21, 2014. The Quintet is recognized internationally as a leading ensemble in the interpretation of contemporary and folk-inspired wind quintet music of the Western Hemisphere.
The group has toured throughout the USA, Canada, Venezuela, Colombia, the Caribbean, the Ukraine and the Republic of Georgia. In New York the ensemble has performed for Lincoln Center Inc., Chamber Music Society of Lincoln Center, and Carnegie Hall.
Members of the Quintet include: Karla Moe - flute, piccolo, Matt Sullivan - oboe, Nicholas Gallas - clarinet, Barbara Oldham - horn and Gina Cuffari - bassoon, soprano.
The program included compositions by: J. S. Bach, C. Franck, J. Steinmetz, M. Sullivan, J. Cohn, E. Lecuona, G. Gershwin, J. Barros, J. O. Munoz and L. M. Gottschalk.
Among the audience was composer James Cohn with his wife.
The Quintet has a special commitment to bringing composers and new music to audiences in Queens through its free concerts around the borough.
www.quintet.org
Photos: Zosia Zeleska-Bobrowski

Other articles: EDUCATION & SCHOLARSHIPS
SEE MORE