The NASZ exhibition at WantedDesign in NYC
May 16, 2014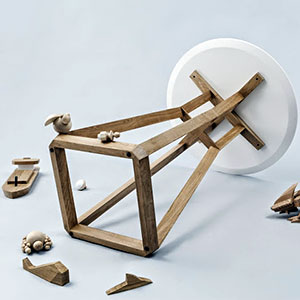 Nasz Studio Rygalik Design. Fot. Ernest Winczyk
The NASZ exhibition of Polish design, 16 May - 19 May 2014, at WantedDesign in New York. It will be the first such extensive exhibition of Polish design in the United States organized by Culture.pl. The New York audience will have a chance to see the results of an experiment set up by the curators.
NASZ is a low-key, cross-sectional collection of modern design that comprises items designed and manufactured in Poland. It presents the result of a research project initiated by the curators with a keen interest in exploring material culture through the prism of resourcefulness acquired in times of shortage. A number of renowned figures in the fields of product design, graphics, illustration, typography and multimedia as well as design students, producers and craftsmen were asked to join in with the venture.
The unique projects created especially for the exhibition are the result of experimenting with industrial processes and questioning the material properties and structure of objects. Some of these act as modifications of products available on the market, others have been brought to life for this very event.
The curators of the exhibit, Tomek and Gosia Rygalik state:
Many objects of daily use remain unappreciated as they are modest, common, and omnipresent. Indeed, their beauty lies in their coherence, authenticity and simplicity and their main goal is to stand the test of time. To create such objects is the greatest challenge for a designer. This collection is the result of searching for items that fulfil the needs, without being excessive or bizarre. It features new versions of successful products alongside fresh pieces potential of which has not yet been discovered.
NASZ collection is an outcome of a research and development project that has worked as a catalyst of the creativity based on the resourcefulness in design. Characteristic for the times of austerity, the resourcefulness, when confronted with the possibilities of contemporary design and advanced and innovative industry, becomes an exceptional design strategy of an invaluable capacity.

The NASZ collection comprises chairs, armchairs, tables and tabletop products, as well as toys and textiles, and includes some internationally recognized classics. The exhibition forms part of a programme for promoting Polish design organized by Culture.pl.

Tomek Rygalik was born in Lodz in 1976. He studied architecture at the Technical University of Łódż for two years and then graduated in Industrial Design at the Pratt Institute in New York (1999 BA/Hons). After his studies, he worked with several design companies in New York City and the area - consulting for clients including Kodak, Polarioid, MTV, Perkinelmer, Dentsply, Unilever, Dupont, and others. In 2003, he went to the Royal College of Art for post-graduate studies (2005 MA RCA). After graduating from the RCA, he joined the RCA staff as a research associate and established his own design practice in both London and Łódż. Since 2008, he has taught at the Academy of Fine Arts (PG13 platform) and since 2009 has been based in Warsaw. Between 2010-2012, he was the art director of Comforty – the leading Polish furniture brand.

Gosia Rygalik was born in 1982 in Warsaw. She graduated from the Design Department
of Warsaw's Academy of Fine Arts (2010 MA). She also studied at the Danmarks Designskole and worked with a design studio in Copenhagen. During her studies in Warsaw she was a member of the PG13 platform - responding to experimental design briefs, exhibiting, organizing
and taking part in design workshops and competitions as well as industry supported projects. Her MA studies were focused on experiencing food. The relationship between design and food
is an important field of her theoretical research as well as design practice. In 2009 she joined Studio Rygalik to become a partner in 2012.

Studio Rygalik was established in 2006 by Tomek Rygalik. For the first two years it functioned between London and Łódż, Tomek's hometown. Since 2009, the studio has been based in Warsaw.
This is when Gosia Rygalik joined the team, eventually becoming a partner in 2012. Studio Rygalik develops a wide variety of comprehensive projects. The focus is on furniture, products and spaces.

WantedDesign debuted only in 2011 but quickly made a splash in design circles. In addition to many international presentations supervised by curators, the organizers offer a wealth of workshops, discussion panels and pop-up stores. WantedDesign takes place at the same time as ICFF - International Contemporary Furniture Fair – the biggest furniture fair on East Coast and finely fits into this year's New York Design Week's program NYCxDESIGN.

NASZ
16-19 May, 2014
WantedDesign
Terminal Stores, 269 11th Avenue, New York
www.wanteddesignnyc.com


NASZ designers taking part in the exhibition include: Wojciech Bajor, Antoni Bielawski, Stefan Bieńkowski, Marek Cecuła, Fontarte, Agata Hoffa, Paweł Jasiewicz, Jakub Jezierski, Piotr Kuchciński,  , Agata Nowicka, Małgorzata Pepłowska, Gosia Rygalik, Tomek Rygalik, Jakub Sobiepanek, Wojtek Tomaszewski,  Julia Wilman, Monika Zawadzki

The manufacturers of the items are: Bajo, Balma, Ćmielów, Noti, Paged, PROFim, Vini Design, Vzór

NASZ app: Circus Digitalis
NASZ Partners: VOX, Paged, Alchemiq, Ultimat Vodka, Chmara.Rosinke
Other articles: EDUCATION & SCHOLARSHIPS
SEE MORE