Jazz musicians Kuba Stankiewicz and Darek Oleszkiewicz at UCLA Westwood Campus
May 14, 2014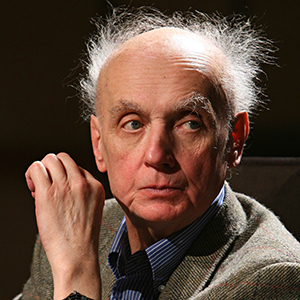 Wojciech Kilar. Fot: Cezary Piwowarski via Wikipedia
Tribute concert of music by Wojciech Kilar and Victor Young.
The Consulate General of the Republic of Poland in Los Angeles invites everyone to a special tribute concert of music composed by Wojciech Kilar and Victor Young, performed by two extraordinary Polish jazz musicians Kuba Stankiewicz (piano) and Darek Oleszkiewicz (jazz bass), on the eve of the 25th Anniversary of the First Free Elections in Poland (and behind the Iron Curtain) after World War II. Tuesday, June 3rd, 2014 at 8.00 pm, Fowler Museum at UCLA Westwood Campus.
"A Silesian from Lviv, but a Silesian" – Wojciech Kilar, one of the greatest contemporary Polish composers, said about himself. Wojciech Kilar was born on July 17, 1932 in Lwów, Lwowskie, Poland (now Lviv, Ukraine). Studied under Nadia Boulanger in Paris, France. Critically acclaimed, one of Poland's most esteemed composer of symphonies, sonatas, chamber music and more than a hundred film scores. He was a member of the Polish avant-garde movement of the 1960's. He studied piano and composition at the State Higher School of Music in Katowice, Poland, graduating with top honors in 1955. He was inspired by the works of Claude Debussy, Maurice Ravel, and fellow countryman Karol Szymanowski. His work incorporated Polish folk songs and Catholic church music. His main interest was composing symphonies and concertos, even though he wrote a huge number of film scores, for which he won many honors including the best score award for the music to Ziemia obiecana / The Promised Land in 1975, followed by the Prix Louis Delluc in 1980 for the music to Le Roi et l'Oiseau / The King and the Mockingbird, and an award at the Cork International Film Festival for the music to From A Far Country (1981) about the life of Pope John Paul II. One of his greatest successes came with his score to Francis Ford Coppola's Dracula in 1993 which received the ASCAP Award from the American Society of Composers, Authors, and Producers in Los Angeles, nominated also for the Saturn Award for Best Music in a science fiction, fantasy, or horror film in San Francisco in 1993. In 2003, he won the César Award for Best Film Music written for The Pianist, at France's 28th César Awards Ceremony in 2003, for which he also received a BAFTA nomination. The Pianist (soundtrack) featured his "Moving to the Ghetto Oct. 31, 1940" with the other 10 tracks being works by Frédéric Chopin. The music in the movie includes pieces by Beethoven and Bach. Active professionally till the end of his life, Kilar died on December 29, 2013 in Katowice. (based upon Wojciech Kilar website and IMDb)
More on Wojciech Kilar at http://wojciechkilar.pl/
---
Violinist and conductor Victor Young was a prolific composer and arranger, who worked on more than 300 film scores over a period of 20 years. He came from musical background and was trained on the violin at the Warsaw Imperial Conservatory, later studying piano in Paris under the French master Isidor Philipp. A prodigious talent, Young made his professional debut as a teenager with the Warsaw Philharmonic, in Poland. By 1920, he had found his way to the United States and resumed work as a violinist with the Central Park Casino Orchestra in Chicago. He also diversified as an arranger and conductor for radio and the theatre. His first connection with the film industry came about, when he secured a position as assistant director with the Balaban and Katz cinema chain, writing and arranging as many as five (silent) film scores a week. He worked with many of the great vocalists of the period, including Judy Garland, Lee Wiley and The Boswell Sisters. His high profile brought him to the attention of Paramount, so he came to be regarded as the pre-eminent film composer, and assigned the lion's share of A-grade features. His music subtly and seamlessly integrated into dramas like Reap the Wild Wind (1942), For Whom the Bell Tolls (1943), So Evil My Love (1948), John Ford's The Quiet Man (1952) and the western classic Shane (1953). Young also wrote countless evergreen songs. His first big hit was "Sweet Sue", followed by the melodic jazz standard "Stella by Starlight" and the famous ballad "When I Fall in Love". For Broadway, Young wrote both music and lyrics for "Seventh Heaven." Nominated for a staggering 22 Academy Awards, Young had his only win (for Around the World in 80 Days (1956)), rather sadly, after his sudden death. Sheer volume and enduring popularity of Young's music ensure his immortality among the ranks of the great songwriters and film composers of the 20th century. (based upon IMDb Mini Biography by: I. S. Mowis)
More on Victor Young at http://www.imdb.com/name/nm0000082/?ref_=rvi_nm
---
For a long time now, Kuba Stankiewicz has been among the very best of Polish pianists, proof of which came this year when he was nominated for an annual Society of the Phonographic Industry award known as "Frederyki 2013" in the category of best jazz album. The album that earned Kuba this distinction was his 2012 CD entitled "Spaces," which was also nominated for a "Prize of Wroclaw Music Award". Kuba's pianism is marked by distinctively American roots. However, it leans more towards the romantically lyrical than the dynamically extreme. The career of the pianist started in the second half of the 80's, when he worked with the band of Jan Ptaszyn Wróblewski and later, Zbigniew Namyslowski. Two albums, "Open" and "Song of Innocence" are the result of this cooperation. From 1987 he studied at Berklee College of Music (diploma in piano performance) and rounded off his education in the USA with the Oscar Peterson Award. He was also a semi-finalist in The Thelonious Monk International Jazz Piano Competition in Washington, DC. His time in the States was marked by a cross-country tour with The Artie Shaw Orchestra. Upon returning to Poland, he started to work with Miśkiewicz, Cegielski and Konrad. In ´93, the quartet recorded its first album, "Northern Songs." It won over the hearts and minds of jazz fans very quickly and was chosen Album of the Year by Jazz Forum. During the next few years, in cooperation with a formation called Travelling Birds (Oleszkiewicz, Wojtasik, Baron, Konrad) he recorded two more CDs, "Travelling Birds Quintet" and "Return to the Nest". In the outstanding circle of artists with which Kuba Stankiewicz has played, are saxophonist Scott Hamilton, trumpeter Art Farmer (Art in Wrocław), singer Sheila Jordan, Harvie Swartz, Janusz Muniak, Tomasz Szukalski and Anna Maria Jopek. Kuba Stankiewicz is not only an appreciated artist, but a pedagogue as well. In May of 2009, he received a Ph.D. from the Academy of Music in Wroclaw (Poland). His professional knowledge has been also acknowledged by Apple (Apple Certified Logic Pro 9).
More on Kuba Stankiewicz at http://www.stankiewicz.art.pl/index.php/en/
---
Darek "Oles" Oleszkiewicz was born on February 20, 1963 in Wroclaw, Poland. At the age of five Darek began his music education at the State Music School in Wroclaw. Piano was his first instrument, but later he played guitar, electric bass and finally at eighteen years old, he switched to accoustic bass. While in his teens he played with amateur groups, evolving in popular music styles from rock, blues, jazz-rock to straight ahead jazz. In 1983, he was the most awarded musician at the Jazz Juniors in Cracow. Later that year Darek was invited by Jan Ptaszyn Wroblewski, a jazz legend in Poland, to join saxophonist's quartet on tour. In the following years Darek Oleszkiewicz was working steadily with some of the best jazz bands in the country such as: Zbigniew Namyslowski Quartet, Tomasz Szukalski Quartet, Henryk Majewski Quintet, Wojciech Karolak Trio and Andrzej Jagodzinski Trio and Jan Ptaszyn Wroblewski Quartet. In 1988, Darek arrived in Los Angeles with a simple plan in mind: to broaden his musical horizon.
One year later he received a full scholarship from California Institute of the Arts and began studies with the legendary bassist Charlie Haden. After graduation in 1992, he accepted a teaching position at the Institute, where he has been conducting jazz ensembles and teaching bass ever since. Since 2002 Darek has been a jazz faculty member at the University Of California in Irvine. Aside from his teaching duties, Darek has been very active as a performer and became one of the most sought after bass players on the West Coast. "Oles" had the opportunity to perform and record with the greatest masters in jazz. A partial list of his collaborations include: Brad Mehldau, Billy Higgins, Pat Metheny, Joe Lovano, Eddie Henderson, Charles Lloyd, John Abercrombie, Bennie Maupin, Lee Konitz, Peter Erskine, Alan Pasqua, Bennie Wallace, Victor Lewis, Alice Coltrane, Ravi Coltrane, James Newton, Billy Hart, Chris Potter, Joe LaBarbera, Piotr Baron, Buddy De Franco, and Los Angeles Jazz Quartet. With these and many others artists Darek has recorded approximately 100 albums and performed hundreds of concerts throughout America, Europe and Asia. Several of those recordings were nominated for Grammy Awards. In 2003, Darek was also nominated to Fryderyk's Awards in Poland in the category "Jazz Musician Of The Year". In 2005 Darek "Oles" Oleszkiewicz was voted the "Best Acoustic Bassist" in the Jazz Top readers' poll in Jazz Forum European Magazine.
http://www.fowler.ucla.edu
Other articles: EDUCATION & SCHOLARSHIPS
SEE MORE