Celebrate Mother's Day Weekend with Jose Feliciano at Lehman Center, Saturday May 10
May 07, 2014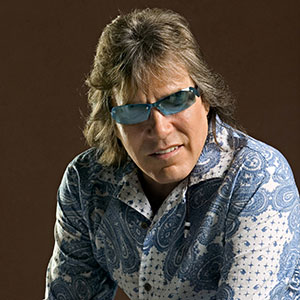 "It's a tribute to José Feliciano's artistry that he's able to navigate pop and tropical idioms with ease." - Billboard
Lehman Center for the Performing Arts presents the return, by popular demand, of multi-GRAMMY Award-winning legendary singer, composer and virtuoso guitarist JOSÉ FELICIANO performing a special concert Celebrating Mother's Day Weekend on Saturday, May 10th, 2014 at 8pm. José Feliciano, whose chart-topping recording of "Light My Fire" catapulted him to pop superstardom in 1968, possesses an unmistakable tenor voice that can be heard on nearly seventy albums. He brought the acoustic guitar to a new level and influenced pop music for two generations with songs in English, Spanish, and Italian, crossing over genres of music, from soul to pop, and from Latin to classical. His mega-hits include "Ché Sera" and "Feliz Navidad", named one of the "25 Greatest Holiday Songs of the Century" by ASCAP. Forty-five gold and platinum records, nine GRAMMY® Awards, the most recent being the 2011 Lifetime Achievement Award, countless additional honors and awards and a star on the Hollywood Walk of Fame signify a career rivaled by only a handful of artists.
Lehman Center for the Performing Arts is on the campus of Lehman College/CUNY at 250 Bedford Park Boulevard West, Bronx, NY 10468. Tickets for JOSÉ FELICIANO on Saturday, May 10th, 2014 at 8pm are $45, $40, and $25 | Children 12 and under: $10 for any seat, and can be purchased by calling the Lehman Center box office at 718-960-8833 (Monday through Friday, 10am–5pm, and beginning at 12 noon on the day of the concert), or through online access at www.LehmanCenter.org. Lehman Center is accessible by #4 or D train to Bedford Park Blvd. and is off the Saw Mill River Parkway and the Major Deegan Expressway. Low-cost on-site parking available for $5.
---
JOSÉ FELICIANO was born blind to humble beginnings in Lares, Puerto Rico in 1945, one of eleven boys, and moved with his family to NYC at age five. He learned to play the concertina at age six by listening to records and performed at age nine at the Puerto Rican Theater in the Bronx. He taught himself to play guitar, again by listening to records, practicing for as many as fourteen hours a day. Listening to '50s rock-n-roll inspired him to sing, and at 17, he quit school to help support his family, playing in coffee houses in Greenwich Village. He played his first professional gig that year in Detroit. Shortly thereafter, a music critic writing of his performance at Gerde's Folk City referred to him as a "10-fingered wizard who romps, runs, rolls, picks and reverberates his six strings in an incomparable fashion."
Feliciano's major break was in the Spanish market when, after an amazing performance at the 1966 Mar del Plata Festival in Argentina, RCA executives in Buenos Aires asked him to stay and record an album of Spanish music. The first single, "Poquita Fe" was a smash hit, and "Usted" was even bigger. Infusing long-time standard boleros with his own guitar and vocal stylings, he became the teen idol of the day. Two more albums followed, and Feliciano became a star throughout South and Central America, Mexico and the Caribbean. RCA executives in LA then brought him to producer Rick Jarrard, who recommended that Feliciano record a Doors' song that Jarrard had heard him sing in concert – "Light My Fire." By the time he was 23, José Feliciano had performed throughout most of the world and earned five GRAMMY nominations, winning two for his album Feliciano! That same year (1968) José caught the world by surprise when he became the first artist to ever stylize the "National Anthem" and perform it publicly, which went on to be a charted Top-40 recording. Just as he had taken long-time standards and made them new with his own style of acoustic guitar and jazz and American vocal inflections, he created the pathway for new generations of stylization of the anthem.
Recognized as the first Latin Artist to cross over into the English music market, José Feliciano opened the doors to others who now play an important part in the American music industry. In 1996, he received Billboard's Lifetime Achievement Award, and NYC honored him by renaming Public School 155 in East Harlem the José Feliciano Performing Arts School. He has performed his classical compositions, as well as his guitar transcriptions of works by other composers, with many of the top symphony orchestras. His compositions have been featured in television, films, and on the stage. In 1997, PolyGram released Feliciano's most important recording in many years, Señor Bolero, marking a return to his musical roots. The album's first single "Me Has Echado Al Olivido" reached platinum status in under six weeks and the album went double platinum, earning José his fifteenth GRAMMY nomination, for Best Latin Pop Performance. 2007's The Soundtrax of my Life was a collection of original songs recorded over a period of five years, and 2008's Señor Bachata won a Latin GRAMMY for Best Contemporary Tropical Album as well as a GRAMMY Award for Best Tropical Album. Over the last 47 years, the world has enjoyed countless Feliciano songs, which include "Rain", "Chico and the Man", "California Dreaming", "Destiny", "Affirmation", "Ay Cariño", "Ponte A Cantar", "Cuando El Amor Se Acaba" and "Porque Te Tengo Que Olvidar?." His latest release is 2012's The King, José Feliciano's Tribute to Elvis Presley.
---
Lehman Center is supported, in part, with public funds from the New York City Department of Cultural Affairs in partnership with the New York City Council. The 2013-2014 season is made possible by the New York State Council on the Arts with the support of Governor Andrew Cuomo and the New York State Legislature, JPMorgan Chase, and through corporations, foundations and private donations.
Other articles: EDUCATION & SCHOLARSHIPS
SEE MORE