Panel Discussion with Dorota Jarecka at Cervantes Institute, NY
April 18, 2014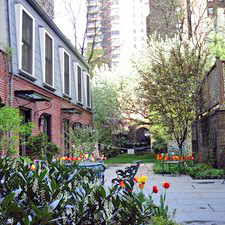 The garden at the Cervantes Institute in New York
Walking in the Air: contemporary art criticism in Europe.
What is the situation of art criticism in Europe? How should we talk about art criticism in a local geo-cultural context while art is becoming a global phenomenon? What role does social media play in making local art criticism globally accessible? What is the role of the art critic in shaping identity of local art? These are only a few questions, which noted scholars and critics from Spain, Finland, Poland and the Czech Republic will address during the panel discussion Walking in the Air: Art Criticism in Europe. Moderated by Hyperallergic's co-founder and editor Hrag Vartanian, the discussion will begin with opening remarks by Marek Bartelik PhD, president of AICA International, followed by a presentation by each panelist about the current state of art criticism in their representative country with the emphasis on criticism in daily newspapers.
Participants
Dorota Jarecka (Poland)
Marja-Terttu Kivirinta (Finland)
Javier Montes (Spain)
Jonathan T. D. Neil (U.K)
Tomás Pospiszyl (Czech Republic)

Moderator
Hrag Vartanian (Hyperallergic)

Sunday, April 27, 2014
3-6pm Panel Discussion
6-7:30pm Reception in the garden

Cervantes Institute
211 East 49th Street, New York, NY

Admission: Free with RSVP through

Free admission with mandatory RSVP at http://walkingintheair.eventbrite.com

This panel, Walking in the Air: Art Criticism in Europe, will be accompanied by a special edition of the Brooklyn Rail (May issue), devoted to art criticism in Europe and the United States.
Other articles: EDUCATION & SCHOLARSHIPS
SEE MORE