Mesothelioma is an aggressive and incurable cancer that is caused by exposure to asbestos. If you have developed mesothelioma, you likely breathed in or handled asbestos years ago on your job or in your home. You have a legal right to seek compensation from those responsible for your illness or loss. And you need a strong legal advocate on your side.
Mesothelioma strikes more than 3,000 people each year. However, the time between exposure to asbestos and the onset of the symptoms can be 15 to 60 years. That means people like you may have been exposed to asbestos decades ago.
The tragedy for millions of American workers is that they were never warned by the asbestos companies that the fibers they worked with could one day sicken and kill them and their family members.
If you or a loved one has been diagnosed, the top rated attorneys at Belluck & Fox can help you pursue financial compensation from the manufacturers responsible for your illness.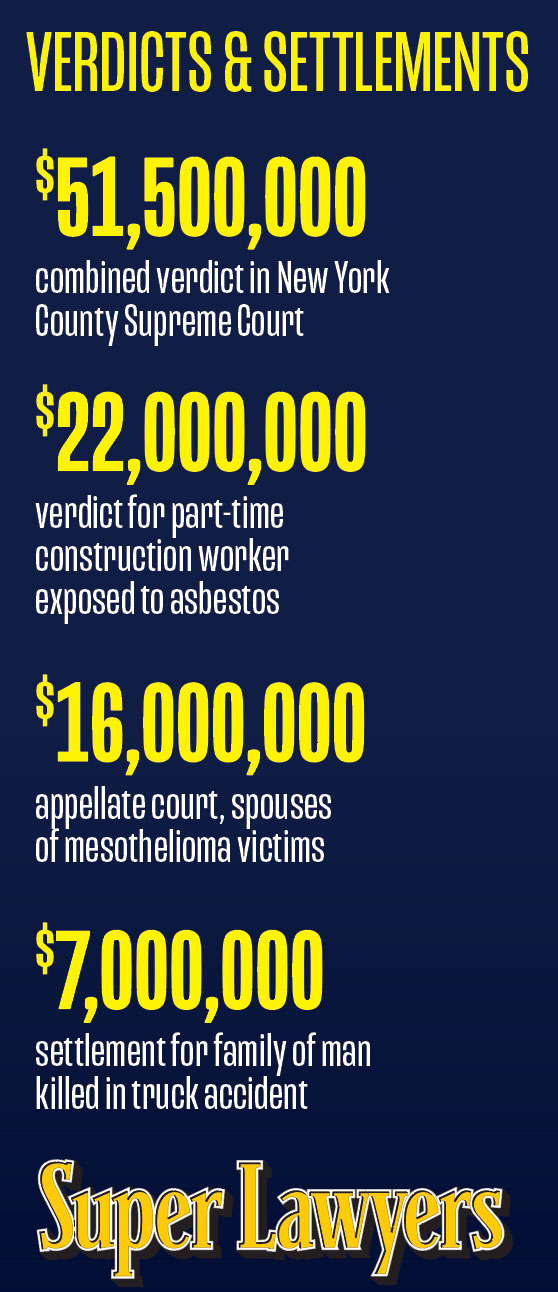 Today, mesothelioma patients and surviving family members can pursue compensation from these companies and the bankruptcy trust funds many left behind.
In addition, patients may qualify for veterans' benefits, Social Security Disability Insurance or workers' compensation benefits depending on their circumstances.
When a family is confronted with mesothelioma their lives are immediately turned upside down. At the same time you are struggling with the medical issues at hand, it is necessary to find legal help to protect your rights: information needs to be preserved and there are deadlines for filing claims. Below, we have responded to some of the most common questions from our clients and their families. Mesothelioma can be a difficult disease to understand, and if you or a loved one have been diagnosed, you are certain to have numerous questions, please contact us - we can help you find answers.
How do I choose a law firm to handle my mesothelioma case?
Experience matters when it comes to choosing a law firm to handle your mesothelioma case. Proven results matter too. Joseph Belluck and Jordan Fox are recognized as two of the top meso lawyers in the country. With decades of experience representing asbestos victims across the United States, the law firm of Belluck & Fox, LLP has secured more than $1 billion for the hundreds of mesothelioma clients and families they have represented. They recently won verdicts in the amounts of $32 million and $19.5 million for their clients and were listed as one of
America's best law firms by US News and World Report and Best Lawyers magazine. Why settle for a firm with less experience?
The attorneys at Belluck & Fox, LLP have a comprehensive database of products and companies that may have caused your disease. The firm has built an extensive document library and retained a team of experts to assist you with their claims. They also have a thorough understanding of the medical issues mesothelioma victims face.
Mesothelioma cases are complex. The attorneys at Belluck & Fox, LLP realize that the circumstances surrounding each case are unique. We also know that dealing with mesothelioma creates a great amount of stress for patients. With Belluck & Fox, LLP, you'll never feel like you are in this battle alone. We treat every client with respect and compassion and provide personalized, thoughtful representation. We maintain frequent contact with our clients and make ourselves available to clients at all times. Let Belluck & Fox, LLP will deal with the legal issues so you can focus on your health.
Simply put, Belluck & Fox, LLP has the experience, resources, compassion and know-how to get you and your family the compensation you deserve.
Can I contact a mesothelioma attorney on behalf of my father, husband or relative?
Yes. If your father, mother, husband, wife, or other relative has been diagnosed, please contact Belluck & Fox, LLP. We will work with you to help your family protect your legal rights and receive full and fair compensation for these injuries. We have significant experience working with the families of asbestos victims.
Is there going to be a trial in my lawsuit?
As with any lawsuit, we make every effort to resolve your case without a trial. In many instances, we are able to fully resolve your case without a trial. However, in some cases, a responsible party will refuse to pay fair compensation for your injuries, and a trial is necessary to assure that justice is achieved for you and your family. As experienced trial lawyers, Belluck & Fox, LLP is fully prepared to prosecute your case from start to finish, including a trial.
From the time we first meet with you, we consider and act upon your wishes and priorities. There are clients who want to have trial to have their case heard by a jury of their peers. There are also clients who, for a variety of reasons, do not prefer a trial, and we work closely with these clients to advise them about their options for resolving their claims without a trial proceeding. At all stages of the case, including the decision regarding whether to proceed to trial, our first priority is you and your family.
Are there time limits for filing a legal claim?
You do not have an unlimited amount of time to file a personal injury claim. Each state has laws that limit the amount of time an individual has to file a lawsuit. Failure to comply with these laws may result in you being barred from taking legal action against asbestos companies.
Do I have to pay for the costs of my lawsuit?
If you decide to retain our services, we will work for you and your family on a contingency basis. This means that we do not receive a fee unless we our successful in obtaining settlements or recovering compensation for you and your family. Otherwise, you will not be billed for our services.
While the case is pending, we advance the costs of working on your case. Once the case is completed, the expenses and legal fees in your case are deducted from the money we recover on your behalf, and you and your family receive the remaining money from your settlements.
If you are considering hiring Belluck & Fox, LLP to prosecute your claim, one of our attorneys will sit down with you and answer any questions you may have about the contingency agreement. It is important to us that you are fully aware of the details of the contract before we begin to work on your claim. We will give you a copy of the retainer contract so that you may review it and discuss it with us at any time.
What if my loved one had died or is too sick to speak to an attorney?
By the time a person is diagnosed they are often too ill to participate in their own case. In some cases, your loved one may have passed away before a lawsuit was brought and before they were able to testify on their own behalf.
If an individual is unable to testify, we work closely with family, friends and co-workers to establish the facts we need to successfully prosecute the case. We also have access to a vast array of resources to secure information about the products to which your loved one was exposed.

If the individual has died, we can file a claim through the administrator or the executor of the estate, and also on behalf of the victim's relatives.
Who is at risk for developing mesothelioma?
Asbestos was used for decades in products such as fireproofing materials, valves, pumps, boilers, automotive brakes, textile products, and building materials.
If you or a family member has been diagnosed with mesothelioma, please contact Belluck & Fox immediately to begin the asbestos claims process!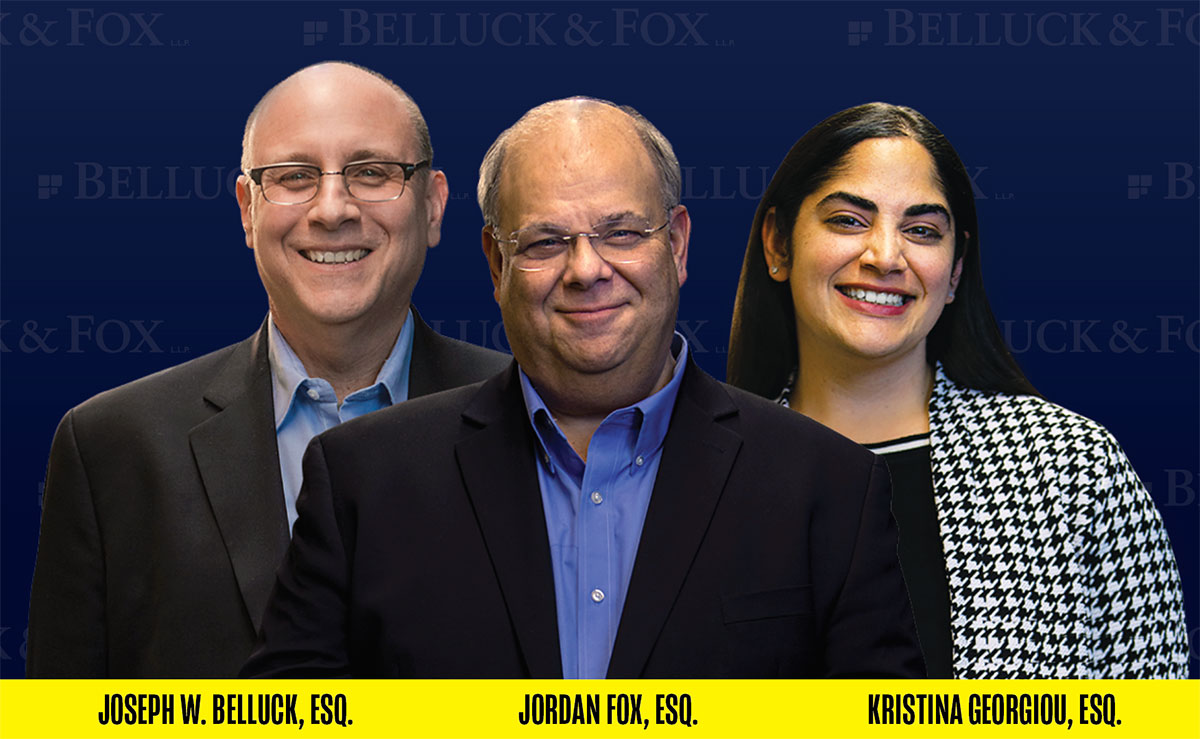 Construction Accidents
546 5th Avenue, 5th Floor
New York
, NY
tel:
Click phone# to call
212-681-1575
and tell them you found their ad in Polish Pages
SPONSORED ARTICLE
For the most up-to-date information, please contact the company directly.
The photos contained in the article serve only as an illustration of the article.
When calling this company, please reference POLISH AMERICAN PAGES.
PERSONAL INJURY - MESOTHELIOMA - 9/11
CLICK & CALL - FREE CONSULATION
WE SPEAK POLISH - ASK FOR JUSTYNA!

Attorney advertising. Prior results do no guarantee a similar outcome.