Classical music concert of Justyna Maj (piano) and Dimiter Tchernookov (violin)
31 maja, 2008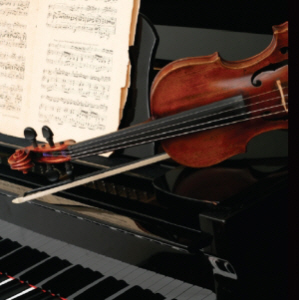 Consulate General of the Republic of Poland in New York cordially invites you to attend the classical music concert of Justyna Maj (piano) and Dimiter Tchernookov (violin).
Tuesday, June 3, 2008 at 7.30 pm. De Lamar Mansion – the residence of the Consulate General of Poland 233 Madison Avenue at 37th Street The event is free and open to the public, however all attendees must RSVP to secure admittance.
RSVP by Monday, June 2 at
646-237-2112, 646-237-2114
rsvp@polishconsulateny.org.

Programm

L.v. Beethoven
Sonata for Violin and Piano
in D Major, Op.12 No.1

C. Debussy
'Jardins sous la pluie' (from Estampes)

F. Chopin
Andante Spianato
and Grande Polonaise Brillante
in E flat Major, Op.22

--- intermission ---

R. Fusco (b. 1984)
'Water Music' for Violin and Piano, Op.21

C. Franck
Sonata for Violin and Piano in A-Major
--------------------
Wine reception follows

Justyna Maj piano
Dimiter Tchernookov violin

Justyna Maj
piano




As a winner of numerous prestigious international and national piano competitions (Canadian Chopin Competition, Pacific Piano Competition, Göttingen Chopin Competition, Kay Meek Concerto Competition, Toronto Symphony Orchestra Competition), Polish-Canadian pianist Justyna Maj has performed solo and chamber music recitals throughout Canada, Holland, Germany, Belgium, Italy, the Czech Republic, Greece, China, USA and her native Poland. By taking part in festivals world-wide she has gained an international training and has studied with renowned teachers such as Prof. Lee Kum Sing, John O'Connor, Jon Kimura Parker, Evgeny Indij, G.Guangren, Alexij Orlovetsky, Florian Wieck and obtained her Bachelor of Music, Artist Diploma and Master of Music Degrees. She has performed with the Wroclaw Philharmonic Orchestra, the Vancouver Academy Symphony Orchestra and the Vancouver Youth Symphony Orchestra and has recorded for CBC Radio, German and Polish National Radios. For the last decade, Ms.Maj has been very active as a chamber musician, obtaining many awards in this discipline as well. She holds a position of a piano collaborator at the Casalmaggiore International Festival in Italy where she returns this summer for the 8th consecutive time. Recently, Ms.Maj has played for the prestigious series Jeunesses Musicales du Canada and was re-invited for a tour in the fall of 2008.

Dimiter Tchernookov
violin




rench-Bulgarian violinist Dimiter Tchernookov is a very versatile musician. His intense activity as a soloist, chamber musician and orchestra player has led him to perform in the most prestigious New York City venues (Carnegie Hall, Alice Tully Hall, Merkin Hall, Yamaha Hall, Tribeca Center, Yale Club, Colony Club, Morgan Library) and in numerous International Festivals in Italy (Casalmaggiore International Festival), France (Pablo Casals Festival, Fontainebleau American Conservatory Festival), and Bulgaria (Varna International Summer Festival). His frequent participation in International Competitions has brought him success and opportunities to appear as soloist with orchestras. In 2007, Mr. Tchernookov received 3rd Prize at the 5 Towns Young Musician Competition, 3rd Prize at the California International Young Artists Competition, and was the winner of the Mannes Community Orchestra Concerto Competition. He graduated with honors from the Conservatoire National Superieur de Paris in '05, and is currently pursuing a Master of Music Degree, studying with Prof. Lucie Robert at the Mannes College of Music, where he has previously obtained a Professional Studies Diploma. Since 2006, Mr.Tchernookov is a regular member of the New Haven Symphony Orchestra, where he occasionally acts as associate concertmaster and principal second violin.