Native Detroiter, Educator, Coach and Mentor Becomes Special Footnote in MLB History
By Raymond Rolak 30 czerwca, 2015
John Paciorek, native Detroiter and famed Detroit Catholic League High School sports phenome in the early 1960's at Hamtramck St. Ladislaus High School was featured on the Monday, June 29th "CBS This Morning" show. Paciorek, 70, is now a well-respected educator and longtime baseball coach at a private high school in San Gabriel, California. He has been teaching and coaching for over 40 years.
CBS producer and reporter Lee Cowan showcased a man who's much more than the sum of his stats. The piece ran five and a half minutes.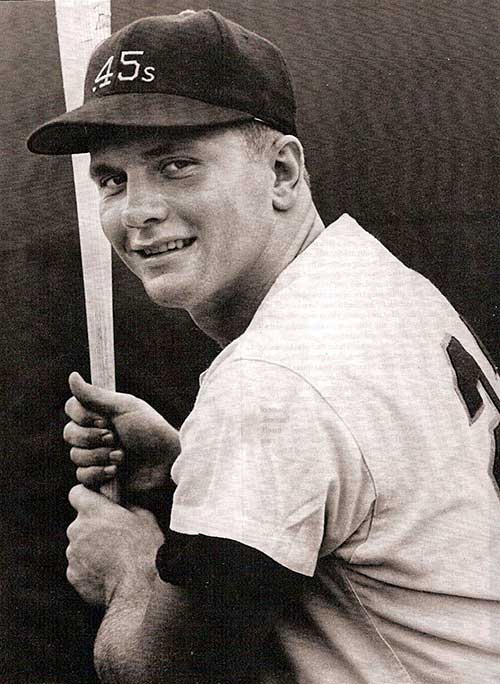 John Paciorek has a special baseball pedigree and he has become the answer to a unique Major League Baseball trivia question. The question is, "Who has the best lifetime MLB baseball batting average?" On September 29, 1963 against the New York Mets in his first Major League game for the Houston Colt 45's, John Paciorek went 3 for 3 with two walks. Batting in the seventh spot for Houston, he also had three R.B.I.'s and scored four times. His career 1.000 % batting average is considered a special footnote in baseball history. He had a perfect day at bat and in the field for the National League club. There are over 20 players with a 1.000 % batting average but none has three hits like John Paciorek.
The 18 year old outfielder had a back injury in the off season and never made it back to the Major Leagues. The Colt 45's beat the Mets, 13-4 in that game and another native Detroiter played shortstop for the Mets, Al Moran. Moran went to Detroit Catholic Central. Harry Craft, the Houston manager submitted a unique starting lineup in that game. He started 8 rookies as his position players.
"It was the last game of the season and the crowd was only 4,000 but they made noise every time I came up to bat. By my last at bat, they sounded like 50,000 people as they were so loud," John remembered fondly.
John Cullen, famed coach at Detroit Benedictine High School said in his memoirs, "In 1960, I had my ace, Fred Fleming pitching against St. Lad's and John Paciorek. As a high school sophomore, Paciorek hit one so far and high at Jayne Field in Detroit, I know the ball is still up there as a satellite."
Younger brother Tom had more baseball notoriety because of his 18 year MLB career. Tom also is a beloved personality in Chicago for his longtime award winning television broadcasts with the Chicago White Sox. Tom was renowned for his lively and entertaining Polish-American memories growing up in a Polish household in Detroit and learning Polish as a second language from the Sisters of Saint Francis at St. Lad's. All five of the Paciorek brothers excelled in sports when they played in the Detroit area. John, Tom, Mike and Cy shined at St. Lad's and the youngest Jim, did the same at Orchard Lake St. Mary's. Jim went on to the Milwaukee Brewers and had an extended career playing professional baseball in Japan. Mike played in the Dodgers system and had a second career in the movies, most notably in the 2005 "Bad News Bears" remake.
During the special CBS interview feature, Hall of Fame baseball manager, Tom LaSorda had high praise for the Paciorek brothers. LaSorda said, "Everyone had scouted John and the Dodgers would have loved him but Houston was an expansion team and they gave large bonuses. They were collecting young prospects by the bushel baskets." LaSorda added, "You know, this young man at that time (John), had everything going for him, you could see a great career with him. No telling what he could have accomplished."
Paciorek was All-State in high school in three sports, football, basketball and baseball. His baseball journey got into high-drive in the summer of 1962. He came to national prominence as a baseball pro prospect when he was named MVP for leading his Detroit Moeller's Citizen Insurance team to the National Amateur Baseball Federation national championship in Louisville, Kentucky. He was a shortstop then.
Paul Richards, the general manager of the expansion Houston Colt .45s, came to Michigan in 1962 to persuade Paciorek to sign with Houston. Tom Paciorek reminisced, "None of us had ever been to a restaurant before. They took us to this fancy restaurant in Detroit. We ate steaks, and when they asked John if he wanted anything else, he said, 'Yeah, I'll take another one of those steaks.'"
"John carved out this fame because of that one special game," said former teammate Rusty Staub. Staub was a six times All-Star and 23 year MLB veteran. "No one was a better athlete than he was. He was certainly a star in the making." Staub and Paciorek were roommates with the Colt 45's.
John's high school coach at the time, Robert Samaras, Ph.D., now an author and well-respected baseball innovator said, "John looked as a sure thing. He never complained and he always tried to play through his back discomforts. He was a champion. Because of his perseverance, he made every team that he was on, much better."
After the successful summer season for Detroit Moeller's Citizen Insurance, John accepted Houston's offer of $45,000, an enormous amount of money for the son of an auto factory worker. From that bonus, $15,000 went to help pay off the family house. At the insistence of his father (also John) the Colt .45s included a scholarship fund to someday pay for John's college education. He got his degree in Physical Education from the University of Houston.
Former Minnesota Twins pitcher, Bill Zepp, a teammate of John's on that 1962 NABF Moeller squad said, "John was only 17 and he overshadowed all the 18 year old's. He was a man playing with young boys. And he prepared for his Major League chance through hard work and preparation. He outworked everyone."
Steven K. Wagner just released a new book on John Paciorek, "The Rise and Fall of John Paciorek, Baseball's Greatest One-Game Wonder". There is special fascination for anyone who loves the game of baseball. Besides the great nostalgia there is a story of hope and inspiration for young players aspiring to greatness. The book chronicles interesting Detroit history, especially the story when brothers John and Tom and local baseball personality, Pinky Deras crossed paths in Modesto after a California League game. It is one special baseball anecdote of fun including a wild dinner and post-game baseball hijinks. http://www.johnpaciorek.net/
John Paciorek also wrote a baseball book on hitting and the art of conducting perfect baseball practices. It was titled, "The Principle of Baseball: And All There is to Know about Hitting". John, always known as a thinking baseball coach, stressed in his book how to take baseball performance to the next level. He said, "When mere strength and natural ability reach the limits for peak performance, conscientious devotees will find "technique" to add to their effectiveness and longevity. The universe (one voice) sings in simple chords of harmonious function, changing chaos into order." http://www.johnpaciorek.com/
Award winning author Steven K. Wagner added, "Baseball imitates life. We all win and lose, and baseball is the same. Some make it to the Hall of Fame, some play only one game. When the dust has settled the important thing is that you do your best, strive for excellence and everything else will take care of itself. We're not all Hall of Famers, in life or in baseball."
Wagner concluded by saying, "In all my interviews with John I never got the impression that he believed his accomplishment was that big a deal. He is very down to earth and believes--to his credit--that the work he does with children holds far more value. Many kids where he teaches have no idea what he accomplished, and that is a testament to his modesty."