One Position Only to Improve for each Top Premier League Side
16 kwietnia, 2014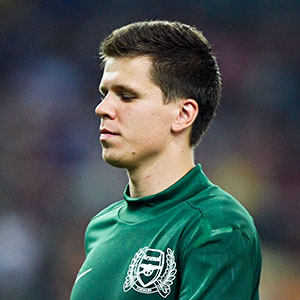 Arsenal\'s keeper Wojciech Szczesny. Fot. Chen Wei Seng / Bigstock
Manchester City, Arsenal, Chelsea, Manchester United, Liverpool
Manchester City: Centre Back
For all the talent they have around the squad, there is one glaring spot within the team that screams for reinforcement. Both of the CB positions have been held for a while now by Vincent Kompany and Demichelis. The promising Nastasic has been out for the entire season and hasn't been able to continue his fantastic form he displayed last season under Roberto Mancini. Thus Manuel Pelligrini has had to make due with his two veterans. However, both have been found to come up short at crucial points of the campaign. At the Etihad against Barcelona, Demichelis was sent of due to slicing down a rampant Lionel Messi that was put onside by Vincent Kompany. The latter further attracted criticism this past weekend with his horrific clearance that allowed Liverpool's Coutinho to seal a crucial third goal for the Reds. The brainfarts by both of City's veterans have become too frequent in between in order to justify a reliable partnership heading into the 2014-2015 season. If City is to fully realize its potential as a European super power, rear guard must be as feared as its midfield and strike force.
Optimal Player: Mangala (Porto – Portugal)
Arsenal: Defensive Midfield
This was a tough one. Many may successfully argue that a quality number 9 is what the Gunners need above all in order to be a consistent title challenger next season. However, it has been their propensity to leak goals against the big sides that has been their undoing this season. Against the likes of Chelsea, Liverpool and Manchester City, the Arsenal midfield simply lacked the energy and steal in order to properly compete. Thus, the experienced and solid but somewhat inflexible partnership Koscielny and Mertesacker have been time and time again exposed by the quickness of players such as Sterling (Liverpool) and Schurrle (Chelsea). Arsenal needs a Viera – type player in order to be able to stand their own against the physical and more powerful midfields in England and Europe. A striker may be able to score two or three goals, however, conceding five to six certainly doesn't change the outcome of the result. A player that can both shield the back effectively while providing energy coming forward would improve Arsenal on multiple fronts.
Optimal Player: William Carvalho (Sporting CSP – Portugal)
Chelsea: Striker
Like Arsenal, Chelsea has a slight predicament with having more than one position to improve during the next transfer window. At this point at time, they lack a proper center playmaker that can connect with the likes of Hazard, Oscar, and Willian effectively and consistently. The closest one that fits this bill is a Frank Lampard virtually approaching the twilight of his career. Matic provides the defensive cover, as does Luiz, while Ramires provides the energy going forward. However, given Jose's propensity to play a counterattacking approaching, this may not be as critical as obtaining a world-class striker. Like Arsenal lacks steel in their own midfield, Chelsea lacks a certain type of steal up front. A world class number nine that can occupy the defenders can give room for the likes of Hazard and Oscar to truly unleash their talent. A number nine would also simply give Jose Mourinho more goals and options up front.
Optimal Player: Diego Costa (Atletico Madrid – Spain)
Manchester United: Centre Midfielder
This has been an on going dilemma for Manchester United for quite some time. Ever since the departure of Roy Keane and Paul Scholes, the midfield of the Red Devils has been the most underwhelming department. David Moyes has been forced to resort to playing the likes of Michael Carrick, Maroune Fellaini, and even Wayne Rooney in an attempt to bolster their midfield options against the top sides in England and Europe. Simply put, there is no player at the club that can consistently support the brilliance of Robin Van Persie, Juan Mata, and Shinji Kagawa up front. Time and time again, the United midfield has been overrun this season, leaving United's options up top very isolated. This forces the likes of Rooney and others to drop back to support the ailing midfield. Adding a quality Centre Midfielder would go a long way to further maximizing the overwhelming talent United has up top. This type of midfielder would be able to carry the ball from defense to attack and add direct support to the firepower United possess.
Optimal Player: Ilkay Gundogen (Borussia Dortmund – Germany)
Liverpool: Defensive Midfield
For Liverpool, there are multiple fronts where the squad can improve despite it being a brilliant season for Brendan Rogers' men. However, a disciplined defensive midfield option would do wonders for the Reds. For one thing, it would release Steven Gerrard from more of his defensive duties and further support the brilliant strike partnership of Luis Suarez and Daniel Sturridge. It would also give a more solid foundation on which Liverpool can launch their devastating counter attacks from. A disciplined defensive midfield would be able to shield the likes of Agger and Skrtel from any pacy attackers and can allow the likes of Gerrard and Henderson to foray further up the field. On this note, obtaining a disciplined midfielder would give Brendan Rogers a much more stable platform to work with come next season.
Optimal Player: Luiz Gustavo (Wolfsburg – Germany)

Michael Skok
Soccer Commentator
for: www.Poland.us