Chelsea 6-0 Arsenal
23 marca, 2014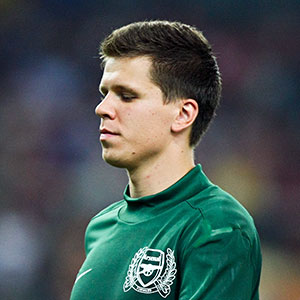 Arsenal\'s keeper Wojciech Szczesny. Fot. Chen Wei Seng / Bigstock
It was supposed to be a clash that was closely contested, a match that would be one to remember for Arsene Wenger and Arsenal in the Frenchman\'s 1000 appearance for the Gunners. What followed then was a culmination of all the shortcomings that were indicated of a side supposedly competing for the Premier League.
On the day, Arsenal\'s tactics, lineup, and effort were all inferior to that of their blue rivals. Eto\'o\'s 5th minute goal was a culmination of Arsenal falling into Jose Mourinho\'s trap. Anyone would have predicted what the general play on the field was going to be prior to kickoff. Arsenal were going to enjoy possession while Mourinho\'s Chelsea would soak up said pressure and spring the counter, a strategy which was vintage Mourinho. And how vintage Mourinho that was.
The 5th minute goal from Eto\'o followed the script to a T. After a tame effort from Arsenal\'s main nine, Olivier Giroud, failed to beat Cech, Chelsea quickly broke - the ball fell to Schurrle who subsequently passed to the eventual goal scorer Eto\'o. Here, a glaring difference between the two lineups was highlighted, whereas Giroud failed to capitalize on a much simpler chance, Eto\'o superbly finessed 20 yards away from goal to nestle the ball in Wojciech Szczesny\'s bottom right corner.
One would think that Arsenal would certainly take more care of possession with the ball and be much more deliberate in their passing after falling behind almost instantly. Again, though, 2 minutes later, Arsenal fell to an almost identical pattern of play. Matic won the ball in midfield superbly off of Rosicky, which then allowed Schurrle to get into position and slot in at the exact same position from where Eto\'o had scored from just two minutes earlier.
What happened then was the red card, which again was forced by another brilliant Chelsea counterattack. Hazard dispatched his penalty as expected, and the rest was history for the Gunners.
However, one must question Arsene Wenger\'s tactics coming into his millennium game. The absence of Flamini was a glaring one. Instead, Wenger elected the more agile Oxlade Chamberlain and experienced Mikel Arteta in the center of the park. This, against a midfield that consisted of the physical presence of Matic and David Luiz, was certainly never going to end well for Wenger\'s man. It played out as expected. Time and time again, the midfield duo of Chelsea (especially Matic) bullied the Gunners off the ball, which then allowed the mobile front four of Schurlle, Hazard, Oscar, and Eto\'o to run rampant with the acres of space afforded to them by a shell shocked Arsenal backline. Flamini\'s presence would surely have at least been able to compete physically with Chelsea\' center two, and certainly would have been much more aggressive than the very tame Arteta and inexperienced Chamberlain. Thus, when counterattack after counterattack broke through Arsenal\'s lines, Flamini might have done something about the breakaway, at least more so than the two elected to play ahead of him.
But Flamini alone wouldn\'t have solved Arsenal\'s problems on the day. Long term issues again were propped up at the Bridge. Olivier Giroud only fed his detractors with more evidence that he is a "Flat Track Bully" - someone who can score against the "smaller" teams but who immediately shies away from the Chelseas and Liverpools. Contrast Eto\'o\'s brilliant goal (who, incidentally, is not the same striker as his Inter and Barcelona counterparts) with Giroud\'s tame effort and one can easily see why Arsenal need a new striker in order to break into the next tier of English - and European - football. A midfield general, someone along the likes of a Yaya Toure or Nemanja Matic, would also be vital for the Gunners ambitions if they want to compete with the best. Time and time again, Arsenal\'s midfield has been overrun by the likes of Toure, Schweinsteiger, and now Matic. This has been a recurring problem every time Arsenal went up against a midfield much more dominant and physical than their own. Simply put, more personnel are desperately needed for the Gunners.
What happened in Arsene Wenger\'s 1000th game is the end product of all the negatives that came along with his tenure. The consequences of his stubbornness not to alter the way that he plays, as well as spends in the transfer market, were there for all to see. The question is: for how much longer can this stubbornness last?
Michael Skok
Soccer Commentator
for: www.Poland.us