EU emergency talks as volcano cloud havoc worsens
19 kwietnia, 2010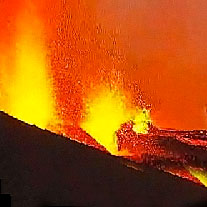 EU transport ministers were to hold a video conference Monday on the volcanic ash cloud blowing across Europe, which has left millions of passengers stranded around the globe.
With European air traffic officials still designating much of the continent a virtual no-fly zone for a fifth straight day Monday, airlines were urging a rethink of airspace restrictions as test flights showed no problems.
European Union transport ministers were to try to work out how to get around the chaos sparked by the cloud of glass, sand and rock blowing up from Iceland\'s Eyjafjoell volcano, which experts say could imperil jet engines.
European and international agencies were in urgent talks to try to ease the chaos, British Transport Secretary Andrew Adonis said.
"We want to be able to resume flights as soon as possible, but safety remains my paramount concern," he added.
About 30 countries have closed or restricted their airspace due to passenger safety fears, catching 6.8 million passengers in a global backlog, according to the international airports council, ACI.
"More than 6.8 million passengers have been affected so far and European airports have lost close to 136 million euros (183 million dollars)," said its European head Olivier Jankovec.
A total of 313 airports had been paralysed by the restrictions, he added.
Some countries were already working on plans to rescue their stranded nationals.
Britain, which has 150,000 people stranded abroad, according to travel association ABTA, was in talks with Madrid to create a hub in Spain, where airspace has been reopened.
It was also looking at ferrying people home using the Royal Navy.
However, the EU presidency offered a glimmer of hope for stranded passengers, saying half of the flights scheduled for Monday in Europe could likely go ahead.
EU Commission chief Jose Manuel Barroso said he had ordered a full study to assess the impact of the situation created by the volcanic ash cloud on the economy, and the air travel industry in particular.
Some major European carriers meanwhile launched flights to test fears that the ash cloud would destroy jet engines. Air France, British Airways and KLM reported no problems.
"The conditions were perfect and the aircraft encountered no difficulties," a BA spokesman said, though the jumbo jet used was going in for tests and data analysis.
A grouping of the continent\'s 36 major carriers called on governments for an "immediate reassessment" of the restrictions, saying they were having a "devastating impact" on the industry. They questioned whether the measures taken were proportionate.
"Airlines must be able to fly where it is safe to fly and make decisions accordingly," the Association of European Airlines said.
"It is what our passengers demand of us."
French Ecology Minister Jean-Louis Borloo however said the test flights were not steps towards reopening European airspace.
"We do tests and everything goes back to normal? No. It\'s not a theory which exists."
Britain extended its flight ban until 1800 GMT on Monday and France ordered most airports shut until Tuesday morning.
Two of Europe\'s three biggest airports, London Heathrow and Paris-Charles de Gaulle, therefore remained shut.
But German authorities authorised the other, Frankfurt, plus five other national airports, to resume a limited service for several hours on Sunday, depending on the flight\'s direction.
Around 63,000 flights have been cancelled in Europe since Thursday, the continent\'s air traffic coordinating agency Eurocontrol said. Some 20,000 flights were cancelled on Sunday alone, according to a midday count.
"Forecasts are that half of the flights planned (in Europe on Monday) could take place," Spain\'s Europe minister Diego Lopez Garrido said at Eurocontrol.
More than 7,000 transit passengers have been stranded in the Gulf states of Dubai and Abu Dhabi, airlines said.
Dubai-based Emirates Airlines said it was "providing accommodation and three meals a day for more than 5,000... transit passengers at a cost of more than one million dollars per day."
In Singapore, Changi airport and airlines have set aside special areas for stranded passengers to eat and sleep and are trying to provide them with free meals, sleeping bags and even tours of the city.
Eyjafjoell started erupted on Wednesday, sending ash drifting towards continental Europe.
The enormous shroud of fine mineral dust particles now stretches from the Arctic Circle in the north to the French Mediterranean coast in the south, and from Spain into Russia.
© Copyright AFP Agence France-Presse GmbH - All rights reserved. This material may not be published, broadcast, rewritten or distributed. All reproduction or redistribution is expressly forbidden without the prior written agreement of AFP.