NASA readies Discovery for takeoff
05 kwietnia, 2010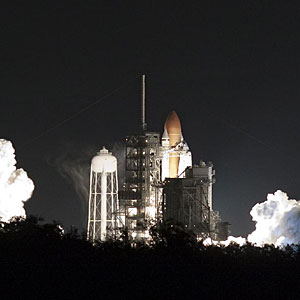 NASA/Troy Cryder
NASA finished fueling the space shuttle Discovery and all systems were ready to go ahead of a Monday launch that will put more women in orbit than ever before.
Discovery\'s planned arrival at the International Space Station is tentatively scheduled for Wednesday and will be one of the final missions for the shuttle programme, which will be shuttered later this year.
It is the first shuttle mission with three female crew members and will also mark a first in space, with four women in orbit.
The seven Discovery astronauts were climbing into their bulky, orange launch-and-entry suits after an evening wake-up call. Once suited, they will head to Launch Pad 39A, where Discovery is poised to blast off.
Discovery\'s external fuel tanks were filled with about 500,000 gallons (1.9 million liters) of chilled liquid oxygen and liquid hydrogen at Launch Pad 39A. The propellants will remain completely full until countdown is completed.
The "tanking" operation ended at 12:21 am, a little less than three hours after it began.
Although the fueling operation began about half an hour later than planned, the delay was not expected to alter the blast-off, planned for 6:21 am (1021 GMT) from Cape Canaveral, Florida.
"The weather forecast calls for an 80-percent chance of good weather for launch, and no weather issues are expected to prevent an on-time predawn liftoff," NASA said.
It will be the second space shuttle launch for NASA this year. After this flight, only three more are planned before all three remaining US manned orbiters are retired at the end of 2010, ending 30 years of service. The first shuttle flew in April 1981.
During the 13-day mission, Discovery and its crew will deliver over seven tonnes of cargo, including spare bunks for the occupants of the space station, a large tank of ammonia coolant and seven racks filled with science experiments.
American Tracy Caldwell Dyson was headed for the space station aboard a Soyuz spacecraft with two Russian cosmonauts.
Joining Dyson from Discovery will be mission specialists Dottie Metcalf-Lindenburger, 34, a former high school science teacher; Stephanie Wilson, 43, a veteran of two shuttle missions; and Naoko Yamazaki, 39, an astronaut with the Japanese space agency since 1996.
Rounding out the Discovery crew are mission commander Alan Poindexter, 48; co-pilot Jim Dutton, 41; mission specialist and spacewalker Rick Mastracchio, 50; and fellow spacewalker Clay Anderson, 51.
Among the gear being hauled into space is a freezer to preserve samples of blood, urine, saliva, plants or microbes used in micro-gravity experiments and then analyzed later back on Earth.
Discovery also will be carrying an exercise machine designed to study the effects of micro-gravity on the body\'s musculoskeletal system. Muscles can atrophy during long sojourns in space so astronauts have to take care to exercise regularly.
The supplies, racks and other gear are packed into a pressurized Italian-built module named Leonardo, carried in the shuttle\'s bay.
© Copyright AFP Agence France-Presse GmbH - All rights reserved. This material may not be published, broadcast, rewritten or distributed. All reproduction or redistribution is expressly forbidden without the prior written agreement of AFP.